This week I slavishly hacked away at the code with little success towards fixing the errors I have been having. Fortunately not everyone was as unproductive as I am. Ville pitched in with a new main menu design as seen below.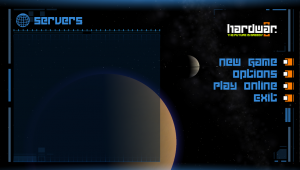 I believe this is still very much a work in progress however the results so far are much better then I could even think about. It might seem like a main menu is such a trivial thing, however the aim for this project is that every part of it is as good as it can be.
The main menu is one of the first things a player sees when starting your game so giving a good impression helps to create a much better overall experience. If you would like to join in feel free to contribute your ideas on our forum.