This week I was messing around in blender in an attempt to texture some of our building models we have. It also gave me an opportunity to try out the new blender 3D 2.5 alpha that people I know keep talking about. For those that don't know blender 3D is a free modelling program.
First of all I'd like to announce that I rarely use blender so maybe some of the issues I had are invalid. My first experience with texturing a model in blender was pretty pleasant in that I was able to quickly load up my model and then draw on it using the paint tools.
My issues started to multiply when I could not figure out how to paint a texture on top of my model and the documentation was not that great either as it is only briefly mentioned. In the end I resorted to just using the image as my building's texture and then making edits on top of it.
There are two things that bug me a little about the paint tool. The first is that it paints over unrelated faces simply because the UVs are closely wrapped. An example of this can be seen in the picture attached to this post. In it you can see black splodges on the top of the building however not because I painted it there. They are there because I painted on a completely different part of the mesh. The paint tool does not know how to prevent itself from painting over unrelated faces.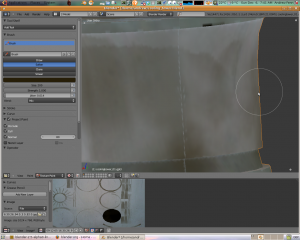 My second problem is to do with the huge line you can see in the screenshot. I simply could not figure out how to get rid of it. Painting or smudging over it seemed to do nothing as it still persisted.
Other things that bug me is that "make invisible" still doesn't stick, so every time you want to open, load or save something you got to click it to hide hidden files. Also it never remembers the last directory you loaded or saved from. In fact different load and save functions seem to start you off in completely different folders.
Saving over things also is a problem as it doesn't prompt you. What you are suppose to do is click a tiny piece of text that disappears as soon as you move the mouse. This then causes you to have to go through the whole process of picking where you want to save again. This wasted a lot of my time as it was not immediately obvious what had happened the first time I experienced it. This made me confused as I attempted to figure out why my image was not being replaced.
Anyway here is my final result with added mist to make it look better then it really is.