<!-- begin content -->

Weekly Briefing, May 7, 2010
DATE5/7/2010VIEWS10911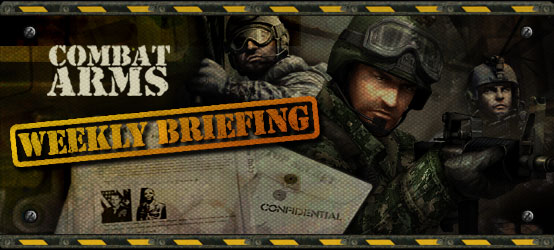 Official Communiqué: Combat Arms Command, May 7, 2010
Attention Soldiers!
Every soldier deserves respect and honor, but there are only a
few that deserve awe. This May we celebrate those special few that go
out on the battlefield and don't come back until the mission's done and
the enemy is staring up at the sky -- the Specialists! May is
Specialist month and we're going to be doing all kinds of Specialist
stuff in the weeks ahead. We've also got some exciting events (both
planned and ongoing) along with a GP sale you have to see to believe.
Our Item of the Week details the M110 SASS, the first item in our GP
sale, and you won't believe what some of our soldiers are saying about
it. All this, plus a Mother's Day offer! Check out everything that
happened this week in Combat Arms and remember what the words of wisdom
Mom always gave us as children, "You can shoot straighter than that!"
Headlines

May is Specialist Month

Scorpion!
Viper! Hawk! The names that inspire terror in enemies the world over
are being celebrated this month with a host of Specialist-related
events and once-in a lifetime sales. Check this notice for some current
sales and keep checking back all month long for some more great stuff!

Weekly GP Weapon Sales
All this month we'll be bringing you some exclusive and exciting
sales. These are no ordinary sales though. We'll be offering a rotating
series of NX Exclusive weapons and making them available for GP
purchase! We're starting with M110 SASS, but check back every week to
see what else is up for grabs.
Issues Addressed by 5/4 Maintenance
A brief maintenance on May 4 was initiated to address a number
of issues that had been plaguing the Combat Arms community including
the Bronze NX Grade threshold and issues relating to the auto turrets.
As balance issues come up and maintenance is required, keep an eye on
the official Combat Arms Website or our official Combat Arms Facebook page for notifications and details.
Supply Drops

A Bouquet for Mom, FREE NX for You!

Nexon's
Marketing partner Peanut Labs has an amazing offer for Combat Arms
players. Just surprise Mom with an arrangement from FTD and she gets a
FREE subscription to Better Homes and Gardens. Even better, you'll walk
away with a cool 11,250 NX to spend on new weaponry!

Honor your Mom on May 9

Events
Ongoing: Bombing Run
You
could win one of 20 Supply Crate MYST-N and Weapon Renewal Kit packages
if you complete 30 games of Bombing Run by May 24th!

Ongoing: ACR Extraordinaire
You'll get a Supply Case GIFT-N just for getting 100 kills with either the ACR or the ACR Sandfire by May 24th!

Ongoing: Explore Kill Creek
You'll get a Supply Case GIFT-N just by completing 30 matches on Kill Creek by May 24th!

Ongoing: Clan Match Event
You'll get a 10-use 100% Bonus EXP Pass for completing 15 Clan matches by May 24th!
Item of the Week
M110 SASS

This
week's item of the week is the M110 SASS. This is the latest version of
a semi-automatic sniper rifle based on the SR-25. It has an added rail
system design and boasts a high level of accuracy and a superior
effective range. According to many of our Combat Ar5s soldiers, the
M110 SASS is rapidly becoming a favorite amongst our hard-core sniper
set. The gun is especially useful on maps where extreme long-range fire
precision is necessary including Snow Valley and Waverider. It's also
very useful on the new Kill Creek map. Singled out for particular
praise is the semi-automatic nature of the rife. If you miss the first
shot, its quick reload gives you a second chance to take out the target.
Let's see what a few of your fellow Combat Arms players had to say:

"This
gun is a great no scoping and long range sniper. It excels on Snow
Valley because of its high fire rate and the chance of a one-shot kill.
I thought the SR-25 was good till I saw this bit of machinery."– John V.
"It
Is awesome! The fire rate is superior to any other sniper. Has a good
damage and can kill in one shot(not counting headshots). Its accuracy
is pretty amazing too. The best map to use it on would probably be Snow
Valley because there are snipers all over and you want to get them as
quick as possible. It's a fast gun and you can easily shoot the other
player quicker and reload for some major pwnage!" – Andrew T.
"I picked
up the M110 in a game of elimination on Kill Creek and kicked sass with
it! (I know, lame pun). It's gotta be one of the best snipers in the
game, incredibly accurate and incredibly lethal. Fast fire-rate
combined with its great accuracy almost makes this count as an Assault
Rifle as well as a sniper. Works great on small maps like Death Room
too as no scopes can be easy in larger games. I've tried, it's pwnage!"- Jake D.

Community Spotlight
Weapon Identification Trivia
Think you know your guns and gear? Get on down to the Weapon
Identification Trivia Thread. People compare knowledge of firearms and
see who trumps who. 143 pages strong and still going!

How good are you?

Combat Arms on Facebook


Have you joined us on Facebook yet?
We're rocketing our way toward 40,000 Facebook fans and planning
what to do when we get there, so, let's move soldier! Join today to
keep up with the latest on Combat Arms, take part in some fun
activities, win contests and maybe even get yourself quoted in the
Weekly Briefing. Tell your friends that the Combat Arms Facebook page
is the place to be!