Welcome to Weekend Drive my new in development game where you take a relaxing drive through a city being smashed by meteorites, or maybe you might choose to run over zombies, or just jump a canyon.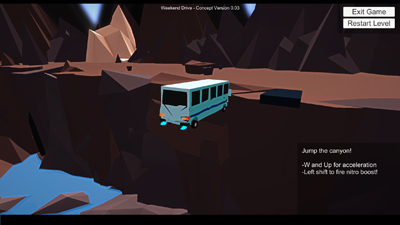 At the moment I'm in the concept phase and I have two game modes just playable. In Meteorite Drive you're in a city that is being destroyed by meteorites and you have to drive to safety! In Canyon Jump you just jump a canyon, no real reason other than because you can!
I've been listening to feedback and if you're interested in trying out the game it's available for download here on IndieDB. Please do leave feedback on my Weekend Drive steam group because I'm giving away games to those who give me the most helpful feedback. I've managed to get to version 0.03b because of the excellent feedback I've been receiving. I realised that the meteorite storm was making the player feel powerless so I've given them the power to fire projectiles and blast obstacles out of their way or just add to the general destruction :D.
Thanks for your attention and if you found it interesting then please join my Steam Group and also stay informed through my YouTube channel, Facebook page, or website.
Sincerely,
GTGD