I've decided to post update about game development.
Currently as I'm working to repair all of the bugs in alternative worlds generator (Simulation to 2035 is done), in breaks i'm working on graphical side of the game, currently research screen: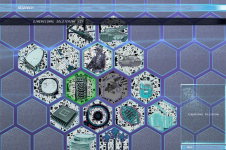 So what is repaired in generator for now:
- simulation finally takes place between 1500BC - 2035 AC
- decolonization process added: no longer Spain and other colonizers hold to their possessions till the end of times.
- I've clumped all of the nations territories - before that the user had to deal with too many little polities
- Rus and Novgorod does not exist if Russia exists
Full version of generator is planed at the end of october (NOT the game, just a simulator)
That's all for now. See you next time,
J.