We want to take things up a notch and re-live the glorious fighting in WWII, but we also want to experience the realism in North Africa and its natural weather effects and how that may have impacted the battlefield. Early on we discussed the idea of making our game have weather effects and one thing stood out for sure in North Africa: SANDSTORMS.
This is still an early concept but the idea is to have randomly scheduled (infrequent) sandstorms kick-in causing a "fog of war" situation on the frontline. Imagine for a moment, your line of sight is clear and you're engaged in combat, then all of a sudden you see a big cloud coming towards you that is spanned left to right with no break in between... there's no stopping it.
Now you are immersed in the orange-ish haze, visibility is reduced and if you don't put on your protective gear, it can cause some difficulty in your combat effectiveness. Blurred vision, reduced stamina, movement and situational awareness.
But we give you an opportunity to not only see more clearly, but to retain additional endurance by applying your field goggles and shemagh (cloth) around your face, protecting you from the elements. However visibility will continued to be reduced and the enemy could be right around that corner, or coming at you directly in the field without your knowledge.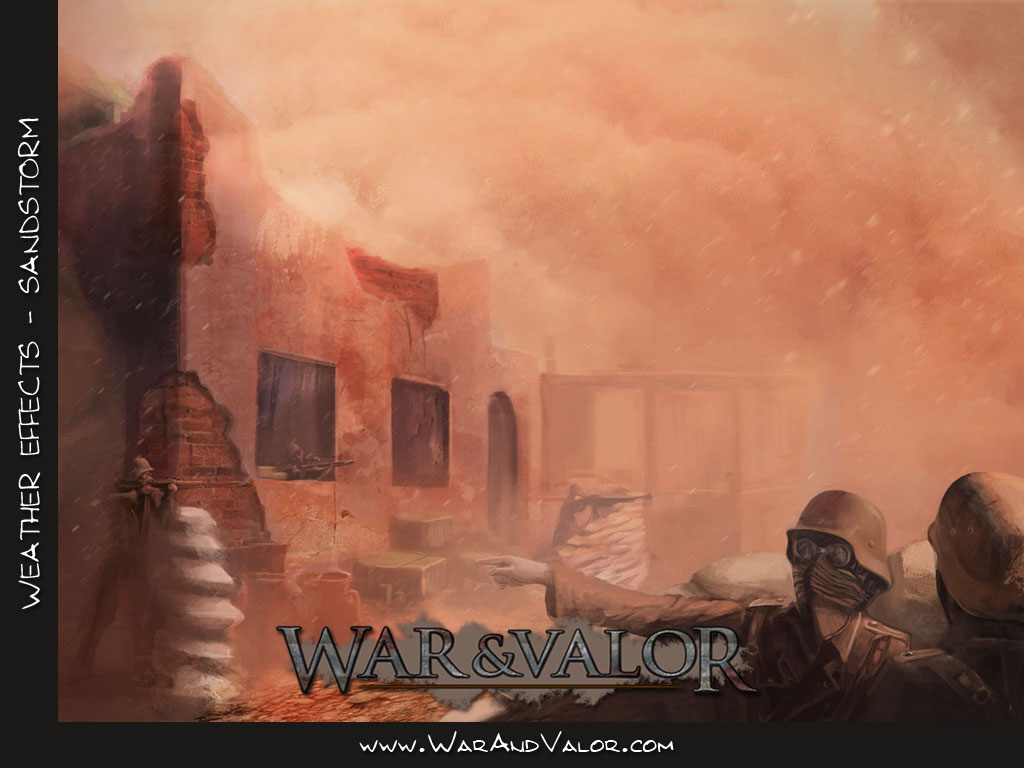 Pictured is a German defensive outpost being hit with the sandstorm effect. Notice the Soldat who appears to be in command directing troop movement in preparation for an Allied attack. He has his protective gear on and is ready for WAR.
JOIN OUR GROWING COMMUNITY
We recently put our forums up and are beginning to chat with community members just like you! Come chat with the developers of War & Valor about the future, you might have a great idea that we'd like to incorporate in our planning.