What's a Shooter Game with weapons floating in the air in front of your nose? Right, we're currently upgrading all the weapons, attaching hands to them.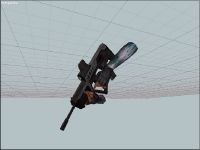 Tavor in Progress
Fully animated and fitting to each weapon's movements. That is quite a piece of work as you probably can imagine. The screenshots we're uploading with this update show three weapons that have been decided to be probably in the final version in the game: Blaster, Tavor and Mini-Gun. You will see the quality upgrade when comparing these screenies to older ones. By the way, we will soon release a full list of all available weapons that we're planning to have in the game once we've finished the design of a sci-fi grenade that is yet in the planning.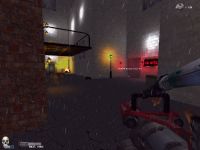 Mini-Gun Action
Another thing we're close to finishing is one more arena, a Power Reactor Control Station. You can see we've got quite a few things in progress, we will hopefully update very soon again. So far, we felt like keeping you up-to-date.