Over the past few months things have finally come together and we are just a few days from release. A final beta test over all 11 maps was made and I've tweaked them as close to perfect as I can. I'm happy to finally be done with this project that I started years ago and I hope you guys can hang in there for a little longer while we patch up the last map for release.
Here's a quick taste of the new environment.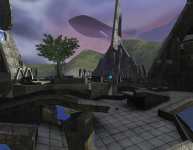 (click to enlarge)
Who would have thought the Blam! engine could look that good? It's nearly 10 years old now.