Wave Mode
Wave mode is a (mostly) singleplayer mode available in "The Dark Times." Similar to "Academy Mode" from Pandemic's earlier "The Clone Wars" video game (or so I've been told), wave mode pits you, the player, against increasingly-numerous hordes of enemies.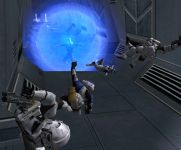 The player is also given a couple of objectives for each mode - the first goal is always survival, but there can be up to three additional goals, like "protect character X" or "hunt down Y number of X." Each wave mode has one hidden "bonus" goal as well; the completion of which unlocks a seventh, most difficult wave.
There are several HUD cues for tracking your progress:
The blue number at the top-left of your HUD represents the wave you're on
The red number opposite that represents progress towards your bonus goal (this number should stay as high as possible)
"Objective" units will be identified by markers - green markers represent easy objective enemies, yellow represents slightly harder, and red represents difficult objective enemies. Blue markers represent friendly objective units.
The timer under your HUD minimap represents time remaining in the current wave
Multiplayer Wave
While wave mode is primarily a singleplayer endeavor, at least one multiplayer version of wave mode will be made available in "The Dark Times." Most of the singleplayer wave modes are made to loosely represent specific levels from "The Force Unleashed;" the multiplayer wave mode is not.
The multiplayer wave mode is set on Hoth - four Rebel soldiers trapped in an abandoned base have been (sigh) left for dead by the rest of their expeditionary force. These four soldiers must work together to make it through the endless wampa hordes, repair their transport, and get away.
While your units are much stronger than individual wampas, thanks to the advanced weapons you carry, you must slowly move through the tunnels, capturing checkpoints, until you can finally repair your ship and leave.
This wave mode is available in both single- and multi-player. In singleplayer, you only have one "life" and will be assisted by three AI teammates. The wampas will not be as strong as in multiplayer. In multiplayer, the wampas are stronger, but you can have human teammates, you have four lives to share amongst yourselves, and you can face off against human-controlled wampas.
Note that in this mode; the red number on the upper-right portion of your HUD does not represent progress towards an unspecified bonus goal; rather, it represents number of teammate "lives" remaining.