In this release we enhance multiplayer balance and add more tactical and diplomatic options for players. Read on.
WargameProject is a multiplayer game. Only tight co-operation with your allies ensures the victory. We have added an option to transfer map objects (castles, villages and etc) to your allies, since this feature was lacking in 2 vs 2 games. We will be adding more diplomatic options in future.
Multiplayer balance is very important for us. This release comes with, probably, most significant balance change in the last months. We have changed move cost of hill terrain. Cost has been decreased and, in general, it means that heavy infantry armies of Men will gain some of much required mobility in hills.
Not so long ago we introduced indirect fire by catapults. We want you to use catapults more, and so we have added a trait to units that posses Siege Master skill, which allows them to increase production of catapults and supply carts.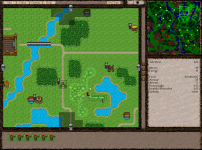 Download this release here at IndieDB or from our site at WargameProject.com.
Kind Regards,
Andrei Zavidei on behalf of Dark Ambassador Studios