EDIT > JUNE 1st 2011: A news update will be up shortly! (As a note, there will not be a public release yet, we're going to push back the public release date about two months to July 31st)


---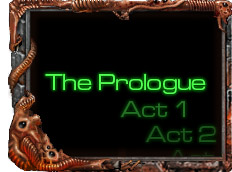 FOUR INSTALLMENTS
To maintain our stringent quality guidelines, we've split Warcraft vs Starcraft into four installments: The Prologue, Act 1, Act 2, and Act 3.
The first installment will be released on June 1st as a WC3 campaign file (.w3n) that will include the prologue to the campaign, Zerg up to "tier 1.5", and a melee skirmish against an Orc AI.

---
ACTS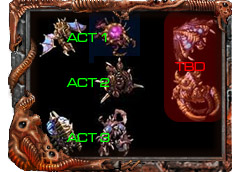 The prologue will have "Tier 1.5" Zerg, missing only the Mutalisk, Corruptor, Nydus Worm, Infestor, Infested Terran, Brood Lord and Ultralisk.
Remaining Tier 2 Zerg, skirmish options, and campaign levels will be implemented as each new Act is released, about 4-6 weeks apart from each other.
The goal in the end is to have a sufficient demonstration of Warcraft vs Starcraft within the time available, unfortunately leaving Tier 3 Zerg (Ultralisk & Brood Lord) to only be possible if there's time or community assistance with the artwork.
---
MULTIPLAYER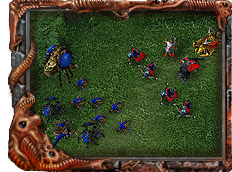 Attempting a full multiplayer mod would mean compiling all of the code into JASS natives and working within the network restrictions of WC3. Up to this point, we've kept the majority of the code for WvS in GUI inside a map to avoid JASS bottlenecks and keep WvS (generally) accessible.
After the June 1st release, we welcome community efforts to bring WvS to life as a multiplayer modification; however, this would require very skilled WC3 JASS developers capable of reverse engineering WvS's systems for minerals/larva, and getting it all to work on the network.
Can it be done? I believe it's possible, and I'd be interested to see if it could happen. Our focus however will remain on the singleplayer, art, and unit portion of the mod.
---
BLOCKADE RUNNER & STAFF CHANGES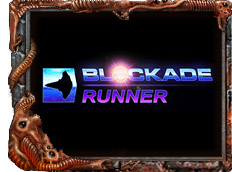 On the ModDB page for Liquid Cubed (our technical demonstration project) we've announced its successor in Blockade Runner. The concept for Blockade Runner is to combine the cellular automata in Liquid Cubed with the freedom of a poxel (voxel/poly) environment, resulting in a spacesim in which every single part of a player-built starship makes a difference.
To launch Blockade Runner and keep WvS heading towards the finish line we've repositioned a few of our roles:
Aaron:
Will focus on the role of project manager and creative director for both Warcraft vs Starcraft and Blockade Runner, no longer producing direct art for WvS.
Nathan:
Who had built the majority of WvS's triggers and abilities will now be working full time on Blockade Runner. His reduced time on WvS will be focused on the spell/unit code and melee skirmish AI.
Micah:
Having already been producing much of the better art and animations for WvS remains concentrated on WvS as the lead artist.
Gabriel:
After going through the pain-stick training rituals with our WC3 map "zB:Master", Gabriel will be completing the campaign for WvS with some assistance here and there from Nathan.
---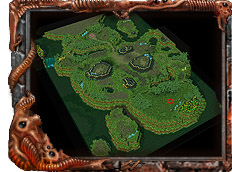 Q1?
WvS for the longest time was to revolve around a convulated campaign that took place in a single map file on the same island, but still involving multiple levels. Restructuring WvS to have a traditional campaign structure took a lot of work and caused a bit of a mess for a game that was already in its later stages of development.
The end result is far superior, as the story is no longer limited to the same island, all of the races can maintain their individual interfaces and resources, and we can rely on a less riskier roadmap for the future.


FIREBAT
The prologue will utilize specific Terran units, one being the Firebat. Luckily the Firebat only required a modification of the Terran Marine model we already had. Below is a YouTube video showing the progression of the Firebat's model.
---
TEXTURING PROCESS
Texturing the models for Warcraft vs Starcraft is accelerated by using a technique I had learned working on Project Revolution, called "Baking". We take parts of a pre-rendered model (originally the pre-beta screenshots) and apply them to the unit's model. With a little Photoshop trickery, you can use this technique to simulate advanced lighting and shadowing with a single texture.
---