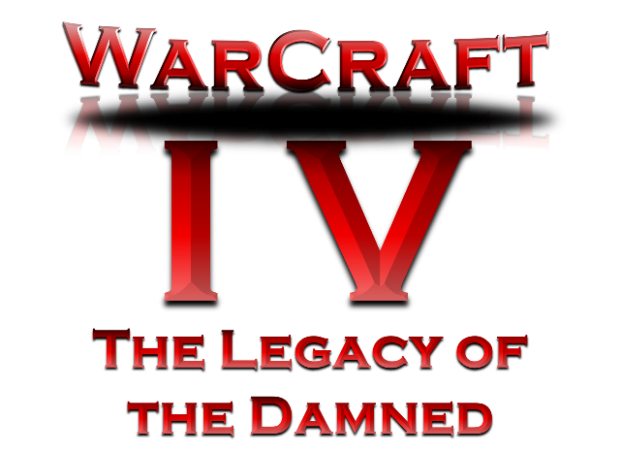 We didn't know if it'd happen or when, but finally we have managed to get together a team of passionate individuals from the ever popular Warcraft III modding site: www.hiveworkshop.com
This team has but one aim, to turn Starcraft II into the next Warcraft RTS, including a complete UI overhaul, new asset palette and seven campaigns for six races each expanding and deepening an ever gripping story, true to the lore found within Reign of Chaos and The Frozen Throne.
The Progress and Plan
Although access to the Galaxy Editor is currently limited to team members fortunate enough to have access to the Starcraft II beta, work on the project is well under way. Our artists, writers and designers are brainstorming, scrapping and posting ideas as we speak, keeping the good and ditching the bad.
Our modellers have got straight to work, using the new .m3 format ready for importing into Starcraft II upon release. Taylor_Mouse has been kind enough to give you all a sneak peak at the 'base' mesh for Orc infantry units.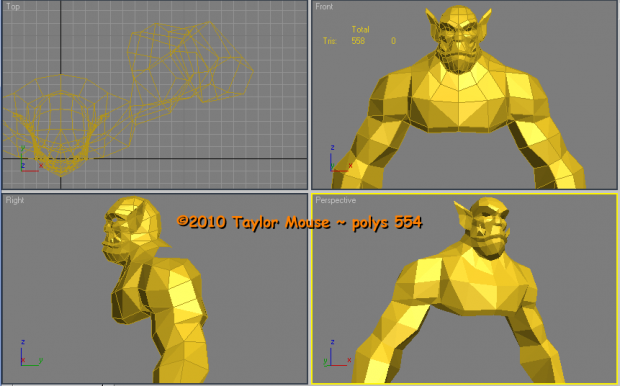 Looking good isn't it? A little research and Blizzard concept reference goes far. With 3D Modellers as good as this, WCIV's visuals promise to impress!
On the subject of visuals we got some of the guys to throw two quick-shots together in the editor, one showcases typical sci-fi terrain, purely showing off visuals and the other stays well away from any futuristic input, trying to replicate something close to the Warcraft universe, both can be seen below:
As well as a top down/RTS camera, comparison shot: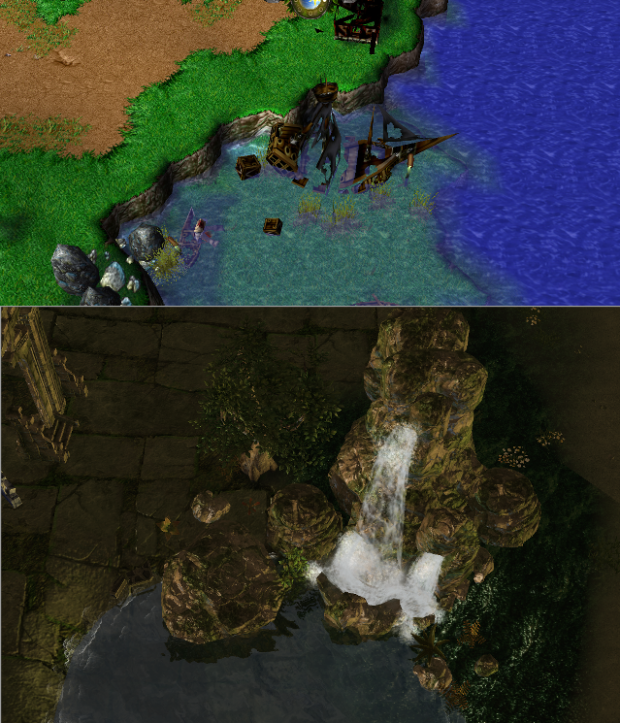 That's really all there is to show for now, however more updates will fall thick and fast as soon as more of the team get their hands on the engine. If your interested in some of the playable races, lore behind the game, check out our thread at the
hiveworkshop
.
In conclusion the main plan for Warcraft IV - Starcraft II (sub-titled: Legacy of the Damned) is to bring the community exactly what they'd expect from a Blizzard made sequel. This means a new engine, new appearance and new gameplay, while the former was provided by our blessed Blizzard Entertainment, the latter is up to our ever growing team of Starcraft II and Warcraft III modders who have no plans to disappoint.
You can find everything we have to show either here at our Moddb page or over at the Hiveworkshop in our thread within the Starcraft II section, please feel free to drop by either one and give some suggestions, apply for the team or just express your opinion.
We hope this news brings you as much joy as the decision to go through with the project brought us and we hope to see you around. Updates, pictures and gameplay details will be posted soon and regularly from then on, though our latest will be - for a short time - exclusive to the Hive.
The WC4DT