In the early days of the project, before we started working on a s script or building the game mechanics, we told ourselves The Ritual On Weylyn Island would need to strike the perfect balance between story and action. Finding this balance would prove to be rather tricky -but this was the process to led us that led us to where we are today.
When we started conceptualizing the gameplay of The Ritual on Weylyn Island, we had a few ideas already in mind but quite a few things to still work out. First and foremost, we wanted to create a game that was story-driven: the narrative needed to be engaging and told in a unique manner that would keep propelling the player further. Second, we wanted to give it an early 80's horror movie vibe, generating moments where the protagonist is toyed with and mentally tortured where flight or die are the only options.
It sounded pretty simple, but finding that perfect balance between exposition and action while telling our story in first-person, meant figuring out where we would watch our tale unfold – and where the player needed to drive the story forward with their actions.
I remember at the time we started writing the outline for our game, being quite inspired by the recent success of titles like Gone Home, and Dear Esther. Each was successful in creating a compelling 'game' out of telling a story in an unconventional manner. Even though both of these games were rather passive (they had no enemies, danger of death or failure during the journey), I really admired the way their narratives were integrated into their game mechanics.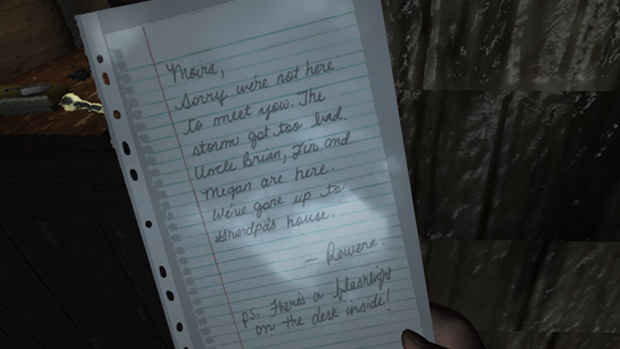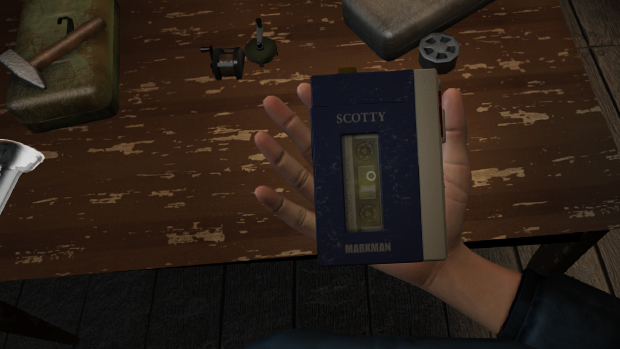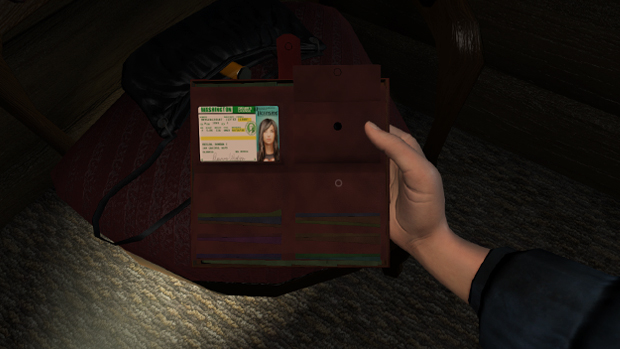 This layered, approach to telling the story led us to incorporate found objects and messages throughout our environments that would help add a rich back-story as the players progress through the game.
After further discussion, we decided our game also needed to have elements of evasion. Moments where an enemy was stalking you, or where you're trapped in a space needing to find a way out before it was too late. In these moments, players are often required to react quickly, but we didn't want our players to have to rely on battled-hardened gamer dexterity -or complex keyboard / controller sequences to evade an enemy or face failure. As we were creating a story-first game, this meant that we would need to create situations where our players could evade the enemies using their smarts and simple interactions.
The Tell Tale Games' Walking Dead Series is an example of a game that handled this very well. They created life or death situations that required very little traditional gaming skill to overcome. We wanted our game play to feature more real—time action compared to this, but there were certainly elements here that would influence our game too.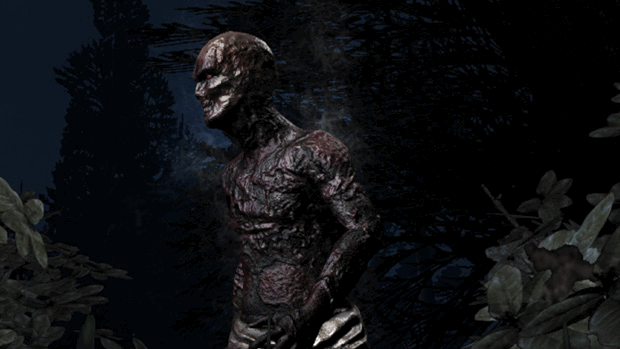 Lastly we needed to decide if our game should have a combat element or not and thankfully this was a rather short discussion. We wanted to stay true to the horror genera of the early 80's, where the protagonists -mostly young women -were resourceful survivors. She would be smart enough to think on her feet, but not in a position to engage her enemies in hand-to-hand combat. So the game was to be weapons-free. Not only would this provide some basic game design parameters – it would also streamline our development (A godsend for a small, 6 person team).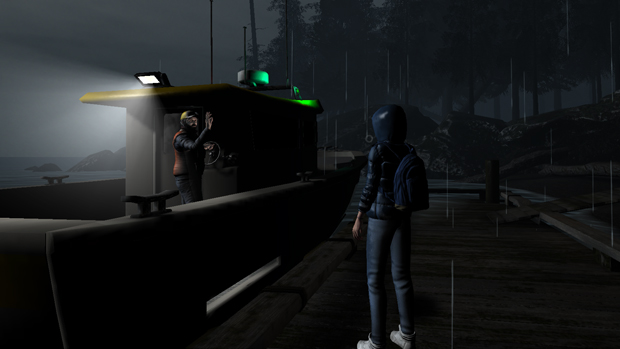 Amnesia and Outlast are two other great horror games that proved to us you can remove the player's ability to fight back – but still have a title with lots of 'action'. Both studios achieved this with amazing results.
With all this in mind we set out to create our gameplay. The result was a balance of small objectives to keep the player moving FWD (that aren't tediously repetitive), items and family members to discover and interact with, and (in our opinions at least) the right balance of enemy conflict, time-sensitive dangers and deadly consequences along the way.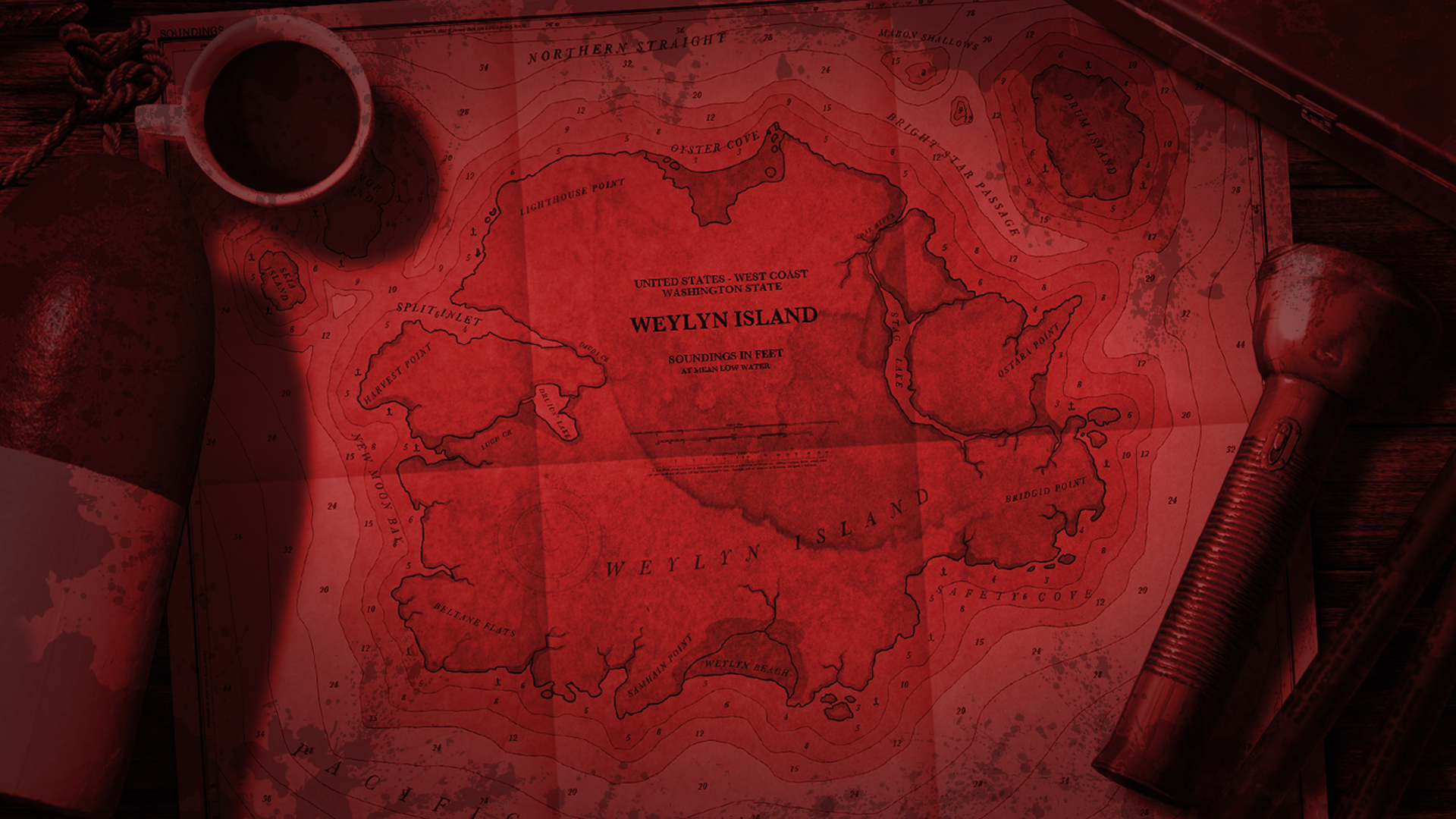 The Ritual On Weylyn Island is a First-Person Survival Horror Story set on a remote island in the Pacific North West.
The first 3 chapters will launch on Steam Early Access this summer for PC & MAC.
The full release is scheduled for this Fall.
Follow us @zemaGamez or visit our website for more information ZemaGamez.com