I'm unhappy with the map, particularly with the bed, and need your opinions... I'm considering replacing the bed with something less "childish". The bed was based on a real bed, which is for kids, cause I originally did it back in 2005 for an old rats map called de_ferrets.
The bed was homage to that map, but doesn't fit the theme of this map. A redesign could be a frame that is more mature looking, or it could be just a mattress/box spring. Part of my reconsideration isn't just look, but scale. Should the bed be smaller? And what about the drawers under the bed? Should there be drawers under the bed, or should there be a dresser in the room, or both?
And if you haven't already guessed it, part of these questions is because I'm seriously considering rearranging the bedroom, and of course particularly the beds orientation in the room. In this example, top down shot of the room.. I have rotated the bed and aligned it to the edge of the computer desk.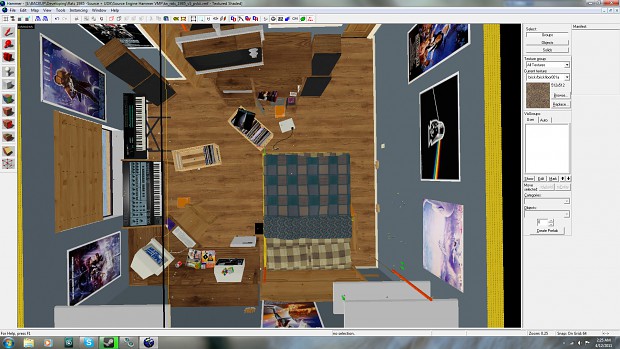 In this next proposal, I continue the previous idea, but with more changes.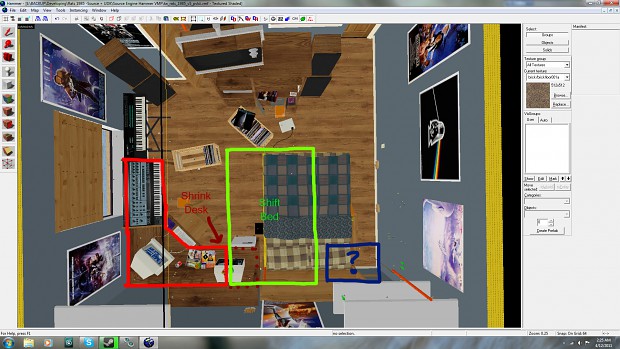 In this, I make adjustments to the room to accomodate the beds new orientation. The desk area is cropped a little to fit the bed more in the center of the room, and aligned with the entertainment center. This also leaves significant extra space where the "bluebox and question mark" is.. which could be left empty, or be filled with anything from a dresser/end table, to guitar amps, who knows.
Keep in mind, these proposals use the bed at its current size. The bed can be reduced in size to better fit, or other changes can be made. Take all things into consideration here, and please give me your honest feedback. I'm having a hard time deciding and really need to hear from you guys about this.