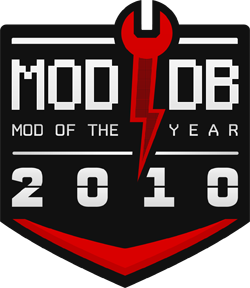 Six years and still going strong, but now we need your vote for the annual Mod Database "Mod of the Year" awards! Simply click on the image above and press the VOTE button on the main page, be sure to log in as member votes count more than a guest vote!
Hydra Trailer - Feelin' Good
Rage... Rage Against the Dying of the Light
We are putting the final touches on the Hydra release in hopes we can release by the end of the year. Progress is steady, hopefully we have the NVA voice work sorted, and if no problems crop up, then we'll be on schedule for release. It's quite an odd feeling to be practically done, to have over six years of hard work come to a close, to be at the "twilight" of development on this project. Join us for one last hurrah as we give Zero Hour its swan song at years end.

Oceans of Paradise
As part of doing final polish on the project, water has been getting some attention. With the recent addition of bloom into the project (to be featured in the Hydra release) it has helped give the hot, steamy, humid feel of the tropical environment. Eska, one of our testers, stepped up and has done a fantastic job capturing the look of a tropical ocean.
Lamentations and Loud Wailings Resounded Through the Starless Air
Slew of screen shots from the most recent builds of the game. The beta testers have been helping us greatly with finalizing balance and testing the new game mode King of the Hill, which seems to be a great hit with the team.
Forums www.screamingcricket.com/forum
Website www.vgomod.co.nr
ModDB Moddb.com
IRC Screamingcricket.com