If you like Dreamcast Conversion, please vote for it to help it become Mod of the Year on ModDB!
Dreamcast Conversion was released on December 23, 2016 and is nearing its first release anniversary. It surely has been an exciting year. Although the main work on the project is complete, our work is never done! There are still many things that can be improved in DC Mods and, as you can see from the changelog, even after the last big release there've been some updates. Stay tuned for those Dreamcast Christmas DLCs, by the way - they're coming!
Also, as of 1st of December 2017 the mod's page has been visited more than 40000 times with over 9600 downloads. So if you like this mod, please vote for it on ModDB and help it become Mod of the Year!
To vote, go to the mod's main page, scroll down a bit and click "vote for this mod".
New installer
I have released a new build of my installer, which features a much improved UI and a new self-update system that allows you to update the mods before installing them!
Offline version (December 1 update)
I hope you like the new installer, and I would love to hear your feedback! Please leave your comments on the main page, on the installer's GitHub issue or on my Twitter. And don't forget to vote for Dreamcast Conversion on ModDB if you like Dreamcast stuff!
Here's a list of new features for this build:
Profile system
The installer has been redesigned around profiles that require minimum user input for a very easy install process, and a Custom profile for advanced users who want to set things up manually.
Dreamcast mods: full experience with Dreamcast mods and various enhancements
SADX with enhancements: for people who like to play the game without Dreamcast mods
Minimal/Vanilla: only the most essential/speedrun friendly mods are installed
Custom: allows to select which mods to install and configure Mod Loader settings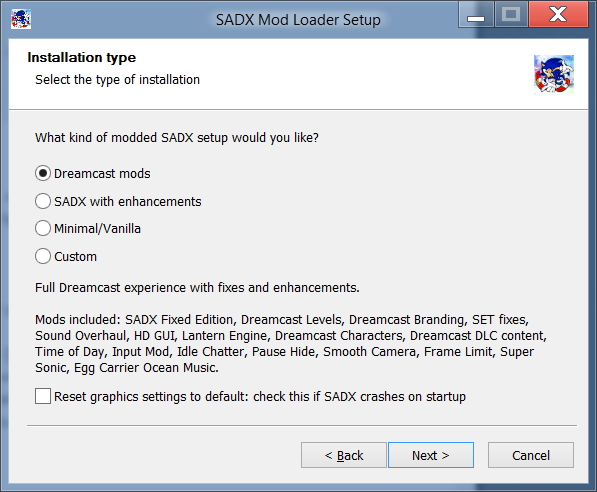 New mods
Camera Code Error Fix (CCEF) by VeritalDL and SonicFreak94 - Minimal/Vanilla profile only
Idle Chatter by SonicFreak94
Egg Carrier Garden Ocean Fix by PkR - SADX profile only
Mystic Ruins Base Fix by PkR - SADX profile only
Egg Carrier Ocean Music by MainMemory
Update system
The installer can check if updates are available for the mods, the Mod Loader and the installer itself
New UI for the update check: the installer will tell you which mods will be updated
The installer can now update itself and relaunch automatically
User experience
Various UI improvements
A new "Reset graphics settings" checkbox has been added to help troubleshoot startup crashes
The Mod Loader settings page is now displayed only when the Custom profile is selected
An option to clean up the mods folder (Custom profile only)
The folder permission fix is now applied only if SADX is installed in Program Files