Hello everyone!It took just a little less than a month since last release, but waiting is over and you can finaly download version 0.4 and enjoy Neon Gardens dungeon! Birth of this build was painful as I did couple of design mistakes during the process and had to rework the content at least three times, but i belive ressult was worth the effort and cant wait to hear your opinons about this release. Lets check 0.4 in more detail.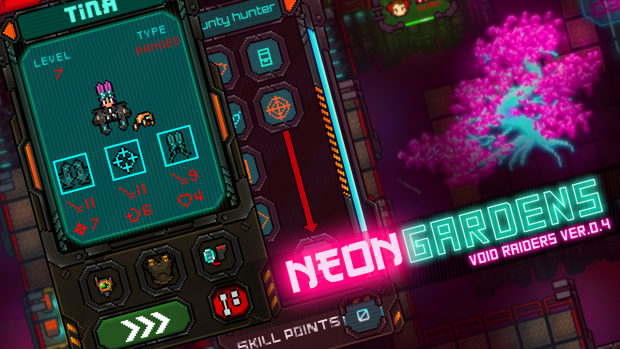 v0.4 Changelog

- Neon Gardens dungeon is now aviable
- Tina the "Bounty Hunter" now aviable
- Void sargeants dont throw grenades anymore
- drop rates of ammo and medkits increased
- Big bad guy now always drops chestarmor with regen atribute
- Some effects and objects were optimized so game performance is now better
- Boris wall clipping bug was fixed
- Boris & Gudrun attacks now calculate crit chance properly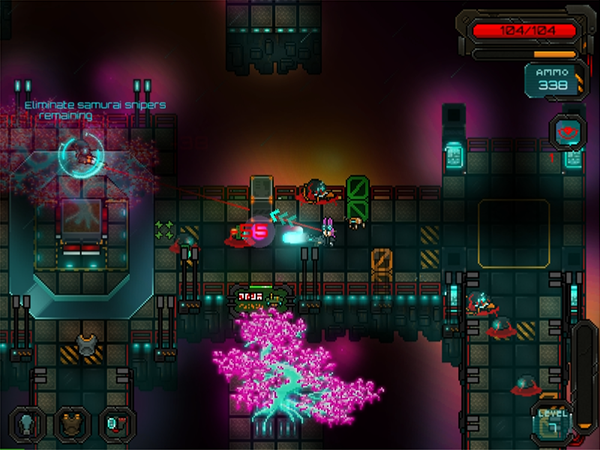 It does not look like that much, but most of the time as spent on creating new content whitch is always hard if you dont want to deliver something that feels "half - baked" or unfinished. Optimalization took some time as well but ressult was worth effort, at least in case of first two missions. Neon Gardens can get bit slower time to time couse my very simple rain effect but i promise it ll be replaced with proper particle system with next release.
Tina the "Bounty Hunter"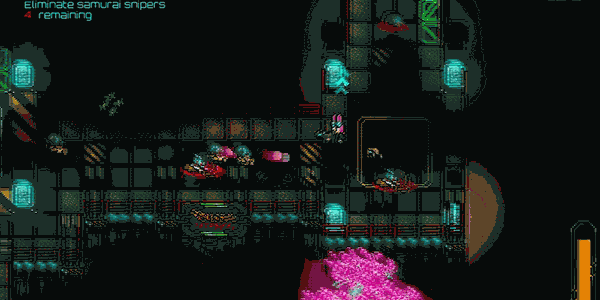 Tina is third character added to the game and her birth was long and painful. First idea, the "Pyromancer" was scraped becouse combination of flamer/assault rifle was not fun at all. It looked awesome on the gifs but the gameplay was seriously lacking the spirit of Void Raiders. Second version was much closer to current one but ability to switch stances and balance health/energy as two resources seemed too chaotic and complicated and i did not wanted to repat mistake i did with first Gudrun release.
What is Tina about then? Tina is armed with two machineguns and during first few levels she ll play almost the same as Boris. However differences ll start to appear with each talent point spent.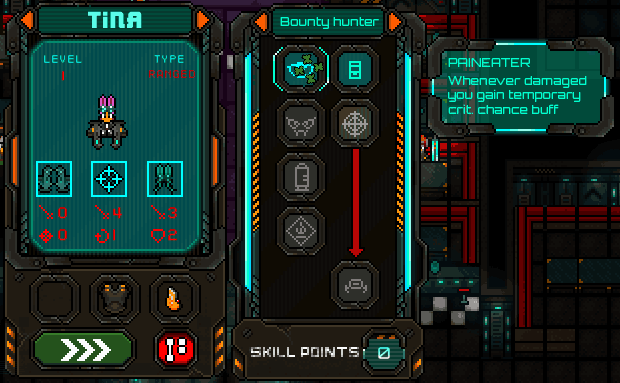 Talent tree is again divided in to two branches both offering differen approach to the hero.
BOUNTY HUNTER
Bounty hunter is mostly about improving raw firepover and ability to gain temporary damage and/or crit chance buffs. Final talent is aim bot companion. Unlike drones he is not able to attack enemies on his own but he ll boost range of Tinas attacks and ll aviable bullet bouncing.
GUNSLINGER
Gunslinger is all about Tinas secondary ability - "Strafe". Strafe can be casted by holding right mouse button and consume energy. During strafe tina moves towards your mouse cursor in deadly spin attacking all enemies within range.In addition there are talents whitch might create nice synergies with some of the talents from Bounty Hunter branch and its up to you to found the right combination to fit your play style best.
NEAR FUTURE
Right now i need short break, ll take couple of days off to enjoy real life a bit and hopefuly during weekend i ll have rough outlines of new dungeon ready. Still not decided whitch place ll be added next ... Squid Cult Catacombs, Ice Caverns or Void Industries Foundry? We ll see next monday i guess:-)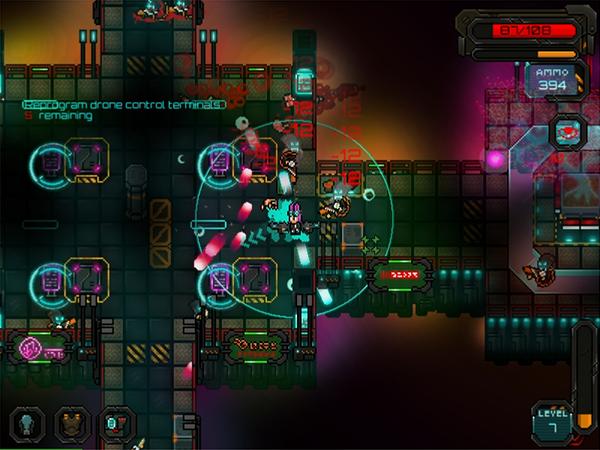 There will be few minor releases before next dungeon ll be aviable as im planning to revamp Boris and Gudrun as Boris seems bit boring and Gudruns sword is not proper option right now and shotgun is always best choice. I dont want to tie these adjustments/fixes to new dungeon release as its hard to estimate when new dungeon will be ready.
Unfortunatley not everything is great and i feel like i should announce that last major release will be the last one that ll be aviable for free. With next dungeon ready there ll be enought content to level up your characters to level 10 and ready them for endgame content whitch ll be aviable only in payed version.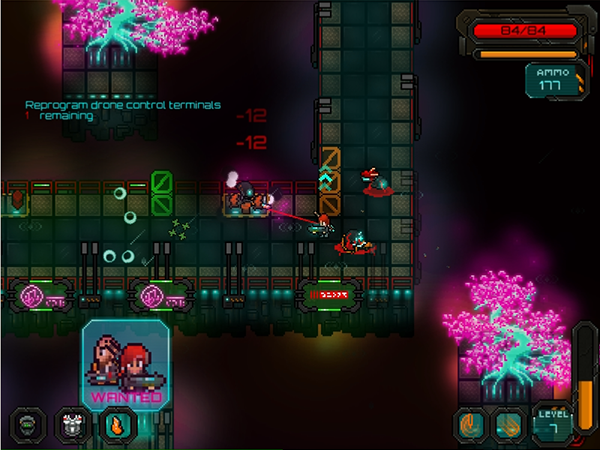 Fortunately i got some good news as well. As i value your support and suggestions i want to reward everyone who showed interest in the game. What will be your reward? Everyone who commented on the game till now will receive his steam key for free! More about this will follow later, but if you showed your support you ll be rewarded. In addition there will be few free hidden steam keys with each news release here on IndieDB.
Hope you ll enjoy version 0.4! As always, let me know your opinions, suggestions and dont forget to report bugs!
With regards & thanks for reading
Tryzna