A couple of months ago, we embarked on a mission to add some personality and energy to the game, via voice. We had taken the animation and FX as far as we could, and knew that the crucial missing ingredient was some solid voice work. It was clear that voice was going to bring a lot to the in-game world, but I had been putting it off for months. Mostly because I just didn't know where to start, as I'd never worked with a voice actor before. We did know that we wanted two voices; a booming stadium voice to cover general team related calls, and an in-cockpit computer to keep you informed of tank operation and relative game info.
Eventually I got around to calling some talent agencies in Portland. We listened to samples of local voice actors, and generally hammered out what sort of voices we wanted. We heard a bunch of clips, but it was hard to tell what we were going to get in the end.
Around this same time, Brian had become an overnight fan of the Portland Trail Blazers. I'd lived in Portland already for a year and a half, and hadn't been to a Blazer game yet. He suggested that we go to one, to get a sense of what a real arena announcer sounds like. When we finally went, it was thrilling. The Blazer's stadium was electrified with the constant chatter and cheers of the audience and the commanding voice of their stadium announcer, Mark Mason.
After a couple of games, we knew exactly what sort of mood and emotion we wanted from our voice actor, but were still not sure where to find him. So eventually we figured, why not get the genuine article.
It was only hours after we had the idea to contact Mark that he wrote us back and we worked out all the details. We were scheduled for 4 hours of recording just like that. Now all we needed was a script long enough to fill 4 hours of recording time, no problem!
The second half of our voice talent team is Erin Parker. She volunteered randomly over beers to be our computer voice. Only five short months later we were in the studio with her, making a final recording. She had no prior experience but ended up doing a great job.
I had assumed that the script writing for this whole endeavor would only take a few days. Consequently, I'd put it off until days before the recording session. When I finally sat down to crank it out, I quickly realized that writing enough copy to satisfy our needs was going to be a mountain of work.
The first step was to identify all the triggers that we could hook voice to. Once we had that frame work, I began fleshing it out. Not being a sports fan, I didn't have a whole lot of on-hand reference to work from in constructing the monologue for our announcer. You guys will have to be the judge, but I think it turned out pretty well. The lines are super cheesy, but I think it fits the mold. For Mark's part, he knocked it out of the park. There are a couple of lines I'm especially proud of: (BTW, we have team names now; Athalon and Triax).
Erin's lines for the computer voice were a little easier to put together. There were also a lot fewer of them. We just needed her to comment on the player's actions minimally and give some alert feedback on the condition of the tank. I started with the basic "Shields Down" stuff and added some goofy variations to keep things interesting. I kept coming back to the multi-click sounds from War Craft that added so much to that game.
The recording session went great. Erin had never done a recording session like this before, but she nailed it completely. After some significant digital processing to make her sound like a computer, it came out pretty great I think:
The recording for Mark was done entirely at the recording studio of our sound engineer David Hughes. David was an incredible find as well. He's worked on block buster movies for years, including Fight Club, X-Men, Minority Report etc. He's incredibly skilled and works a few miles from us in Portland. He's responsible for nearly all the sound FX in Metal Drift, and was a fantastic help on the voice work. He cut up and processed all the voice clips, giving them echoing reverb and digital computer warble. I snapped a shot of his space while he was hard at work: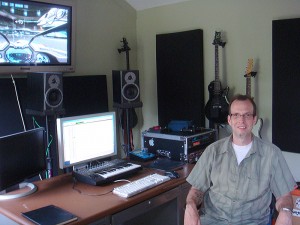 The recording for Erin occurred primary at the studio of Brian Applegate (of The Punk Group). He graciously offered his space and equipment for free. The whole process was silky smooth, and a whole lot of fun.
There were a whole lot of people who helped pull this whole thing together. It was great to have so much help. I'd like to say thanks to Dirk and Sarah for being our impromptu talent agents. Thanks of course to Erin and Mark for adding their voices to our game and bringing some much needed life and excitement to the Metal Drift world. A big thank you to David and Brian A. for recording and processing all the clips. And thanks of course to Brian R. for all the days of work ahead, hooking all this stuff up to the engine! I hope you all enjoy the final product when you hear it in game!
-W