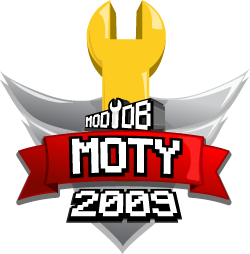 As the end of 2009 comes to a close, it means it's time for Mod Database's MOD OF THE YEAR AWARDS. The first phase kicks off as ModDB starts the Nomination Stage, voting for stage 1 remains open till January 5th.
Voting is easy, just go to our ModDB page and click the VOTE button that appears on our summary. So show your support!
Remember, a vote from a long time member of ModDB is worth more than a new members vote which is again worth more than a guests vote. But every vote helps
Recently we were featured in ModDB's "Mods You SHOULD Have Played in 2009." So why haven't you played VGO yet? There's still time left in 2009 to try it! Download Pegasus v1.4 now! Also be sure to check out other Featured Write Ups and Reviews from our ModDB profile.
We also put a teaser trailer together for the NVA that is now ready for viewing! Merry Christmas and Happy New Year from the VGO team!
Forums www.screamingcricket.com/forum
Website www.vgomod.co.nr
ModDB www.moddb.com/mods/vietnam-glory-obscured
IRC Screamingcricket.com