If it's a war, there's a battalion
One of the aspects that we expect will set our game apart from the rest, and make it enjoyable, is the amount of independently-thinking characters that are thrown into the fray. We are not aiming to give you a skirmish: we are aiming to give you a war.
With the Mobile platform's limited resources, that is certainly a challenge for us, as well as a balancing act. As we moved forward with development, adding new features, performance kept degrading. So we decided to tackle that.
With some creative thinking, coupled with dark magic and offerings to dubious deities, we managed to more than double the performance we were seeing before.
Testing confirmed we could put 150 to 200 characters on the battlefield with a good enough performance on a Samsung Galaxy SII-like mobile -which is actually below what we're aiming at as the minimum spec-.
Just how does it feel to have that many characters? Take a look.
A.I. soldiers get their driver's license
On a different front, we are close to finishing the vehicle A.I.
Pathfinding is complete. Vehicles can navigate from and to any point in the sector, be it on or off-road, choosing to use roads effectively to make their movements faster and safer. When on a road, vehicles stick to their right so as not to disrupt traffic flow.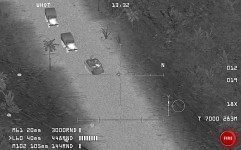 Then there's the traffic avoidance. This was probably the toughest challenge to date in the game's development. We actually had to throw away several days' work and start over, TWICE, to get it working. But we got there.
Vehicles are now able to sort out complex traffic jams and safely and seamlessly form convoys.
The following video is a demonstration, purposely set up to be somewhat chaotic. Trucks start facing random directions and try to form a convoy while following the road, while the tanks disregard road rules and try to blow through the group of trucks.
We really cannot wait until vehicles are completely finished. The to-do list includes vehicles using their weapons to attack, loading and unloading of troops, and of course, damage and destruction.