First thing I want to say is that, omg.. It took forever to add in like 5gb of audio data to the project. I been using Plastic SCM, which make matter worse for it to sync everything. Also trying to upload this video to youtube is like 480+ minutes. Wut!?
Second thing is, after adding those sound effects in, I am like… OMG!!! Sugoi!! I donno about you guys, but for me, just watching this video got my heart pumping. Really, with the sound effects, the boss feel so much more scary!!
With this I can finally say that the Boss phase 1 is completed!!
Now let me explain/re-cap on this boss's Phase 1 Abilities.
In the first phase, he have WarCry, 3 Close range attacks, and Trash Talk! XD
WarCry is the boss shout ability. At this phase, the boss will summon 2 minions which will attack the player. At this stage, they are more of a help since they will drop health orbs which allow Sonya to regain some of her hp.



The boss have 3 close range attacks, Swipe attack, Upper Swipe and Smash Attack. Swipe Attack and Upper Swipe are relatively weak at this phase, you can pretty much tank it. The Smash attack however, will need to watch out for since it does relatively high damage. It should be easy to dodge thought since the camera will zoom out first giving players an advance warning.

With the new sounds, I was managed to add something cool, that is trash talks! LOL. Phase one should be very easy even for new players now, as the boss does alot of trash talks (His looking down on you! XD). He don't attack when he talks so his a easy picking! Don't let him look down on you lah!
The Boss also don't have any long range attack at this phase, so if players are having trouble all you have to do is to run back outside his attack range and he won't attack you. (You still need to deal with his minions of course, but that's easy right? =P)
Anyway, here's the video demo of the Boss First Phase. Hope you'll like it. (P.S. His shout/roar scares me every-time I hear it. Such a scary boss!)
And a bonus Screenshot! =D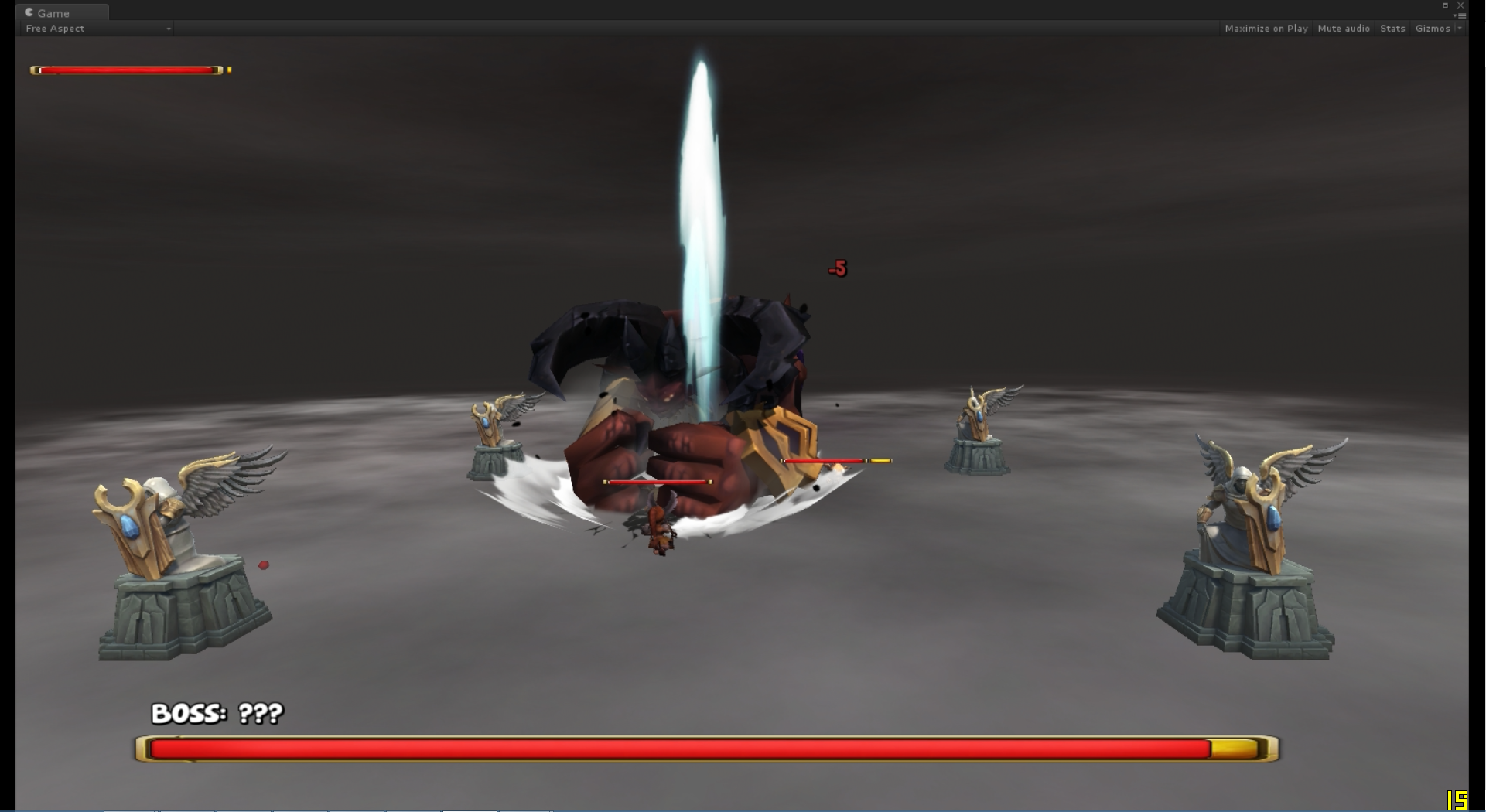 (P.S. Got a bug before where I left the collider on the boss's hand when he does the smash attack. And it knock Sonya right below ground. Ouch! XD)