Airships 7.1 is out, bringing various fixes and some enhancements.
The spider symbol for your coat of arms was deemed rather weak, so I've enhanced it. Apart from getting a spider legs module, you now also get Arachnid Soldiers, a type of light infantry equipped with grappling hooks.
The other improvement of note is that there's now a quick search in the ship editor, so you can hit enter and start filtering modules. While in this mode, you can also use the up/down arrows to select from the search results.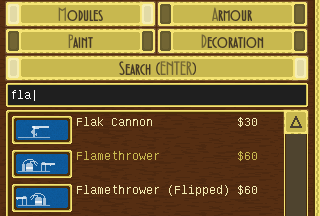 There will probably be an Airships 7.2, concentrating on improving crew pathing performance and visuals, and then it's on to version 8!
Features
Arachnid Soldiers
Module/Armour/Decal/Paint filtering in the editor
Land-to-land intercepts
The AI is now able to use the reserve.
System cursor and window border settings
Fixes
Moving landships in a city without a garrison no longer crashes.
Ladder positions for landship modules are now correct.
Landships no longer tend to float as much.
Various other crashes and display errors.