The game is migrated to SDL 2 and in addition to other goodies we now have a freely resizable game window. SDL 2 migration also removes variety of bottlenecks and solves compatibility issues in keyboard handling (eg. DVORAK) and in full screen graphics.
If the tiny game window on big screen turned you away from UnReal World earlier, now it's time to grab the game and go explore the vast world in freely resizable fashion.
On Indiedb.com we now have Supporter Edition of the game available for those who want to buy a little something to fuel up further development. Supporter Edition includes a video greeting from the developer and two essential tracks of game music in full length.
The major game content additions in version 3.20 are:
True crop cycle for villages - harvesting, stocking and sowing
Villagers now properly harvest their fields, stock the products and sow the fields again in the spring. In addition to all kinds of farm products you can now also obtain seeds from the villages. Availability of farm products and seeds in villages is naturally most abundant in autumn, reserves will be consumed during the winter, and there's usually only little left in the spring.
Glimpse at autumn harvest of Sartolais Village. Pod type plants are stored in bags, root vegetables stocked on their own and seeds stored in boxes and baskets.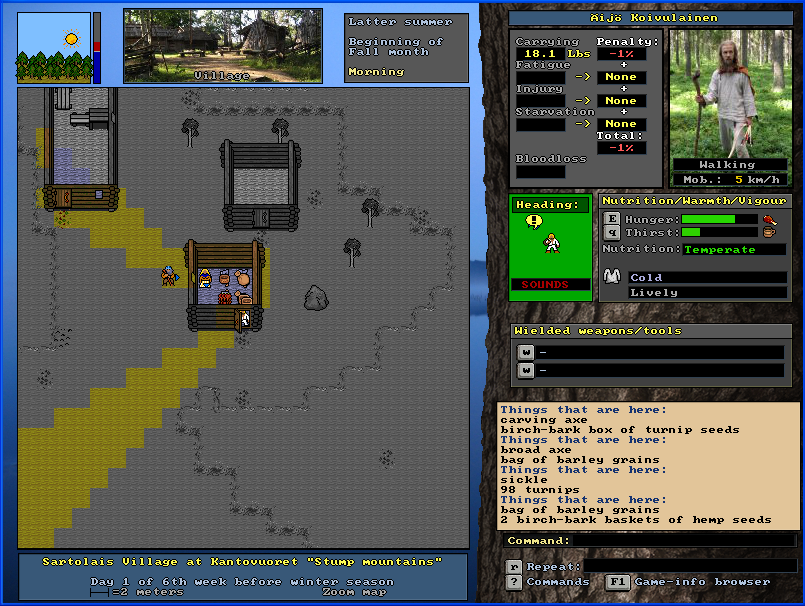 Armour glossary overhaul
Anachronistic armous have been removed, a dozen of new armours and clothes added, new sprites added, and armour availability and usage adjusted. There's also a completely new armour material, lamellar, which is an eastern armour type used by Njerpezit.
Foreign traders and Njerpez now have a distinctive cultural difference between armours they favour and wear.
Metal armours are very rare, and even the foreign warriors need to rely mostly on fur and leather for protection. Helms, cowls and smaller metal armours for spot procetion are now far more common than valuable body armours such as hauberks.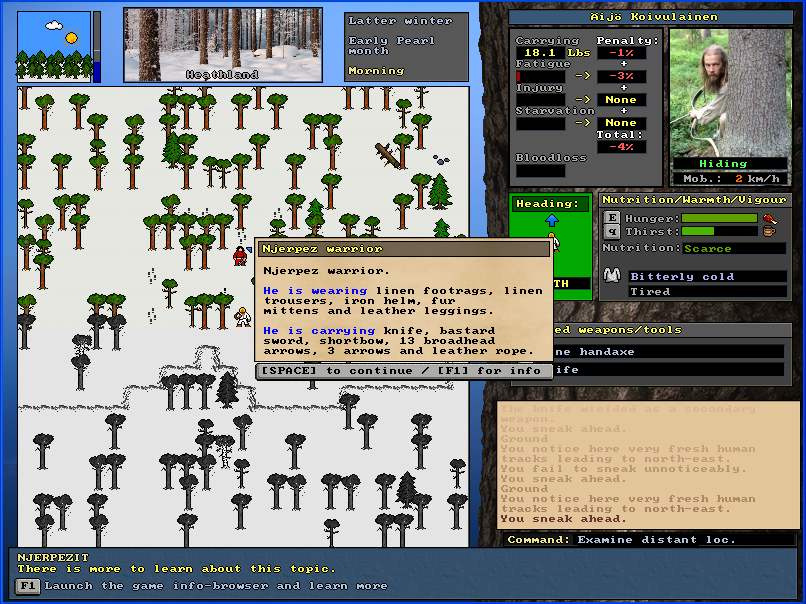 Seals
There are two types os seals, the ringed seal and the grey seal. Both live in the sea and can be found on coastal regions of UnReal World.
Seals are interesting new creatures and fun to even spot while rowing on the sea - not to mention trying to hunt them. Seals spend most of their days in the water but do regularly come ashore to rest and pass time. During open water season they rest on rocky surfaces of the utmost skerries and islets of the sea. In the winter they do live near the edge of the ice, spending the lazy hours on the ice.
During open water season the seals tend to rest on rocky surfaces of the utmost skerries and islets of the sea.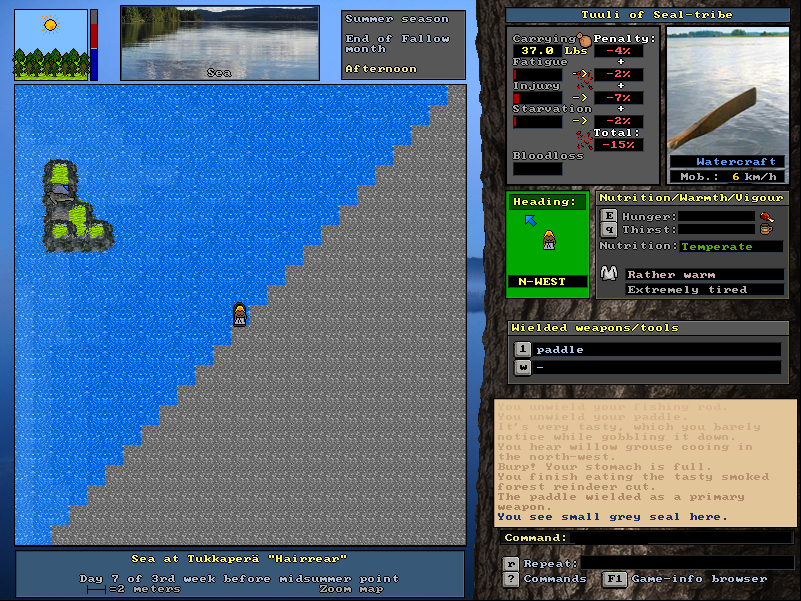 Improved village resources
You can now find wood, lumber, ordinary clothes and common tools and equipment and now found in villages. Availability of these items is culturally dependant.
Driikiläiset are one of the wealthiest cultures, but they also need things like pots and bowls, ropes and shoes - and boards and logs: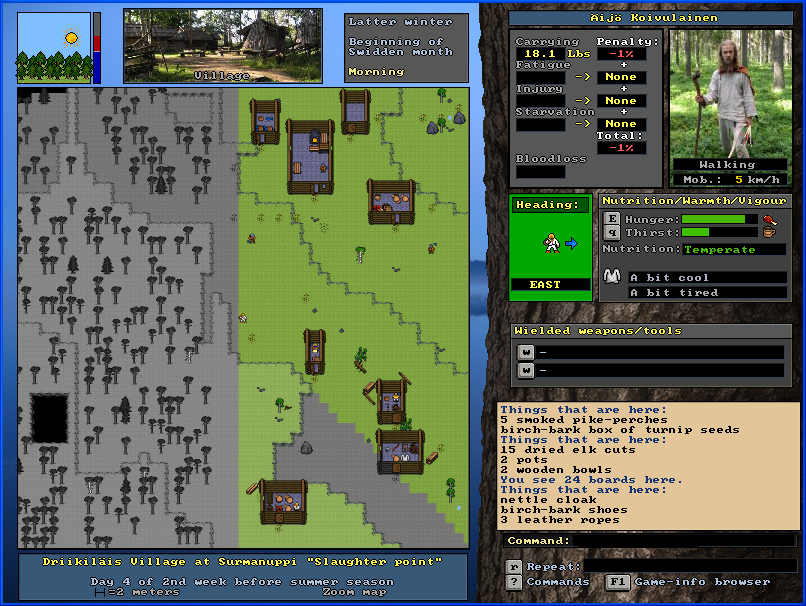 New birds with new behaviour
Ravens, eagle owls, goshawks and more new birds have been added. The new birds of prey do effectively decrease populations of hares, squirrels and other birds. Often only a feather beside the kill will reveal their presence - unless you hear them call. Version 3.20 also features variety of new bird audio and you can actually hear ravens, goshawks, swans, loons, hazel grouses or eagle owls calling.
Cycle of bird life has quite a bit of other new features too. In upcoming version all the ground nesting birds do lay eggs. Aquatic birds lay eggs on islets and skerries, or nearby the shore among vegetation, and finding their eggs is relatively doable if you have patience. Eggs of the forest birds are much harder to find.
Swans prefer to nest in hard to find and difficult to reach locations, such as islets and skerries.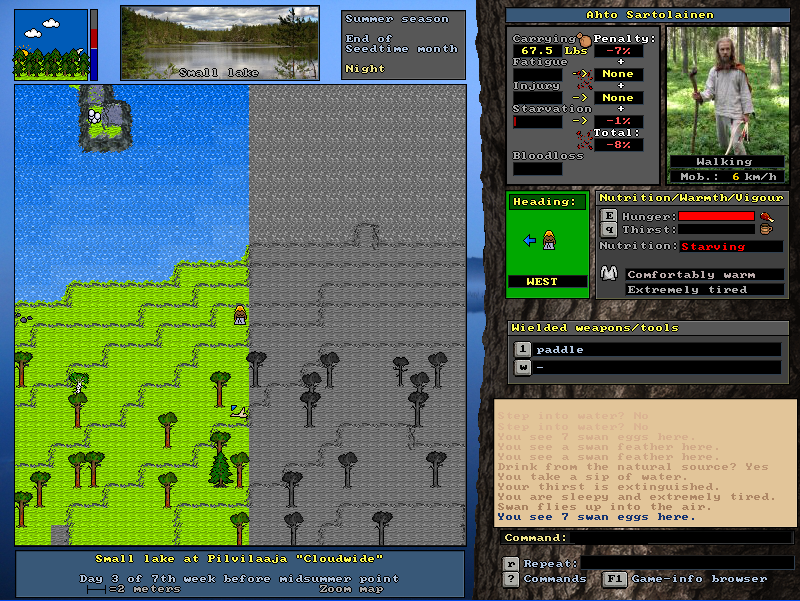 Overhauled animal populations
Creation of animal populations has been thoroughly checked, adjusted and balanced. These adjustments concern not only the commonness and relative number of animals, but also their natural habitats. Frequency of big game remains quite the same as it was, and most notable changes are seen in populations of small animals and birds. In general you can now expect more varied and greater number of wildlife to exist in the world, but natural habitat of animals has a much greater role than before. You can't expect to find any forest animals in any type of forest.
Downloads
Linux
64 bit Ubuntu 14.04 - for other distros visit the game official page


For a full changelog see Unrealworld.fi
Full game is free to play,
donations welcome!
For more info see Unrealworld.fi