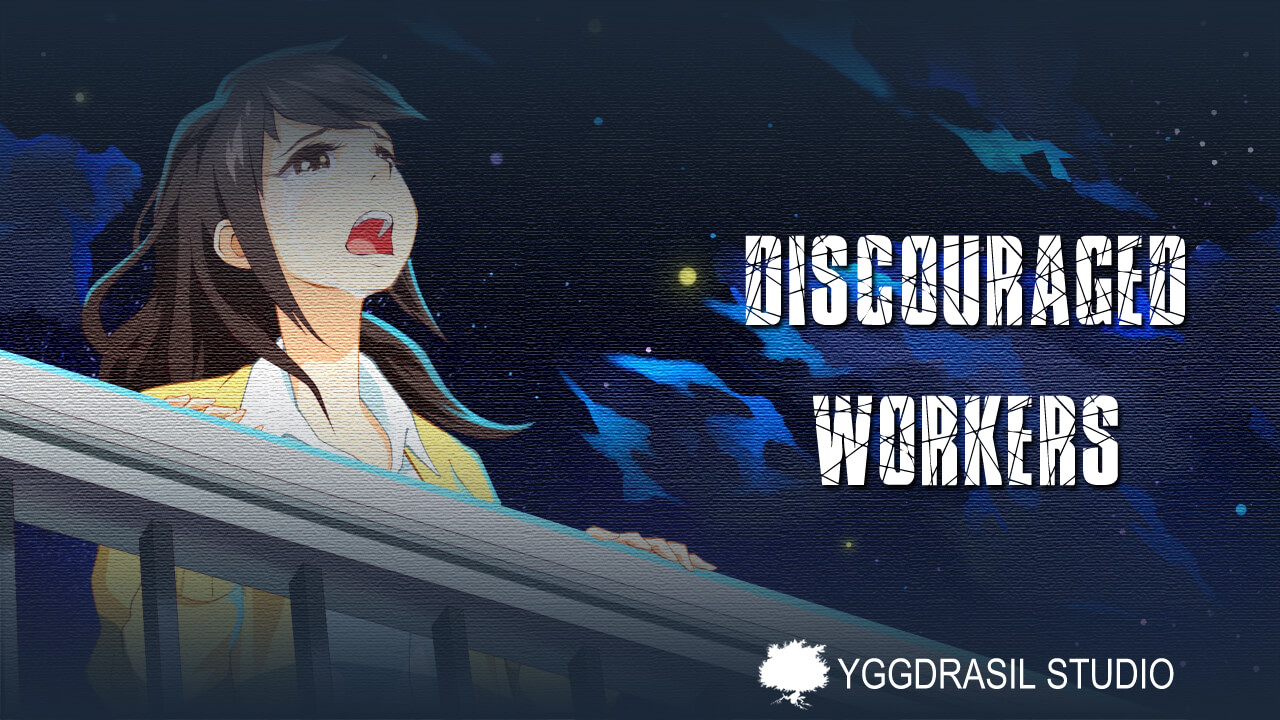 Important: This major update is currently only available on Steam.
---
Greeting Guardians,

 Long time no see, Yunseok is here. Since July 2016, we've worked hard to make major update. Finally, today, we release Discouraged Workers Version 1.7.9.7.
---
Update from Ren'Py Engine:
Version Update: 6.99.8 > 6.99.13
Added: New GUI
Fixed: Problems opening a DirectInput gamepad or joystick in exclusive mode could prevent Ren'Py from starting.
Improved: Ren'Py will query the Steam overlay and redraw the screen when Steam asks for an update. (This should increase the FPS of the Steam overlay.)
SteamOS: Works as normal like the old version.
Linux: Works as normal like the old version.
MacOS: Sierra support available.
Windows:


Improved: HighDPI mode is detected properly when displaying the presplash.
Fixed: A bug has been fixed that caused fullscreen windows to be displayed at the wrong side on the Microsoft Windows platform when system-wide DPI scaling is enabled.

Thank you for PyTom and Ren'Py peoples.
---
Update from Discouraged Workers:
Version Update: 1.2.0.3 > 1.7.9.7
Fixed: All screens and GUIs. Latest Ren'Py's New GUI was set in Discouraged Workers.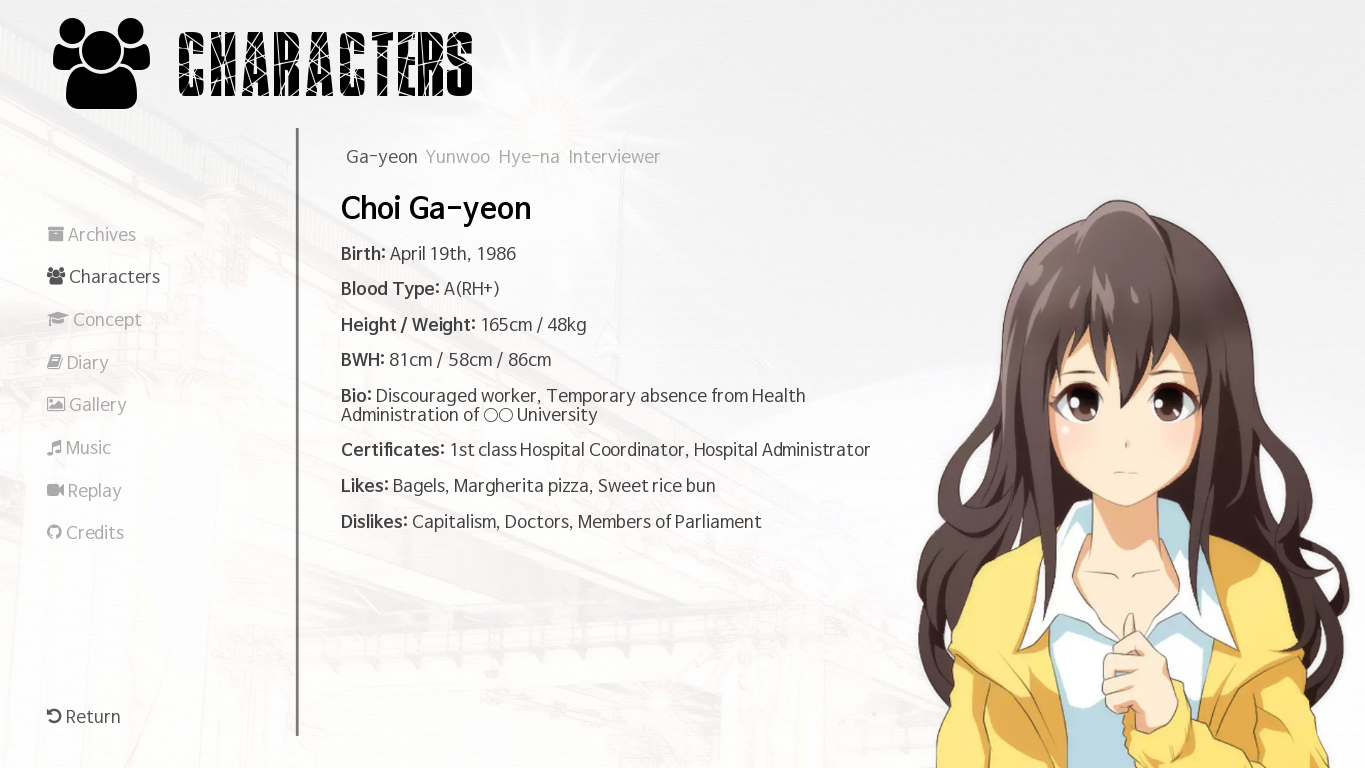 Many graphical assets has been added or replaced:

Characters and CGs, backgrounds, objects, even animation. A lot of things have changed.





Finally, our hero Ga-yeon has emotional variations.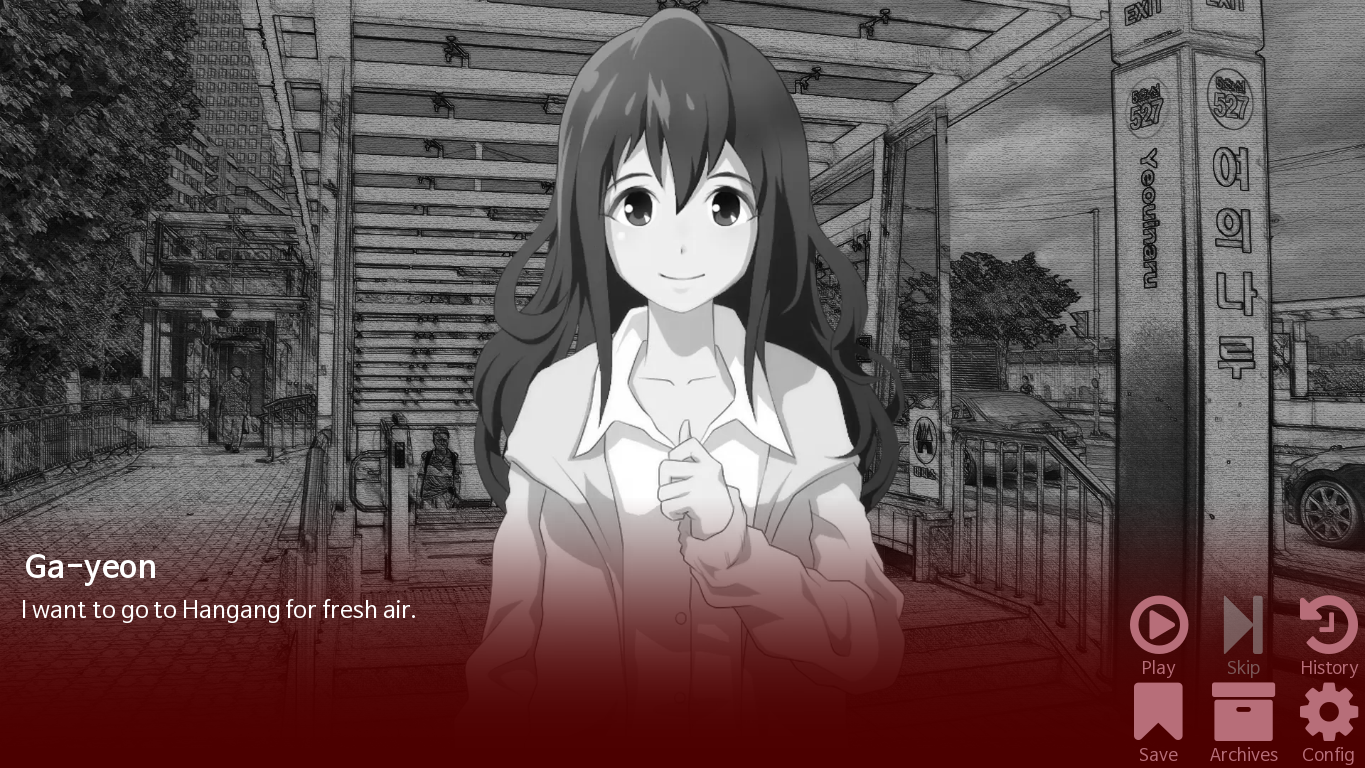 Don't be disappointed if you liked the YANG's art. The old version will soon be released as DLC.

Added: Russian support by Roman Koledin. Now available on Russian.
Fixed: Controller support and Steam Controller support:


Now it's easier and simpler to control the controller. We have removed the complicated things that players can't remember.
We also tried to follow the Ren'Py basic in this version.
The Steam Controller is easier to control than other controllers.
If you set the controller in the basic settings, the button images will be displayed on the screen.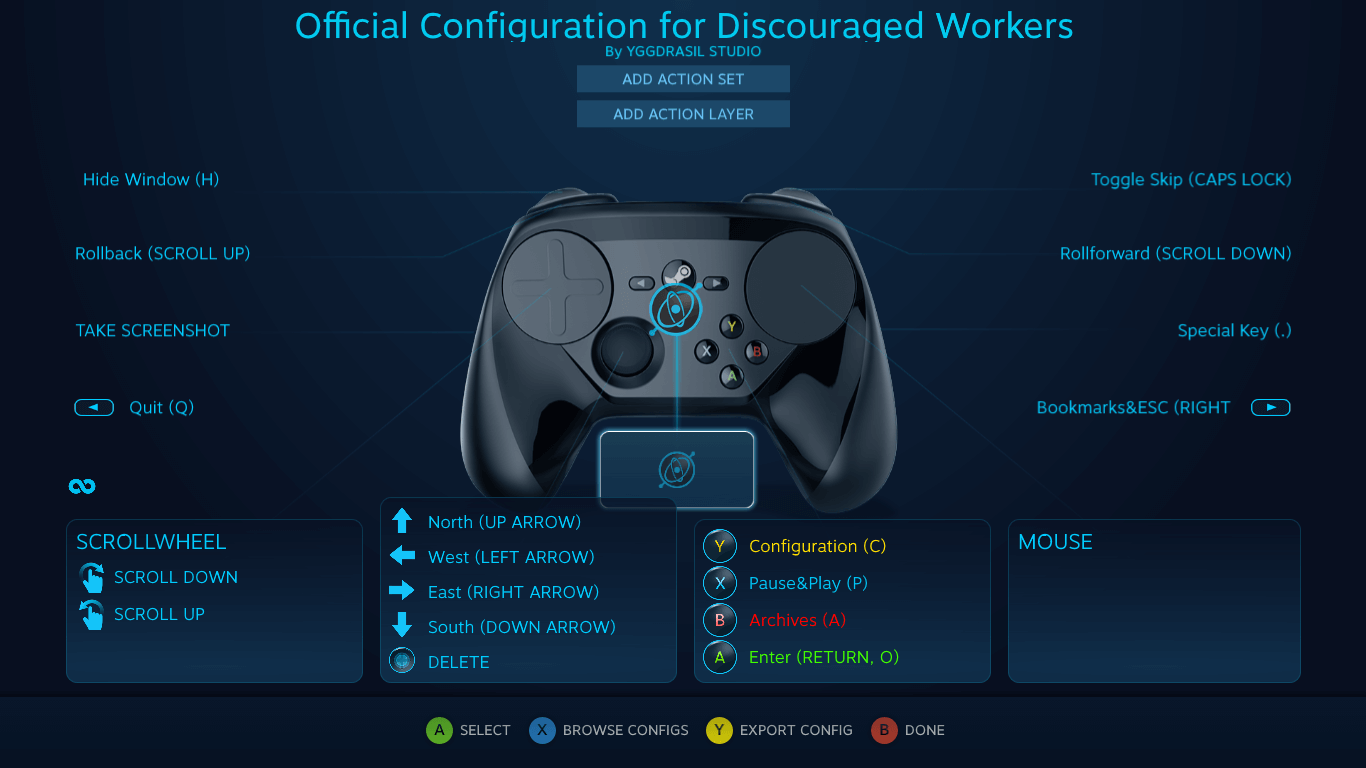 Added: New Steam Achievements and Medals.
Added Ester-Eggs:


This will change the ending.
This will remove

mosaic or blur in some scenes.

Fixed: Now the epilogue can be seen in your progress directly, not the concept archive. -Because many people have missed it before.
Added: Some very simple text in the "Madness" part, it will give you a hint of the Ga-yeon's psychological state.
Added: Sketch-arts in the Ga-yeon's diary.
Added: Replay screen.
Added: Unlocked screen.
Improved: Now the Archives will display your collecting status and medals.
Added: About screen.
Improved: Reduce program size. -Many things have been added. Nevertheless, I've reduced 30MB!
Removed: Steam-DRM. -This significantly reduces the likelihood that an executable will be false-positive as malware in anti-virus engines.
Update Licenses.
Update Manual.
---
Beta features:
Steam Workshop:


Official Steam Workshop support will be added until 17th this month.
For creators and community, I will release the development kit DLC and guides. -I'm serious now.
Then you will be able to get linked medal and CREATOR achievement.
Spanish support: Now available but inspection is not complete yet. Project Gamer Japonés, our Spanish translation team is working hard.
Blind-friendly support:


Blind-friendly support has been added but it need more test from actually blind-gamers for each languages.
For the play, it need someone's help in the first run.
---
Upcoming updates in this year:
Release: Source code of Discouraged Workers will be LGPL v3.0 -Please see the license declaration in about screen.
Release: MOD Creator Development Kit DLC
Update: All existing DLCs include Extras DLC -Raspberry Pi build will be added.
Release: Back to the Basic DLC
Fixed: Minor updates, include updated Spanish support. -If I have enough time
Release:Trailer -I don't have any time for make this.
---
 Thank you for read this announcement. I am grateful and sorry to those who waited for us for a long time. Remaining plans except for upcoming updates will be announced after upcoming updates is completed. Then, I will be back soon, as soon as possible.