I'm happy to announce that, more than a year and a half after the previous release of JA:P, there will finally be a beta release of July Anarchy Prologue 1.3 this coming Friday!
Version 1.3.1, the beta release of the REMIX edition, may still contain errors, but is still by far the most stable release of July Anarchy Prologue yet. The mod has been almost entirely rebuilt from the ground up, showcasing the revolutionary new spawning system that creates huge procedurally-generated battles over large maps, turning Neverwinter Nights into a fast-paced action-RPG. New units, weapons, and graphics are also in this release, as well as a heavily-revamped backstory and completely rewritten dialogue.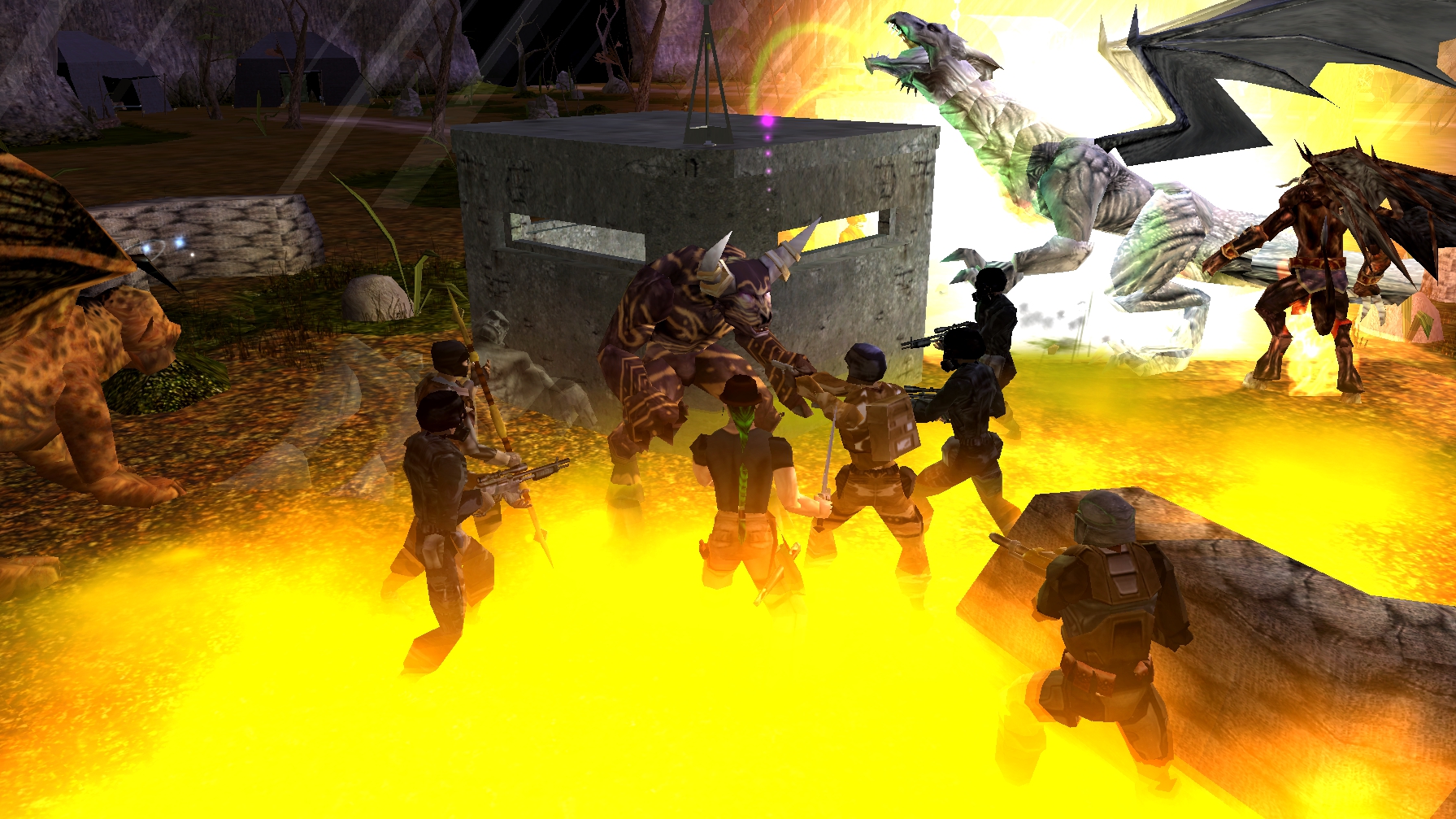 AI allies were mostly useless in previous versions. Here, they're smarter, stronger, and essential to capturing territory throughout the base.
As a beta, there may still be glitches and stability issues, especially with the new code. 1.3.1 also does not yet implement planned media content, such as new voicework and an ending credits movie. This version is still a work in progress and player feedback will be key to making this mod as playable as possible. However the core gameplay is nearly at the level we want it to be, being entirely different from any NWN mod prior.
It's difficult to keep track of all the changes that took place since this is a complete rebuild, but here's an approximate changelog:
New Features:
New, procedurally-generated battle system.
New territory capture mechanic.
New arcade-style item pickups.
Optional training stage to get new players acclimated.
New weapons such as the Vibrant Nodachi.
Additional enemy types such as the Skriven, Golbin Spider Riders and Azazel.
Revamped soundtrack including new music tracks for Adrenaline Rushes.
Gameplay Changes:
Enemy units can now spawn with any weapon in the game, including firearms.
It is now possible to eliminate the Mythan faction from the game entirely.
100 AP cap has been removed, allowing for longer Adrenaline Rushes.
Final boss HP reduced slightly. (Does not make the fight easier, just shorter!)
Completely rewritten backstory in Alex's journal.
Codex added to Alex's journal.
Endgame statistics now keep track of total enemy and allied casualties throughout the game.
Rewrote dialogue for almost every key NPC, especially in the starting area.
The Communications Tower mission is more challenging and offers a more practical reward.
Allies have additional dialogue triggers, such as when the player kills an enemy.
Special units such as helicopters and tanks will spawn one at a time in Sector A, rather than all three at once.
Maps have been resized to accommodate the Command Zone system. Sectors E, C, and A are larger now.
Gunshot and explosion sounds that previously played throughout the entire area now play from random locations.
Battle Intensity settings now adjust how many units spawn in the area in total, not how often they spawn.
Fixes and Improvements:
Snipers no longer constantly scream "The Commander Is Down!"
Some NPCs with misplaced heads have been given the correct appearance.
The technicians and tanks in Sector D will no longer remain in the area after the player visits Sector A.
Cutscenes have been adjusted with more animations, better timing and better camera angles.
Completing the conversation with Nobien now properly offers quest reward.
You will now fail the Communications Tower mission if you abandon the tower in progress.
Player now has a choice to make in the final scene.
The "Reality" scene in the ending has been removed.
Autosaves now added before final boss fight.
And many more.
Be sure to check back here Friday evening for the release!