I'm back again with another release, version 1.01. Thank you to those who gave feedback on bugs and balancing issues and thank you to Ares' AlexB, Starkku, Rampastring and the crew at PPM for helping me solve some issues with the client.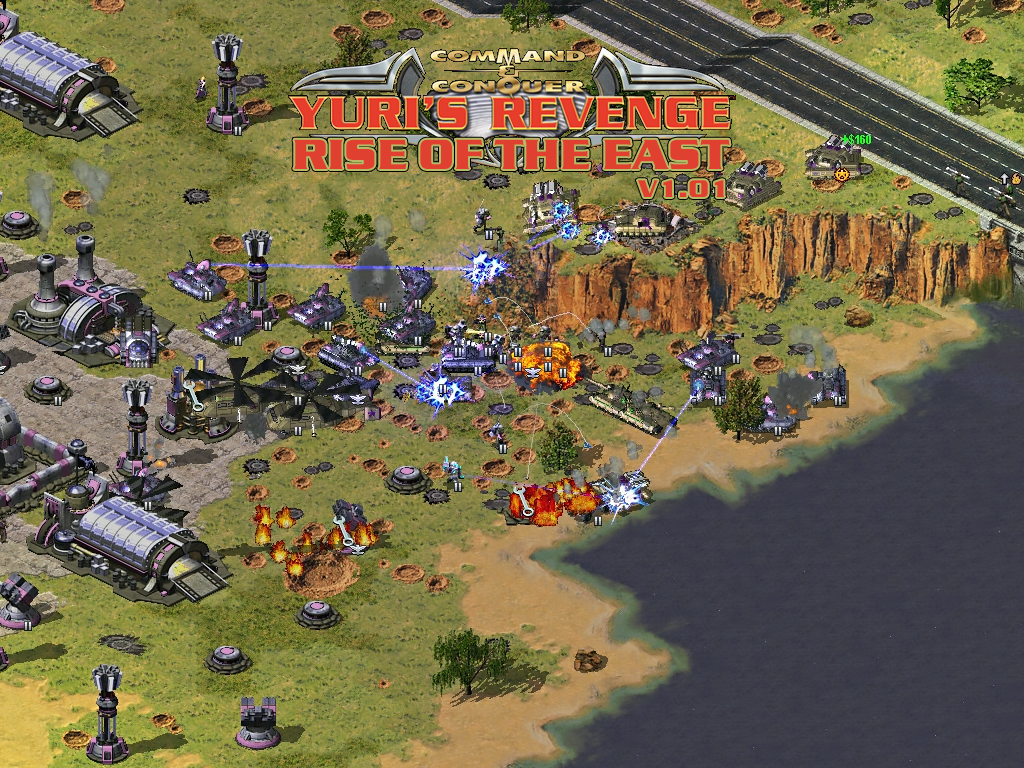 I'm happy to say that I've moved the mod over to a more user friendly platform which most of you are familiar with; CnCNet5 Client by Rampastring. The client's UI is modified lightly to fit the new side's theme and once I have all sides playable I'll move on to making improvements to the client's look to make it unique to the mod.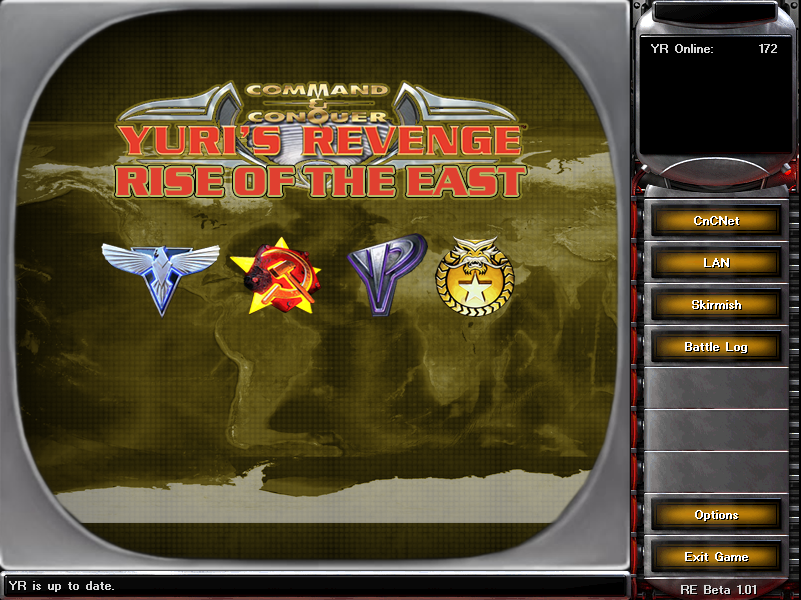 ---
v1.01
This version brings a lot of balancing, art tweaks and new features. Credits are listed in the readme file as usual. PLEASE make sure you read the readme file for installation instructions.
CnCNet5 Client
Basic support added, you're now able to start normal skirmish games and
online games via the client but there are bugs:

Due to the way the client works, it loads up playable countries via the game's list, and ignores the rules set by the mod and allows the player to choose unplayable sides which result in instant defeat. A quick remedy is not to select the "DO NOT USE" countries and don't random/let the AI random
---
**************************************
MISC. & BALANCE CHANGES
**************************************

GENERAL
Anti Air missiles reach the target a lot faster now
Power Plants take more damage from Airstrike and Artillery Barrage
Battle Labs & War Factories take less damage from the abovementioned support powers
Infantry costs have been rounded down to the nearest 50
Veteran units now become fearless
Made graphic improvements to Asian and Allied airfields. Cheaper runways now
buildable once you build an airfield HQ. Also added new fireball, nukes
and other flame/nuke related animations
---
ALLIES

AURORA
Reduced area of effect by 20%

GRAND CANNON
Enabled for all Allied countries
Available at Tier 3

GUARDIAN GI
Can be deployed again

ROBOT TANK
Added to Tier 1
Fast, low armor and medium damage

SPY
Moved to Tier 2 down from Tier 3

AMERICA
SHATTERER - $1200
New siege unit added to Tier 3 (America only)
Replaces old Hover MLRS
High, continuous sonic damage but low armor
Hover technology; cannot be crushed by large vehicles

COMANCHE
Removed BuildTimeMultiplier bonus (was 25% faster to build than normal)
Moved to Tier 2 up from Tier 1
Cost reduced to 900 from 950

HOVER MLRS
Rate of fire reduced by 20% (50 -> 60)
Moved to Tier 3 up from Tier 2
Removed from game for the time being - replaced with Shatterer

ROCKETEER
Cost reduced to 400 from 480
HP increased to 300 from 250

GERMANY
BURST TANK
Speed increased to 6 from 5
Increased damage vs vehicles and structures
HP reduced to 500 from 530

PRISM TROOP
Increased damage vs everything

TEMPEST PIKE
Timer reduced to 3 from 4 minutes

MIRAGE TANK
Now exclusive to Germany

PRISM TANK
Cost increased to 1200 from 1100
Damage reduced to 80 from 90
Damage vs vehicle armor reduced to 50% from 60%
Reduced fragment damage to 10 from 20
Range reduced to 9.5 from 12
---

EAST ASIA

LYNX TANK
Now receives a "Horde Bonus" of 15% damage when near other Lynx Tanks.

RAILGUN TANK
Can no longer be crushed by Battle Fortress
FLAMETROOPER
Range reduced to 3 from 3.5

POWER PLANT
Power plant upgrade moved to T3 up from T1
Now gives 250 bonus power up from 100 but slowly damages the overloaded power plant

TROOPCRAWLER
Is now amphibious - but infantry inside cannot shoot while the vehicle is in water

ECM TANK
Damage increased to 4 from 2

HACKER
Cost reduced to 500 from 600
Corrected bounty value to 50 (was 80)
CHINA
FLAME TANK
Range reduced to 3.5 from 4
Sight reduced to 4 from 8
Can no longer fire over walls
Can no longer be crushed by Battle Fortress
HP increased to 1300 from 1200

MIG
Increased damage from crashing to 75% from 10%
Napalm upgrade's effects last a little longer

HELIX
Reduced damage from crashing to 66% from 100%

INFERNO CANNON
Renamed to Inferno Cannon
Range reduced to 8 from 10
Napalm upgrade removed, its effects are now default
NORTH KOREA
MLRS270
Can no longer fire at air units
Cost reduced to 900 from 1100
HP reduced to 475 from 600
Improved accuracy by 20%
Missile damage reduced to 30 from 40
Range reduced to 9 from 10

ICBM LAUNCHER
Reduced speed of missile to 17 from 20
---

**************************
WHAT'S TO COME
**************************

Next version will include the Soviets (Russia and Iraq) and new/improved art.

Thanks again and enjoy!


#bd081c no-repeat scroll 3px 50% / 14px 14px; position: absolute; opacity: 1; z-index: 8675309; display: none; cursor: pointer;">Save
#bd081c no-repeat scroll 3px 50% / 14px 14px; position: absolute; opacity: 1; z-index: 8675309; display: none; cursor: pointer; top: 627px; left: 20px;">Save
#bd081c no-repeat scroll 3px 50% / 14px 14px; position: absolute; opacity: 1; z-index: 8675309; display: none; cursor: pointer; top: 627px; left: 20px;">Save
#bd081c no-repeat scroll 3px 50% / 14px 14px; position: absolute; opacity: 1; z-index: 8675309; display: none; cursor: pointer; top: 627px; left: 20px;">Save