We've been talking about it for what feels like an age and, late yesterday, the latest corporation to hit TerraTech went live. Venture has been sparking interest ever since its adrenaline junkie fuelled design was first unveiled a few months ago.
It's a look that sets it apart from the corporations already built into play and, with the arrival of an update to the TerraTech Beta late this afternoon, Beta players will be able to get to grips with the array of new parts it brings to the table.
If you missed our Lead Designer's in depth look at Venture a couple of months ago, then you'll be unaware that Venture is a company that sells extreme sports equipment and organises huge motor sports events back on Earth.The intergalactic mining effort is just the next level of thrills for the Venture crew and, rather than focusing on massive weapons or powerful mining equipment, they're all about riding speed, suspension and getting big air.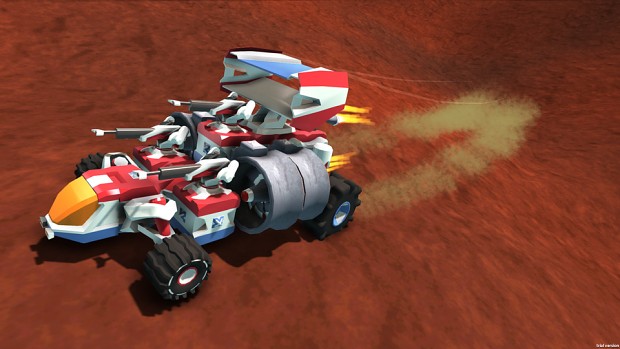 We want you to use Venture's parts to create the best contraption you can, tweet them from within game, and then let us take on the Mountains of Dooooom challenge using your wheels during one of our live streams!
And don't forget, for players who sign up to the Beta during EGX or the following week, you'll pick up an exclusive in-game 'GSO Pro' white vehicle skin with your final release copy of the game! Just make sure you enter the code' 'GSO Pro' in the special instructions field when you purchase the Beta.