I've been working hard on Vektor Prix, and got a ton of work done. First off, I've created new levels. There are currently eight in the game at the moment, some may be replaced in the future. I have to come up with some new entity ideas to populate them, but other than that they are working great.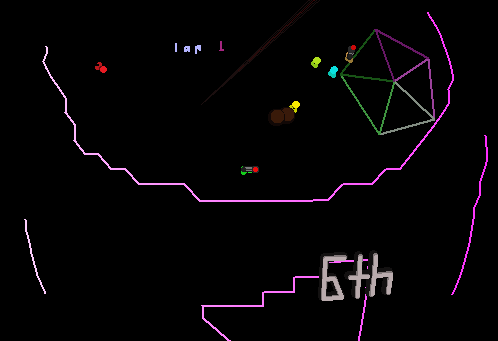 It took me awhile to decide on what the base singleplayer game should be. I've decided to go the circuit route, which means that you compete against the some bots throughout several levels and are assigned points based on performance. The person with the most points at the end of all of the levels is the winner. I felt that the last level of each circuit should be special to give a greater feeling of accomplishment, so the last level of each circuit will be a boss battle.
There is currently only one boss in the game, but more will be coming soon.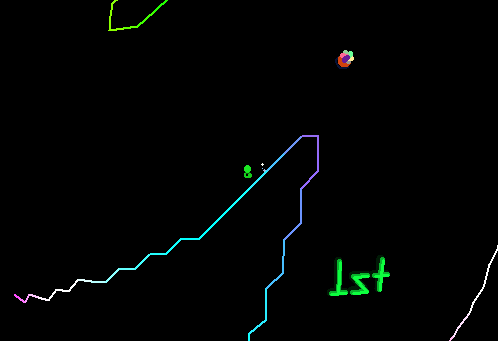 I got tired of competing against a bunch of bots named anonymous, and decided on a naming scheme. Now there are lists, that you can modify, and one is randomly selected when you start a race. The bots are named according to the names in the list. This allows for naming according to themes. The 20th century theme is my favorite so far. Getting killed by Muhammad Ali or Tesla is pretty humorous.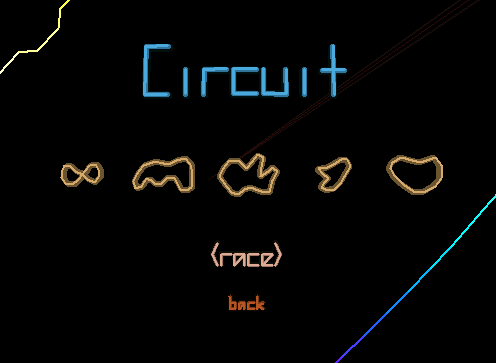 I wanted to be able to draw 'images' in Vektor Prix, but they had to fit the artstyle. I went searching for a file format that was strictly lines, but I was unable to find any. I decided to use a slimmed down version of one feature of SVG, and processed the file in a special way, and now I have vector images in-game. I've also embedded a vector image of each map's minimap within the map file, which allows for level previews in the menu above.
As for other changes, entities such as turrets can now be damages and destroyed. The menus now have lots of sound, including a robot voice narrating your menu choices. I've added game mode modifiers such as YOLO Mode (no respawn) and Vampire Mode (health steal), and added a new team racing gamemode. Awards are now issued out at the end of each level, giving you a title based on your performance. You can get positive awards like most deadly and untouchable, or negative ones such as cannon fodder and bullet sponge.