Pegasus v1.4 Release
We've been hard at work on the NVA faction and as we balance and optimize things, the USA faction gets it's share of fixes, additions and balance tweaks. Rather than sit on all these wonderful changes, we felt there was enough content added to the USA to warrant a version update.
Below you can see some of the new features we've added, a new unit, new maps, a new music track, and tons of bug fixes and balance adjustments.

Download Full Pegasus v1.4
Before Install:
- Be sure to UNISTALL any previous version of the mod BEFORE installing Pegasus v1.4
- Be sure to delete the VGO folder in your Zero Hour directory if you have a previous version of the mod, some users were reporting the uninstaller sometimes doesn't remove all the files.
- Be sure Zero Hour is patched up to 1.04 before installing Pegasus 1.4
Mod Database
ScreamingCricket.com
PEGASUS 1.4 PATCH NOTES
New Features:
New monetary system - villages provide some funds even when unoccupied (but provide far more when occupied!) and each player gets a constant stream of free funds.
New Optimized fast loading shell map
Fire propagation - when trees catch fire, the fire can spread to other trees
Agent Blue causes trees to become "poisoned", considerably damaging infantry until trees regrow
New Font for main menu
Broken Arrow Overhaul - rather than one large strike, you get smaller more frequent strikes. OV-10 Bronco is sent in orbit the area and you can select where the air strikes hit, much like how targeting works for the AC-130 Gunships.
New special effects for napalm
Visual improvements to the jungle trees
New Unit - Monitor:
A floating weapons platform, can switch between weapons:
-- 105mm cannon turret
-- 2 "Zippo" flame turret
Monitor replaces the Tango Transport, which has been removed due to unfixable bugs
Increased cost from 800 (Previously the Tango cost) to 3000 (new cost for Monitor)
New Voices and Icons for Monitor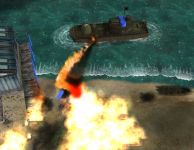 New Maps:
A Quiet Life - 2 Player
Journey To The Line - 2 Player
Qui Nhon - 2 Player
Restless - 3 Player
Valley of The Ethereal - 4 Player
New Musical Track:
New Music Track for the USA by Enrico G. Fernandez - Listen now on our music player!
Balance Fixes and Enhancements:
Bombardment Gameplay Adjustment - Battleship is invincible when not under control of any player.
Bombardment Gameplay Adjustment - Battleship Controllers are disabled when the battleship is destroyed.
The hovercraft can now carry infantry.
The Vulcan was improved against aircraft.
The M102 had its reload time shortened and rate of fire increased.
The M110 reveals itself when firing.
Medic now ranks up.
M79 now ranks up.
M60 now rappels correctly from choppers.
Sniper
-- takes longer to acquire a target.
-- cost increased to 600.
-- no longer stealth by default.
ACC no longer requires Field Ops to build.
CC cost reduced to 6k.
F105 armour and damage reduced.
Gunships better balanced.
Marine capture animation fixed - now raises US flag properly.
Tank turret's will now pitch over distance and are less likely to shoot obstructions.
You will now get 3 generals points instead of 2 when you become a 4 star general.
Huey tool tip now correctly shows it can carry 10 soldiers.
Issue with bridges not working on some maps have been resolved.
Many minor tweaks to balance against both itself and NVA.