This one is one of my favorite updates so far. I have been wanting to build an in-game vehicle painter for years. I really wanted for users to be able to paint the bodies right in the game and not have to use an external image editor. (You can still use PS, Gimp etc by just saving the .png file in the correct folder in your Documents/devotid/RCSIM2/Paints/.... folder.) The paint booth still has some small little things that I want to add but I thought I would put it in more hands to test it out and to see if I am heading in the right direction.

Please let me know what you think of it and feel free to add any ideas that you think would be helpful.

- New "HOME BASE WORKBENCH" Default Scene for the new vehicle customizing area. You will now be defaulted to this room any time that you want to change vehicles. This will give you a room to get everything ready to go before going to the track. It is pretty much the main menu now.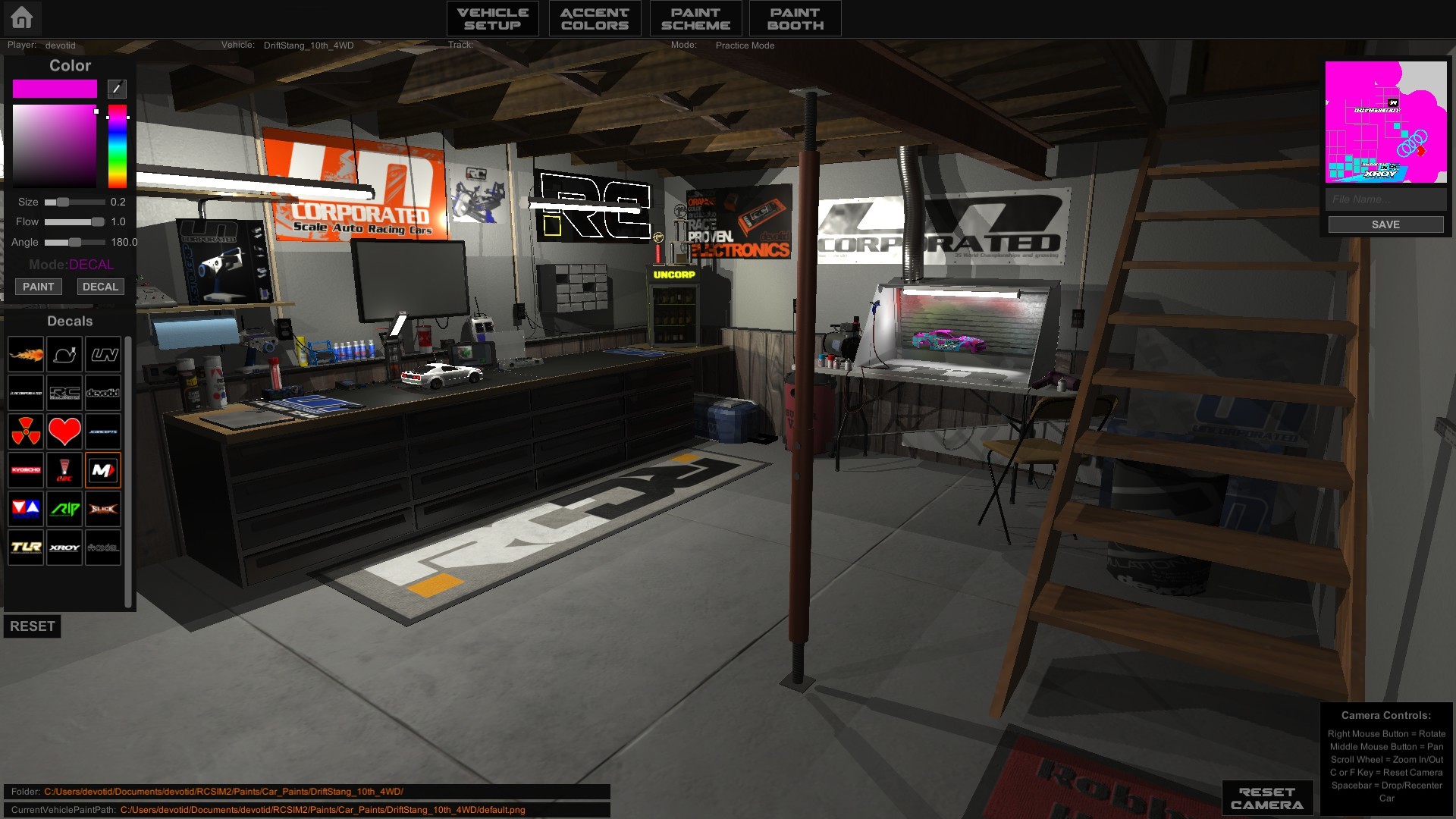 - Brand New "Paint Booth" area with ability to airbrush your own custom paint job right in the game and save them as PNG files to be loaded or shared later. So far there is over a 100 different brushes and decals to choose from. You can even add you own brushes and decals to the ingame painter in one easy step. You do this by just putting your own custom .PNG files into Documents/devotid/RCSIM2/Paints/Paintbooth_Brushes or Paintbooth_Decals folders and then they will show up in the "Custom" (Blue) tab of the appropriate folder.

The Brushes are to be saved as White only .pngs (so you can change the color to paint with) and must be on a transparent background. The best size I have found to not bog down the computer and still look great is around 512-1024 pixels in size. They do NOT have to be square. I have not needed to make an image over 1024 in size. Most of the brushes and decals are about 512x512. There should be NO alpha layer on these images.

The Decals are saved in the same way but can contain borders, Shadows, colors....etc. The sizes are going to be the same as the Brushes. These are going to be mainly used for decals but you can do anything you want with each of them. Feel free to experiment and let us see the results!!!!

- New loadable custom Paint scheme for all vehicles. If you like to Photoshop your own liverys (paint schemes) you can now save them as a 2048x2048 .PNG file into the proper folder in your MyDocuments/devotid/RCSIM2/Paints/Car_Paints/"VEHICLENAMEHERE"/. There is a folder for every vehicle and two default files in each folder (default.png and a defaultBLANK.png). Do not replace or move the default paint schemes for each vehicle. If you would like to make changes to the default.png just make a copy and then make changes to the copy. The game will overwrite each default.png and defaultBLANK.png in each vehicle folder at the games launch. This is a way for me to update the default paint jobs in the future. The game will just list all of the .PNG paint schemes in a menu in the Paint Scheme menu. I have made all of the PSD Wireframe Files available for download at this link:

Download Vehicle Wireframes 14.3 MB [rcsimulation.com]

These Layered PSD wireframes will be used in Photoshop or whatever image editing program that you prefer and then outputed to a 2048x2048 PNG for use in game. You MUST save them as PNG's because PSD files and JPEGS will NOT work in game.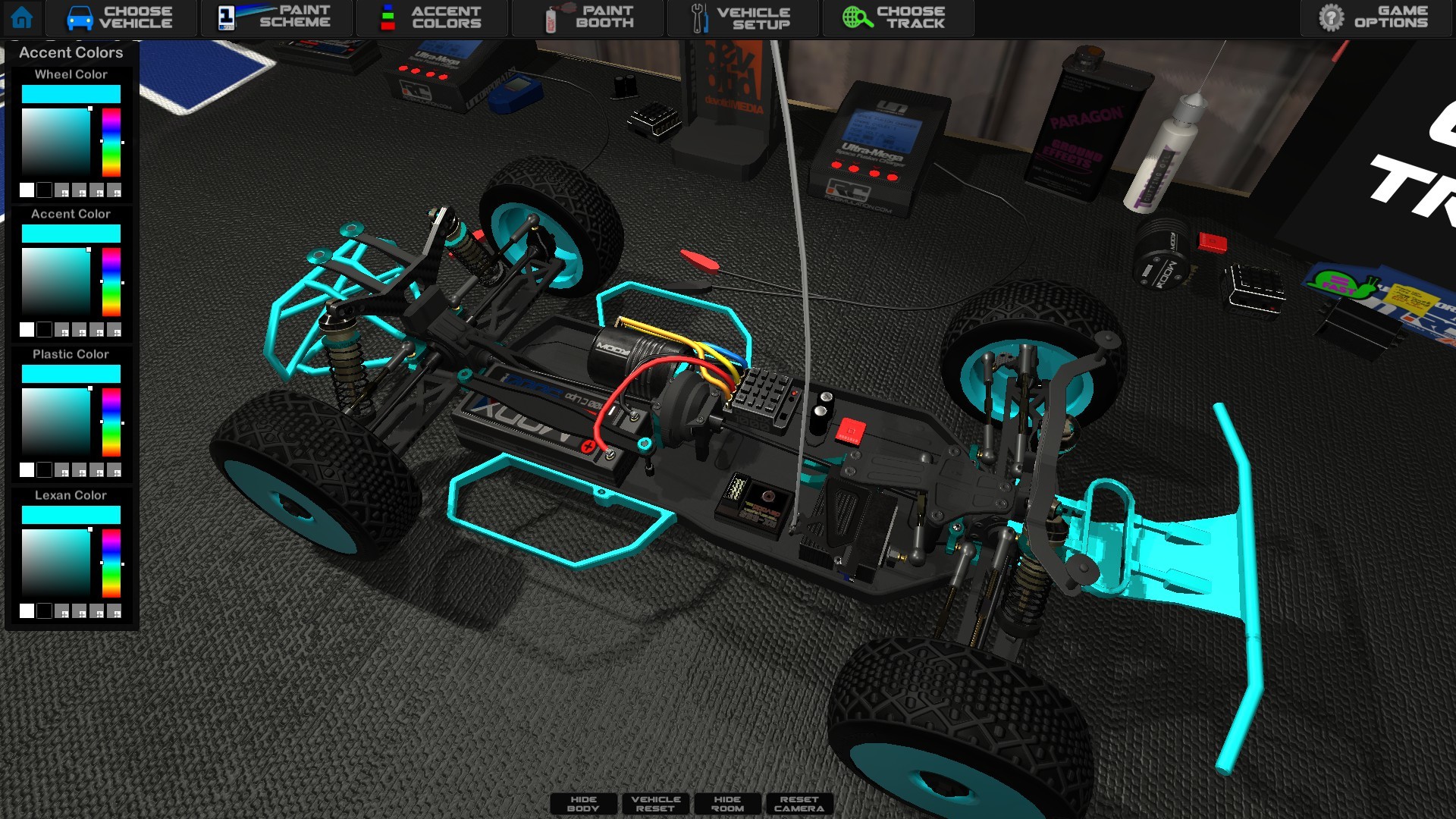 - New Accent color system (Turnbuckle colors, wheel colors, Annodized aluminum colors, etc...) This gives the user the ability to match up the accent colors of a vehicle to its current paint job. I also put 4 small color presets next to the Black and White presets that you can set to your favorite most used colors. To "Save" the color of the preset just hit the small tiny square in the corner of the color preset.

- New Crawler suspension with a live front and rear axle just like the Squatch and Monster Truck. Also updated the Center of Gravity on all the Crawlers.

- New transmission model on the crawlers as well. They feature better throttle response from a standstill which is better for the more precise and subtle movements of crawling.

- New Canopys (Lexan Covers) for all the Quadcopters. I love quadcopters with canopys on them. The canopy will help with being able to fly line-of-sight a little easier. Another reason I wanted to add the canopys to the quads is it will give the drone pilots something to paint and customize in the new Paint Booth area. If you dont like canopy's you can always just push the B-Key on your keyboard and turn them off.

- New Camera Menu that is easier to use and to identify which camera mode you are in. This is still a work in progress and will most likely change as I start working on the AI racing cars. I am still trying to streamline and clean up all the menus in game. Please let me know if anything is confusing or could be more clear. :)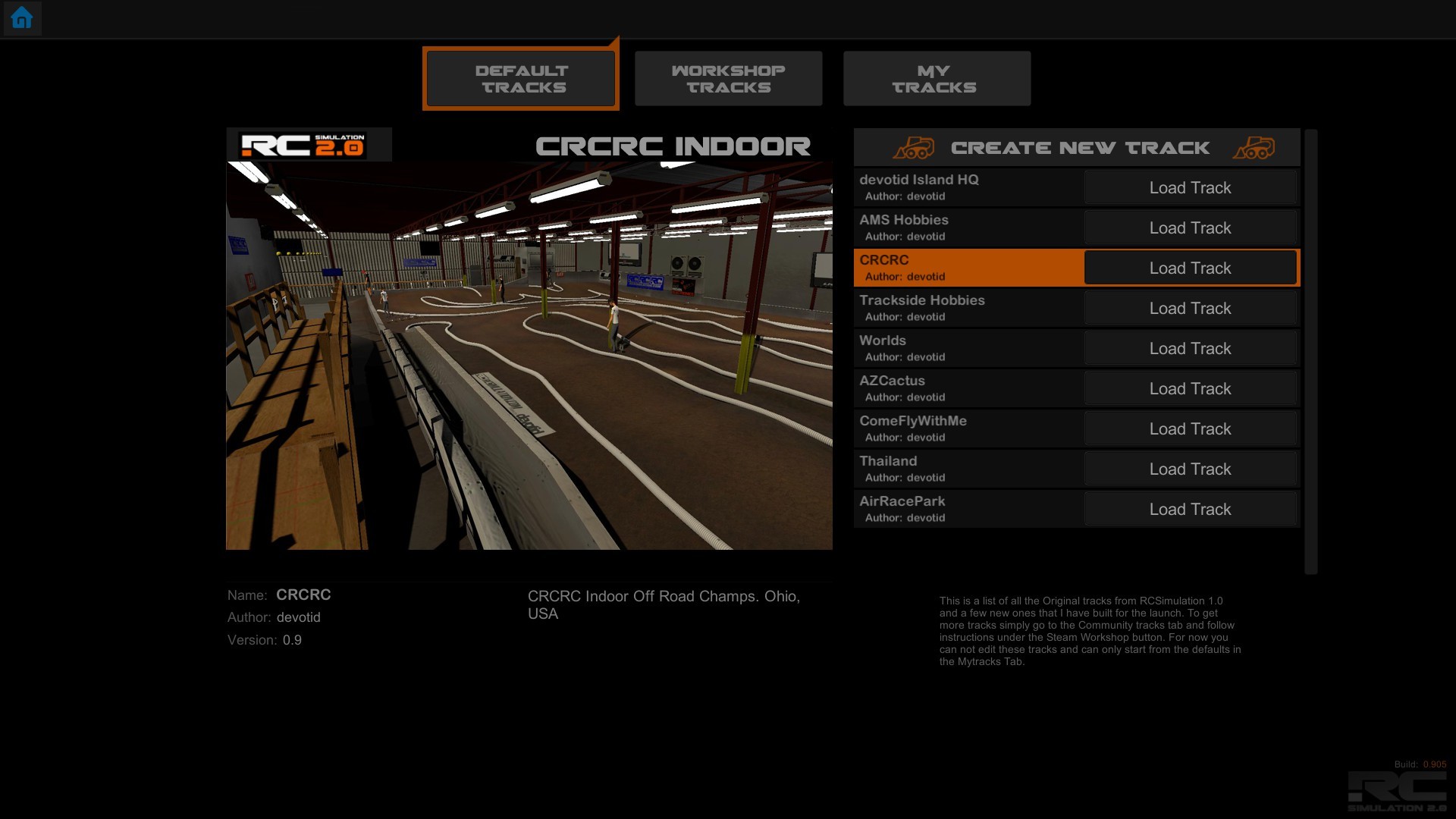 - Removed a bunch of un-needed stuff from the menus in an attempt to make the whole package easier to use. Please let me know if there is any confusion and I will try to make it easier to understand.

- The Land Vehicles setups are now saved in your "Documents" folder under unique folder names for each Land vehicle. They used to be not visable in a "Hidden Windows" folder but now are available to copy and share with friends. Shareable setups are only available for the Land Vehicles for now. Air and Sea Vehicles do not have shareable txt files as I am still working on the setup system for them.

- Added a bit of smoothing to the steering and Throttle when you are driving with keys on the keyboard. The best way to play RCSIM is with a controller but for those of you who chose to use the keys this should make it a bit less "instant". This will not affect controller axis in any way as they are purely linear.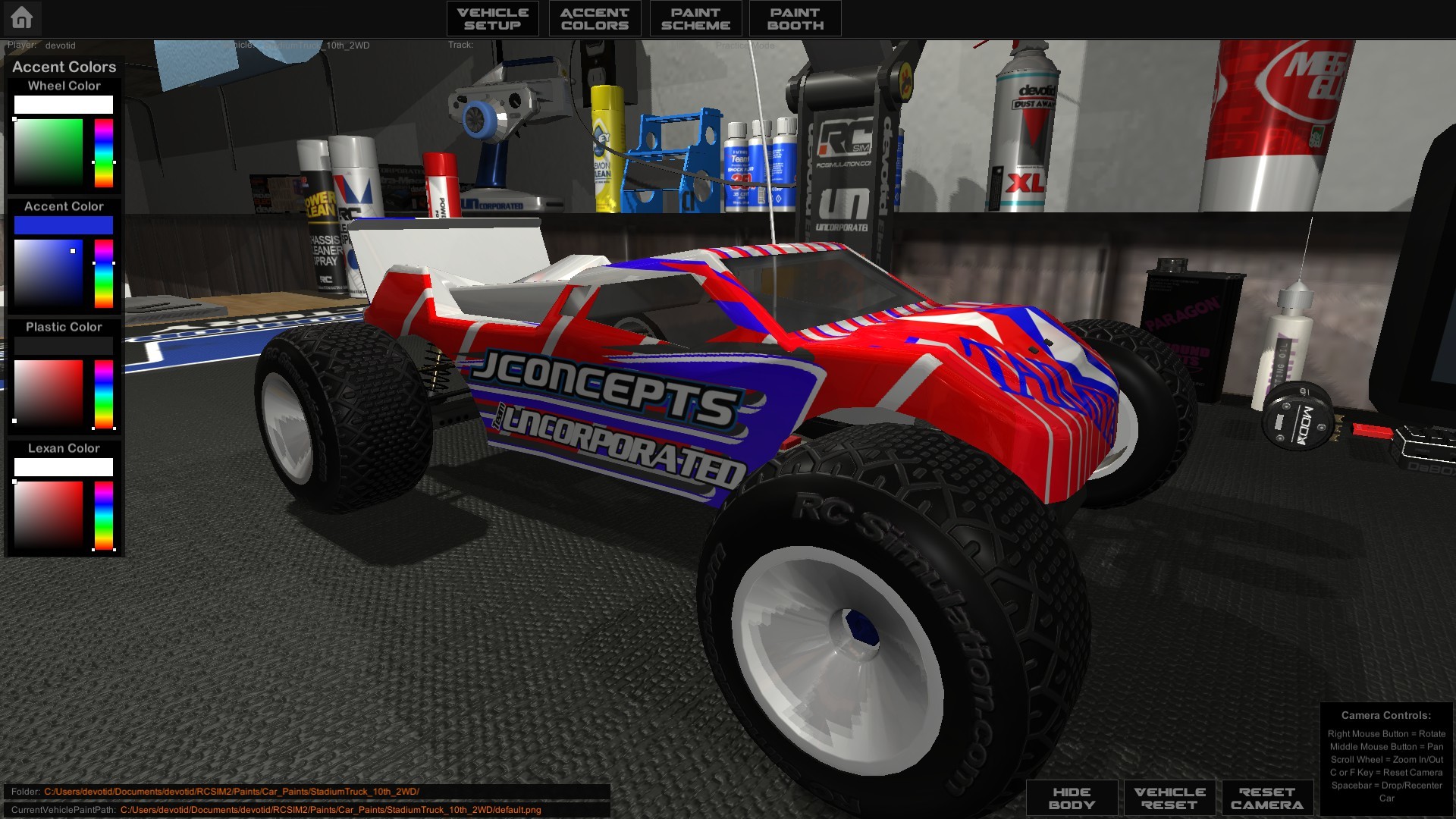 General Bug Fixes:
- Fixed a bug were the camera would load in Larrys Head and you could not see anything
- Fixed a bug were the camera would load in the wrong Driverstand spot and you could not seee your vehicle. (the spawn points on the custom tracks is purely up to the creator so I am only speaking about default tracks.)
- Fixed a crashing bug on Linux builds at startup
- Fixed the Menu scaler system so its a bit easier to use and the game will now instantly save your settings.

Well thats it for now.... Please feel free to share your screenshots of all your custom paints as I would love to see all the cool creations!

As Always. Thank you very much for the support and happy RC'ing!
Kevin
devotid
If your new to RC Simulation 2.0 please check it out: