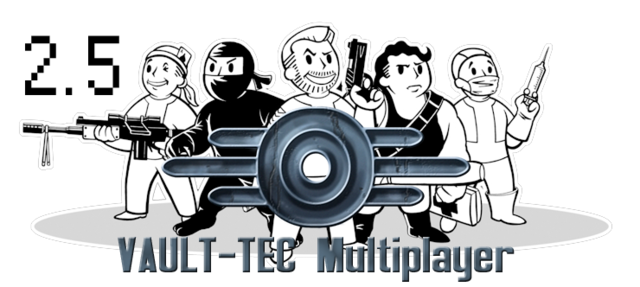 This is a bugfix release ("gary 2.5") which resolves the following issues:
Some crashes related to pickup of items
Several issues related to downloading of mods
Client crash if actor in different cell fires weapon
Client crash before respawn (Unknown object ID)
OnClientAuthenticate callback in C++ scripts
New features:
Synchronization of NPCs and containers*
Scripting functions to spawn NPCs, items and containers
Synchronization of time
Synchronization of weather
Synchronization of age, race and sex
Several new scripting functions and callbacks
* does only include objects created with a script or dropped by a player. experimental
Please update your version. Previous releases will no longer be able to use the master server.
If you are getting world loading errors (or loading screen freezes), please check this thread: Vaultmp.com
---
I'd like to get some people together for creating a screenshot, showing a group of players doing different things (animations (see here), fighting etc.).
If you are interested, join the chat or leave a comment so we can find a date (between now - 31st december). Please make sure you can run vaultmp (joining a game) before.
It would also be nice if you could research interesting idle animations. You can find a sheet with all available in-game animations here: Vaultmp.com
You can test them in-game by opening the console, using "player.PlayIdle namehere", or with a script: PlayIdle
I aim for Fallout 3, but I'm open for New Vegas as well.
Please vote here if you want to participate. Again: please make sure you can run vaultmp (gary 2.4) and Fallout 3 beforehand.