Today we say goodbye to Early Access! It's been a crazy ride which started with being Greenlit in only 13 days. Since then, 4 months have passed and we've released 12 major updates and loads of new content and features. We've had over 300 player-requested features throughout Early Access and we've pleased to say over half have made their way into the game and more likely to be added in the future. We'll be posting an update later in the week as we're sure you are all interested to hear about the next step for Distant Star: Revenant Fleet (rest assured, we've got plans to continue adding to the game and expanding the franchise further). For today though, here's the final Beta patch – and there's loads of cool stuff!
More options in the starting shop
We've added a bunch of attachments to the starting shop to give you a few more options in configuring your starting fleet. You'll have to decide what ships you want and whether or not they'll have attachments added to them – but importantly, you'll have options. In particular, one option you will have is whether or not to try out the…
…new ship class!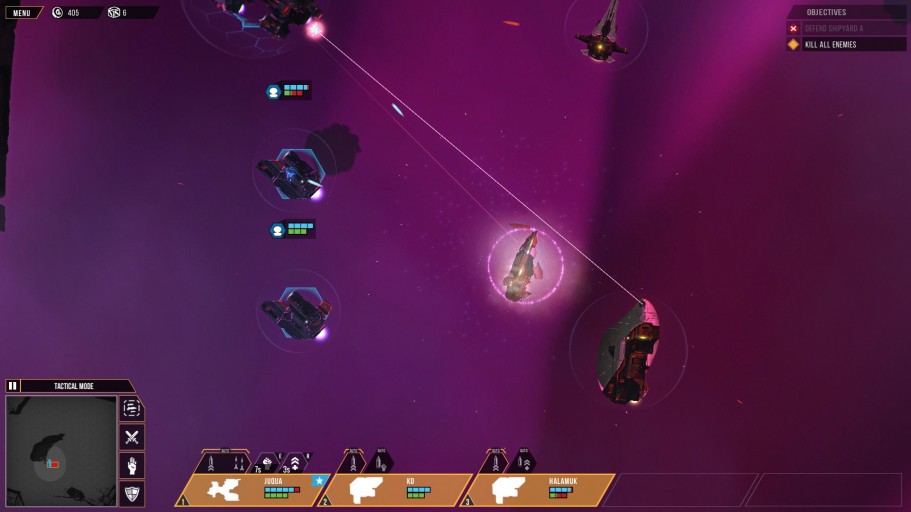 We've added the A'Kari gunship as a playable ship. You've seen the Orthani variant quite a lot and maybe even the A'Kari version if you've made it to the Erebus Platform – they're essentially a smaller version of the Assault – they can equip one weapon (missile or cannon) and one attachment (similar selection to the Assault) and with 4 shields / hull each they will be able to take a lot more hits than the Lancer would be able to. Check it out and let us know what you think.
More shops
Each sector will have separate guaranteed shops for attachments, ships and supplies. And the even better news is that the attachment shops will contain a random selection of attachments, including the new…
…tier 2 & 3 Attachments & Weapons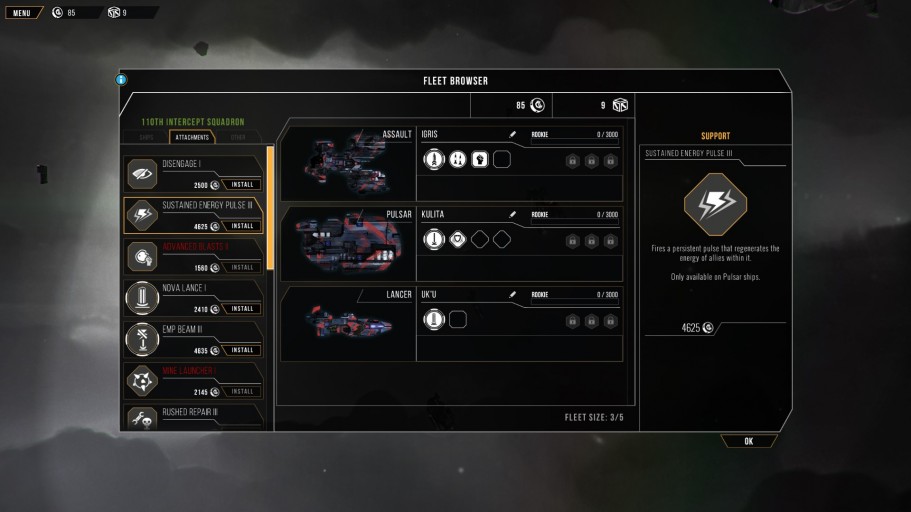 All weapons and attachments now have tier 2 & 3 variations which will be dropped as mission rewards or purchasable in shops (although they will be rarer than tier 1 attachments). As you would expect, these upgrades are more powerful than lower tier versions.
Changes to Danger Level
Danger level will now increase more per jump but it will completely reset when you enter a new sector. This changes will mean there is an increasing risk to remain in a sector, but you won't be carrying that penalty with you to the later game.
Changes to Phase Warp Criticals
Previously, if you saved a game while in a mission, you would incur a permanent critical damage penalty for all your ships. We've changed how this works. First of all, if you are in a mission but not in combat, you can save and exit without penalty (the same as if you saved in the sector map). However, if you are in combat, you can save and exit but you will incur a penalty. All ships will receive critical damage or two if a ship is disabled (but they can be repaired) and you will consume 1 supply. You'll still have to replay the mission when you reload the game, but it will start over so you can choose new story choices if you want.
Patch Notes v1.0.0.2
Tier II and III Support, System and Weapon Attachments added.
Tiered Attachments now appear on enemies in relevant sectors.
Tiered Attachments now appear in player loot and shop pool.
Added new Attachment shops. One of these guaranteed to appear per Sector.
Added new Ship shops. One of these guaranteed to appear per Sector.
Range of automatic weapons now shown on hover.
Updated starting shop to include Gunship and some Attachments.
Sustained shield pulse now brings shields back online.
Shield Pulse can now bring shields back online if they are down.
Attachments that consume shields can now knock shields offline.
Changed Reaver Mode to use a shield cost per second rather than upfront cost.
Reaver mode, Unstable Reloader and Unstable Overcharger now have a shield cost to activate.
Added EMP Beam and EMP Bomb. Included them in the shop and loot tables and the enemy Attachment pool.
Missile Drone Bay added to random enemy attachments, loot tables and shop table.
Phase Warps are now repairable. They are only applied if you try to leave the mission and there are enemy about.
Sector map generator will now only re-use a non-unique event if all the non-unique events have been used up.
Attachments can now have a shield cost set on them, either as an immediate cost or a cost per second.
Attachments can now have a minimum sector and maximum sector specified on them. This will affect when they are attached to enemy ships.
Combined auto-weapon buttons no longer have one super-mega tooltip. This now runs off the icons rather than the button itself.
Can now hover over drone warning areas and get a tooltip describing what they are… Capability added to add tooltips to torpedo and mortar areas as well.
Akari NPC faction no longer takes damage from Akari faction explosions due to new 'ally factions' list on each faction.
Removed 'Alpha' Panel from title menu. Added the BG logo, and a button to bring up the Patch Notes Panel. Also added a button to the Patch Notes Panel to bring up the forum URL.
Escorts and Defend targets now show battle marker on the minimap when under attack.
Added more enemy fleet tiers.
Capture area markers and objective markers are now hidden by the fog of war.
Scene changes now using new missions.
Added AI for Shield Pulse and attached it to associated Attachments.
Added an icon to show when you don't have enough shield energy to use an Attachment.
Attachments will now be unavailable if they have an energy/shield cost per second and you don't have enough energy to run them for at least a full second.
Player ships that are alive when the Erebus Core is killed should now remain alive rather than all but one dying.
Icon atlas updated.
Reduced the tooltip delay in the Sector Map to 0. The tooltip will also now trigger off the text.
Updated controls screen with Esc, Alt and F1 button functions
Contents of ship info panel shuffled along to make room for bars on max-health dreadnaught.
Objective banner will now resize to fit contents.
VFX updates for self-heals.
Deleted unused video content.
Added error logging to the StoryMessageSender so it will now throw a warning if the object it is trying to message doesn't exist.
Gunship attachment requirements added.
Line ending tweakery.
Balancing
Updated prices on new tier weapons.
Increased Danger Level increment to 1 from 0.5 on each fleet jump. Now fully resets to zero on sector exit.
Made Start Mission easier.
Removed Tactical Advantage from all other Assaults bar the player's starting ship.
Changed the scaling enemies calculation.
Increased the starting fleet level modifier for the first sector and reduced all other sectors.
Reduced the effectiveness of Akari stationary shielding by 10%.
Reduced the effectiveness of Akari mobile shielding by 20%.
All pirate ships have had their hull reduced by 40.
Removed ROF skill from rogue pool.
Adjusted the chances of various events occurring.
Added FortifiedAkariTech to help resolve tech defence mission.
Bug Fixing
Ships should now accelerate normally, even when moving to a target very close by.
Enemy ships should no longer be invulnerable to all player attacks other than missiles.
Fix for various Defend and Escort mission win/lose conditions – the objective triggers now delete their opposite number when triggered.
Fix for a number of broken story outcomes.
A'kari fleets 7.5 to 9 changed from Orthani faction to A'kari faction in order to prevent friendly ships attacking the player.
Criticals should now always save correctly. All modifiers on a ship should be registered all of the time.
A save is forced when repairing a critical to avoid them reappearing in subsequent missions
Fixed issue where some attachments would not activate.
Audio now behaves correctly when changing scenes. Music and SFX mute will no longer be cancelled when the player is killed, or the scene changes.
Fix for audio options not toggling on and off correctly.
Enemies no longer remain on map after mission ends.
The speed overrides on BrainLurk should now work as originally intended – allowing omni lurking ships to move towards the player at the same speed.
Fix for danger level not setting properly.
Fix for HostileEvent3 – Fleet browser did not appear to grant player repairs.
'Click to move' popup now only only appears in the starting battle.
Orthani structure are now hidden on Hunt missions.
Defend 2 now no longer results in a full win when 1 of 2 defence targets is destroyed.
Once a Lurker becomes aggressive they should now stay aggressive.
Mouse clicks are now passed through the warning icon to the control system so that attachments can be targeted on ships.
Temporarily removed debris from damaged ship objectives to prevent them showing through the fog of war.
Temporarily removed some non-functioning event data (to do with spying) from one of the neutral story events.
References to Orthan/Orthani intelligence is now consistent in one of the events.
Removed a spammy debug line.
Energise Weapons I can no longer be applied to Lancer ships.
Starting assault ship image now appears correctly in fleet browser.
Attachment range indicator now gets successfully removed if mission ends while it is on-screen.
Gunship icon should now appear correctly.
Removed all non-square ship icons and a bunch of duplicated code to replace 'Icons' with 'IconsSquare' in the icon name field.
Small tweak to Gameflow to stop a setup call from occurring twice.
Mines will now no longer trigger battle music.
Ships set with 'DontTargetMe' will no longer trigger battle music.
Fixed Patch Notes text.
NPC info box no longer generates warnings as the hover bars are not marked as being contained within a selectable button.
Some AI Attachment use and mission fixes.
ItemEvent2 – Sending engineer to repair ship now triggers the correct story option.
Gunship should now be able to take correct skills.