It's review time!
As promised last week, we focused on the final details of the after-death. And good news everything works!

The keyboard / mouse and joystick controls are 100% operational.
Spells work as well in multi as in Local!
The fourth spell is available. But it changed a little…
We present this:
Spawn 3 patrols from a trapdoor and send them to fight the target player.

But finally it will be this :
Spawn a furious patrol from the trapdoor nearest the target player.


Fury mode (visible by a red drag) means that a goblin concentrates on a single target for 30 seconds. During his fury, he rushes to his target even if it hides in a wardrobe.
The number of patrollers was reduced from 3 to 1 to avoid overcrowding the dungeon (If you are three to trigger the same spell, it can have a lot of Goblins).


But the new is especially the Fury mode of the Goblin, it is the 4th spell so it was necessary to find something that can accelerate the end of the game, especially if the last dwarf remains hidden.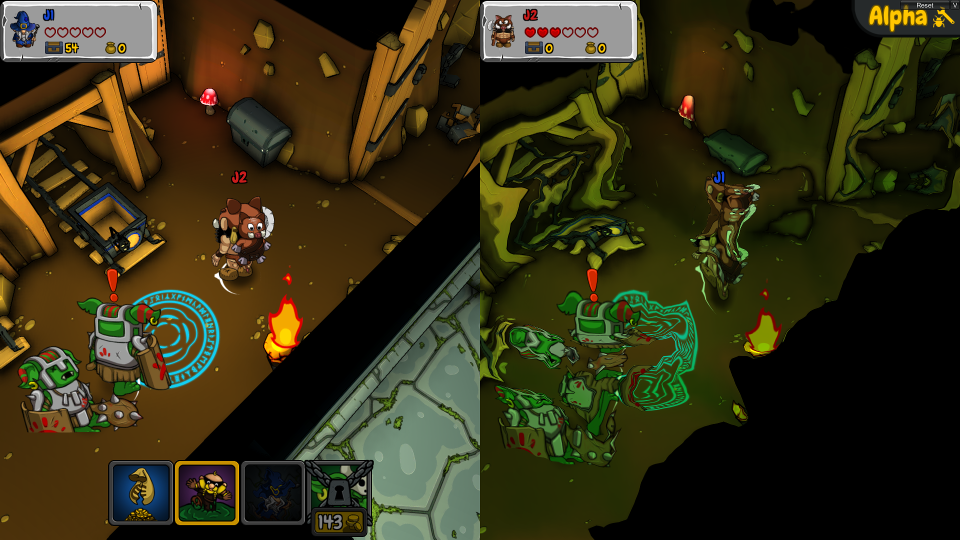 ---


Translator


bugfix when saving a scene.


Gameplay


Objects subject to physics no longer block AI movements.
Fixed search by propagation (used to search for a close object like a drum, spawner, etc …)
Fixed the replacement of dead goblins in combat. If a patrolman is killed, a new one will be created and will take his place.
Improved transitions of the distortion effect (third spell):





Scroll acceleration / deceleration.
Fade colorize (white -> green).
Increase and decrease in intensity of distortion.





Improved feedback when using the 2nd spell (slowdown zone):

Rewriting the Projection Shader to support colorize and blending "SrcAlpha OneMinusSrcAlpha"
Colorize the circle of invocation in blue when the spell is available and in red for the opposite case.
---
Next Week


Shadowegemon will review the formula for increasing the number of goblins over the game. A system was planned that would take into account the number of players, the size of the level and the difficulty.


Aldys Will continue on the 3D. We start having content!


For my part I will add an animation to the zone of deceleration (a greenish ectoplasm) via a Vertex Shader. I will also take advantage of it to review some details about the circle of invocation and the animation of incantation. But I think especially dedicate this week to the integration of the 3D characters that Aldys has already produced. Yes we are!