After a few months of slow but steady work, that new version includes a new user interface allowing a better game costumization, and 5 different challenges. For now, appart from minor tweaks on attractors and repulsor, the gameplay has almost been left untouched.
What is new :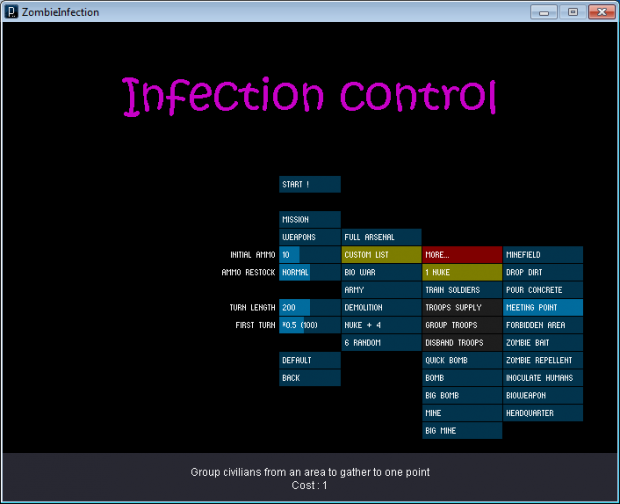 There is now a start menu ! Wouhou, Zombie Infection almost looks like a real game ! From that menu you can set different settings such as the speed, number of initial ammo, turn length,... Also, information such as weapon descriptions is also provided when hovering the buttons with the mouse.
There is also now an end to every mission, and you can choose from 5 different challenges (survive untill the army comes to your rescue, try to wipe the infection out of the map without killing too many people, or even try to kill as many people as possible.)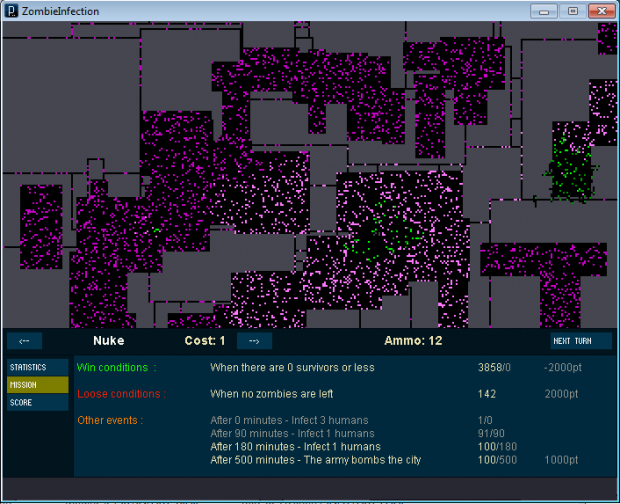 What might come next :
Now that the bases for the UI have been set, I will now go back to gameplay. First, I'll do some work creating new weapons and balancing existing ones (such as "Meeting point" which I have never managed to use efficiently). Expect to be able to give some kind of movement orders.
At some stage, I should also find a way to add some crude path finding to zombies, so they can track humans from a longer distance.
More fun (in my opinion), I should dive again into the beings behaviour to create new zombie types, ways for the infection to spread, vaccines, doctors,...
Finally, the present structure allows easy translation. I will write a french one, and contact me if you want to do your own (I don't know yet if it would support Cyrillic or other alphabets. But we should try...)