After our problem from last week, we are back with a little update.
Those who check the Nosferatu frontpage frequently have read that I had a data loss last week (check the last newspost directly below this one, if you want to know more about it).
Anyway the source changes has mostly been recovered and we are slowly getting back to full workspeed.
This week the USP Match skin by Pete: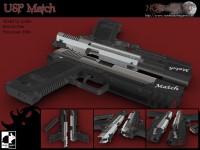 I also updated the Design Document (which gives you a good idea of the game design), and made a nice pdf out of it, additionally theres a new track by Parapraxis
My .plan will be updated either today or tomorrow so dont worry.