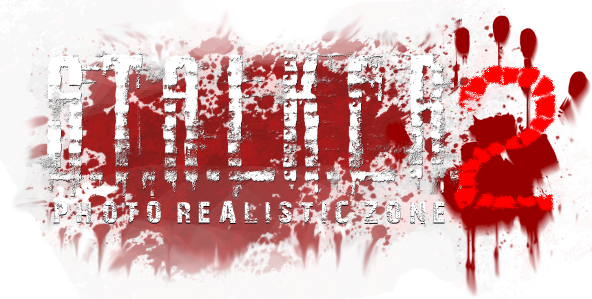 Hello fellow S.T.A.L.K.E.R.S...
I want to take a moment of your precious hunting time to introduce my newest project, Photo Realistic Zone². Many of you know the original mod, made by Argus, and consisted of the "Structures" pack and the "Creatures" pack. I took both of these textures packs, with some other high resolution textures from Cromm Cruac and merged them all together, as a base for my mod.
Now, I didn't take the textures from various packs, merged them and took credit for them. I followed various texturing tutorials, recognizing different materials, usability of photo's, making my own textures with various other textures, making seamless textures etc. etc. I've come a far way, from making my very first weapon skins to my latest works.
"There is a lot more to texturing than you think. You need to have a keen eye for shapes and design, you need to know traditional art theory, you need to be great at observing and picking apart things, and you need to know how to balance your shapes, among many other skills." - racer455
So with that in mind, I'd like to welcome you to my newest project, old followers, newcomers, everyone. Please, be sure to leave as much feedback as possible so I can imrpove even more. I need you guys in order to make a balanced texture pack, because I am sure most of you guys wont agree on every new texture I make.
So again, welcome both old and new, to the Photo Realistic Zone²
---
This mod will be compatible with
every

mod.
---
Sad news S.T.A.L.K.E.R.S.
22nd, Feb: Welcome. I am not pleased with the GF download service at all, and rest assure I didn't just sit around and did nothing. I've send an email at the staff regarding the issue and I hope to hear back from them soon.For now, grazegrabber has put up an alternative link to a torrent. Because my internet is slow, uploading takes half a day for me, so I can't spend the time uploading the parts to other sites. We just have to wait a bit. The zone's testing our patience.
---
In regard of the blocked countries, here is the list:
Game wrote:

Hello Game Front Affiliates,
I need to inform everyone of a change to our file hosting service. We can no longer support downloads in the territories listed below.

Please note that we still fully support uploads, downloads and file hosting in the US, UK, Canada, Australia, Germany, Netherlands, and a number of other international territories-and Game Front remains a great hosting solution for those and many other territories.

We thank you for using Game Front, and regret any immediate inconvenience to your users.

If you have any questions, please don't hesitate to reach out to me.

Thank you,
-Mark

Argentina
Mexico
Chile
Spain
Thailand
Poland
Colombia
Brazil
France
Venezuela
Italy
Peru
Uruguay
Malaysia
Turkey
Indonesia
India
Ecuador
Costa Rica
Honduras
Hungary
Philippines
Portugal
Romania
Russian Federation
Serbia
Singapore
Sweden
Japan
Indonesia
---
About the User.ltx
It's pretty simple to tweak the user.ltxMy user.ltx is linked here. Do mind that you can't directly use my config, because of the custom keybindings with my gaming mouse and resoltion. But, you can read this article on how to change your user.ltx (albeit ingame, or in notepad) and what line does what. I'd advise you not to go overboard :)And there are some handy tricks to doing the stuff in game, just type "r1" and use "TAB" to go through the commands!