Urizen Shadows of the Cold Deluxe Edition Update 2/21/2017
Hey everyone, we've got a small update for you, but where to start?
Alright, so first off I've completely integrated the on-screen life expansion feature which enables the player to purchase these permanent double life gauge orbs that maximizes your available life gauge to 200, available in the Urizen store .
Next, I've finally managed to integrate a simple settings screen which allows for a full-screen and windowed option, plus you will be able to choose from keyboard and joystick.
Third I've started to add a 2 player co-op, but I am wondering whether to integrate a simple "deathmatch" mode, I really have my doubts that I'll finish it by June. I'll probably add it come another update.
Fourth back in my high school/college days I had a create a warrior feature implemented in Urisis (now Urizen). I had removed it because of missing code that became unavailable in Game Maker after an update. Apparently that missing code is back. Which means my fellow warriors might be creating warriors for themselves.
Fifth I've laid out the Dragon's dungeon stage which is now the Dragon's peak.
I've been working with the menus a bit for ease and clarity.
The bug apocalypse is almost over...still hunting them down, just a bit of them.
I've finished some stages like Bloodgores castle, but still in need of a great boss, the initial planned layout is done though. another graveyard stage has been made. With boss coming soon. The Azurite stages are all finished including the boss, but may need some tweaking.
More enemies and enemy revamps.
A lot of the enemies shoot projectiles now.
Oh and the finality is now a notch more surprising and funny, you'll find it a lot interesting and compelling..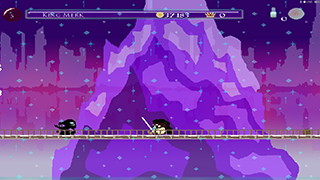 We'll I've realized that Urizen could do with more in-game hints, so I will be implementing farmers, citizens of Urizen and peasants to interact with the player and give out game-play hints and secrets. You'll be talking to a funny looking crow named Bones soon, yeah he'll probably try to sell you something. LOL Again the create a stage is on its way but a doubt I'll have it done by June though, I might dismiss it altogether. Yes I could do so much with the world of Urizen but I'm only one guy with a hobby, and a quality control/writer friend named Derek Killion, and Efe Tozan my proud hired musician. I'm going to keep rolling with project Urizen as long as it takes, I'm in it 'till the end.
Later fellow warriors,
From the Bloodshadow Games Team
Have a great day!! :)