A few days ago we released our first update, Version 1.1. We originally decided to do it because we noticed that our Twitter link was broken since we switched our account name to @MidnightTangent, but then decided to actually incorporate some gameplay changes as well. The 2 biggest changes we made were to speed up the first level by 1 second and to make the basketball spawn in a random location on the slam dunk game. People had told us that the first levels took too long to get through and we thought that just pulling the basketball straight down every time was a little bit boring.
Some other changes we've incorporated have been as a direct result of the "Because We May" sale that is going on this week. We've seen a dramatic increase in sales in just a few days and we knew we wanted to show these people that we're listening and constantly making improvements. To do this we made a big change to how OpenFeint checks for achievements to get an increase in performance. We also fixed a bug in which the offline status notification was repeatedly displayed when a user was playing and not connected to the internet. The most noticeable change we made, however, is probably the addition of a screen to ask the user to review UPSAT on google play after 150 games.
Here's a pic of that screen: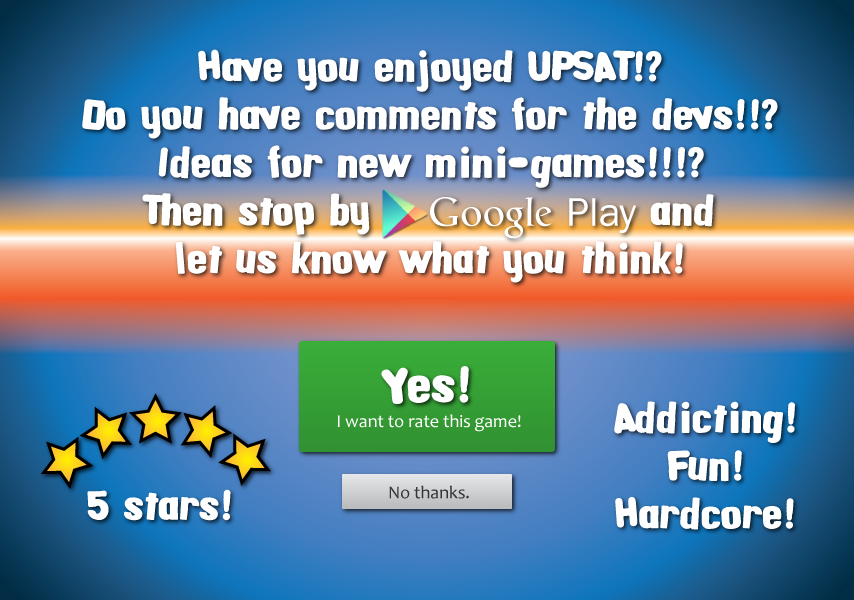 We think this will not only help improve the number of reviews on Google Play, but also show that we care about our players experience and want to make it better any way possible. As an example, one of our players commented that they wished we added support for native German speakers. As we were looking into this, the user contacted us via Twitter and offered to do the translation for us so that it could be better than Google Translate. We hope to have many more of these interactions!
If you'd like to check out UPSAT: You Probably Suck At This you can get it on sale for $0.99 until June 1st here: Google Play