I was hard at work on the next game in the pack, Launchpad Leap, when it was announced that Unity 5 was released, and that many features I'd been drooling over were now available for free. In this post, I'll talk a little about how I took advantage of those features.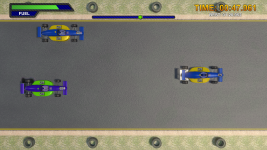 Open Wheel Racing benefited the most from the new features. As the above screenshot shows, there are now soft shadows and a bloom effect that makes the diamond plating on the rear of the car pop a little more. There are still may be some adjustments to be made with regard to the amount of bloom and how it reacts to some of the other materials. But the above shot is good indication of the direction things are heading.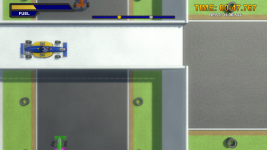 I'm happier with the result of this shot when it is in motion than it appears here in the still frame. It's a slight depth of field effect added so the vehicles down below the overpass are out of focus.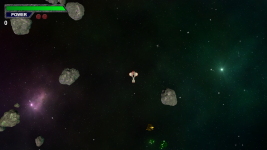 Asteroid Miner didn't benefit as much. All of the lights now cast shadows, which isn't particularly obvious as the scale everything is, but it does provide a subtle improvement. Things just seem to look better even if you can't place why. There was also a bit of bloom added. Just a tiny amount that causes the minerals to twinkle as the rotate around.
In addition to the graphics changes, there were some bug fixes to both games. The opposing cars tires would continue to spin after the level was over in Open Wheel Racing. That has been fixed. And the laser in Asteroid Miner would sometimes appear disconnected from the ship if you were spinning around too fast. That has also been fixed.
I have a 7 year old 9400m graphics card that won't let me capture a video with the quality settings that I would like. But if I can get access to someone with a better card, I'll see about getting a new video up that shows the improvements in full 1080p glory.
The improvements likely won't make it into the early access build until Launchpad Leap is finished. Speaking of which, stay tuned in the coming days to learn more about that game and see its first screenshots.