Demo News!
The demo for Ballf is almost ready! We will be releasing it some time next week, before we take the weekend off to participate in the #indievspewdiepie game jam! You can come check out our progress during the jam during the weekend of the 21st-24th on our twitter or our Game Jolt profile.
We are just working on adding some particle effects, proper course pars, and ensuring all the redistributables are packaged with the game.
Updates!
The most recent changes involve the addition of clouds!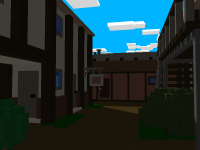 These are dynamic clouds that move in relation to the winds direction and strength. This makes for a great indicator of how the wind will affect the balls trajectory. The slight background movement it provides also adds a subtle depth to the game, making the environments feel more alive and full.
The next addition involves how textures are placed. It is now possible to assign more than one texture to a texture name. This means that the grass texture can actually have multiple textures associated with it. When you go to place a grass voxel then engine will randomly pick one of the grass textures. It is also possible to adjust the ratio of these textures, allowing some to be more prominent than others. Here is a side by side screenshot of two different grass textures, one that is setup under the new system, and one that is not. It is a subtle difference, but has a pretty large affect on the over all feel of the game. This is achieved by breaking up a large section that is comprised of a single texture. The previous method made the grass look untextured and flat because it was too uniform. The current method helps breakup any uniformity, and adds a bit of depth to the landscape.
I will be posting a new news article next week when the demo is officially released! I'll have a gameplay video ready as well, so that you can check it out before you decide if you'd like to try it. So check back next week if you're interested in playing a couple courses of Ballf!