5/10/2017
I released an updated version.
more info at
my website is undergoing a redesign.
check it out!!
4/19/17
status updated
future versions will have built in updater that downloads updates from my host server.
currently working, but plan on doing more stuff with it.
4/14/2017
beta patch released with installer.
any bug reports can be sent to bugreports@newnoldsoftware.com
4/10/2017
public notice:
if program wont start. check taskmanager to make sure its not already running. If it is, then end the process. and try restarted it.
if it still dont run. it could be a net framework problem on that pc. and framework runtime needs repaired or reinstalled.
updated 4/6/2017
hmm..
seems I left a option enabled in the latest update.
nothing much though.. it just removes blood.exe from the mods...
Greetings fellow blood players.
Just wanted to give an update on some progress I made with the program.
so far..
Gui fixes: custom windows theme(modified windows themes or stardock windowblinds theme) shouldnt effect the program. I had incorrect color settings and themes would cause color problems.
In the menu, there was a shortcut to run dos setup for blood.
It was only changing the main blood config file. my bad....
Included configuration setup for dosbox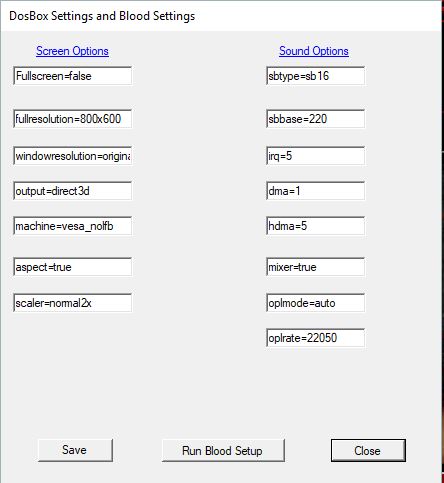 now exiting the the blood setup program. changes are committed to all the games config file. will also bring up configuration panel for adjusting dosbox sound settings to match blood sound settings so there is no conflict in settings.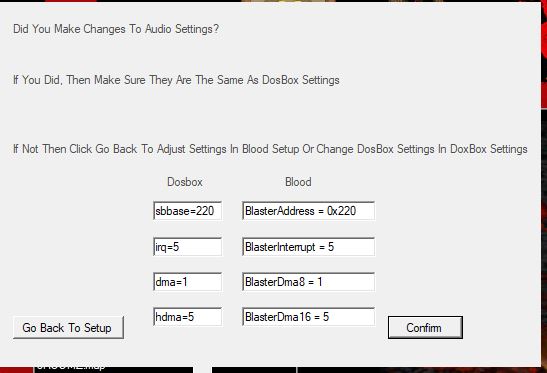 Edit:decided on last minute change. You guys might like this one.
Going include most of the base game except for the blood.exe and file. That you will still need to provide from legit game purchase.
This will help filter out any problem with mods as everything else will be prepackaged.
This will will cut the install process time in half.
edit:
Fixed DeathWish not loading.
will zip installer files with winrar for easier download. then extract setup files and run installer.