As a lot of you have noticed, we have added achievements to Tabletop Simulator. Hope you enjoy earning them! Good luck! If you have any good suggestions for more achievements, post on our forums and we may just add it! In addition, we've got some new goodies like toggling rotation snapping, height control, and overall general improvements.
Be sure to check out our Tutorial Series to help you along your Tabletop Simulator journey!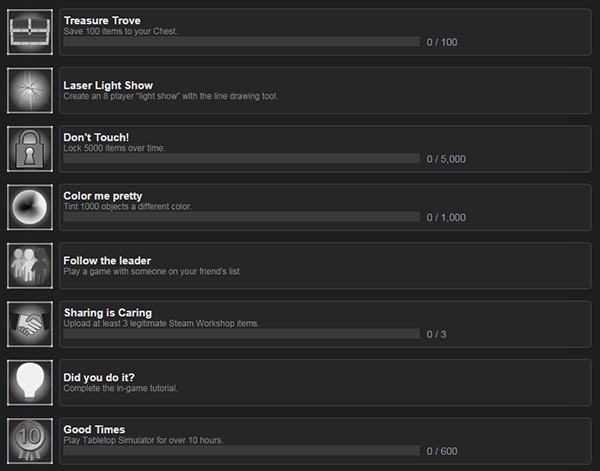 Achievements Added:
Steam achievements have been added to the game.
You can check out the full list on Steam.
Playtime achievements unfortunately do not retroactively work.
Workshop upload achievement does retroactively work if you are subscribed to your own mods.
Rotation Snapping:
You can now toggle between 15°, 30°, 45°, 60°, and 90°rotation snapping (default 15°).
The UI button on the left side has an angle when pressed it will cycle through the degrees.
Use 60° for your hex objects, 45° for cards, and 15° for very precise control, etc.
This will help you more quickly orientate your objects for each system.

Raise Height: