We've added in another feature that was requested by the community and that is a paint/drawing tool! Have fun with it and please give us feedback on it. We've also increased the character limit of Player Names, and made some card improvements.
If you missed it yesterday, Part 1 of our Tutorial Series is also online. This one covers all the basic controls in the game. Please let us know what you think.
And finally, there won't be any updates or tutorials the next couple of weeks as we'll be out of town, but we'll get back on it once we return. Happy November!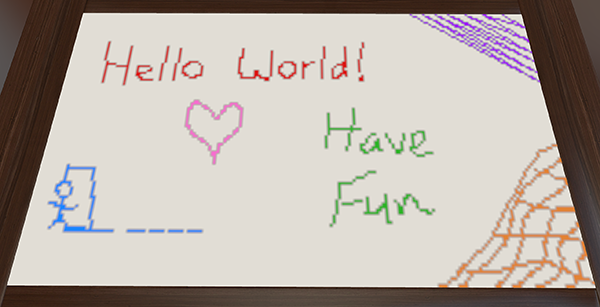 Paint/Drawing Added:
Pixelated paint style drawing with real time network syncing has been added.
'F2' will change your pointer into paint mode where you can draw with 'Left Click'.
The color of your paint is the same as your hand.
'F3' will change your pointer into eraser mode which can be used to erase drawings.
To draw a straight line hold alt then click, it will draw a line like connect the dots (also works with eraser).
Can clear all drawings by selecting or hovering over the Eraser tool then clicking the trash can that appears.
Drawings will be saved in your Mods/Saves.
Drawing uses a pixel size of 0.5 units, so you can use the grid to assists with drawing.
Painting can disabled for clients in the hosts options.
UI for easy swapping between pointer modes:
New UI tool added on the left side of the screen where you can swap between Hand, Paint, Eraser, Hidden, and Line modes.
The mode you are currently in will be highlighted and unavailable options will be greyed out.
When mousing over one of the icons the hotkey will be displayed for that mode.
'F1' - 'F5' will swap between the different modes, but you can still use the old hold hotkey system.
Player Name Improvements:
Increased name character limit from 12 to 32.
Names on table now resize to fit the length of the player's name.
Fixed Green and Blue names being reversed on the Rectangle and Large Custom Table.