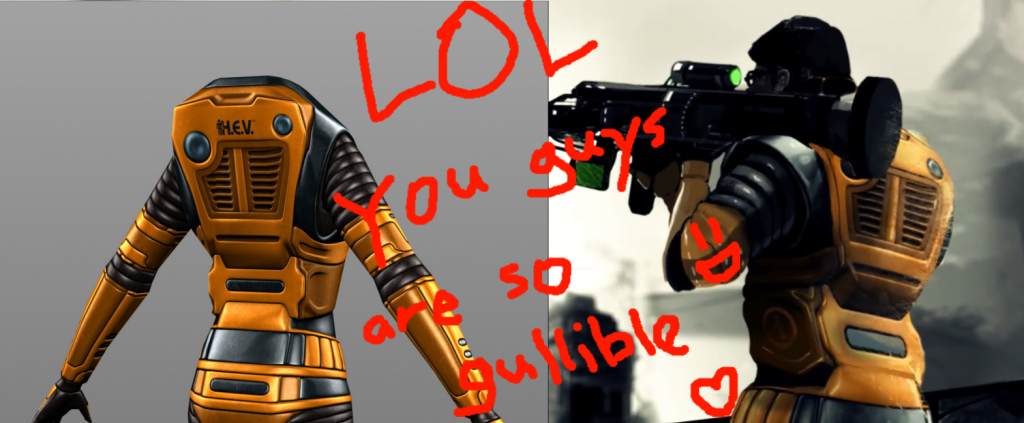 Heh. HEV Suit Lawsuit... get it? Hahahaha. *ahem* anyway...
We are very sad to announce that in the course of the Great Legal Battle for the Right to Michael's HEV Suit design, we have incurred severe losses. Casualties were high. No fewer than six lawyers were killed, and 73 seriously wounded on both sides of the Great Struggle. Such is the price for all that is fair.
Let us not forget those who journeyed into the howling dark, and did not return. They ennobled all of us, and their sacrifice will not be forgotten.
However, an end to the conflict is in sight. In light of the sobering casualty reports, the Freeman Chronicles team and the Hazard Course team have both agreed to an unconditional ceasefire, and hostilities shall be suspended, effective immediately.
...
...
... We got you all, didn't we? *high fives the Freeman Chronicles team* TEAMWORK! :D
I love how gullible people are. +1 to those who passed the Calendar Awareness test! You win. ;)
And for those who didn't, it's all in good fun! No hard feelings. :)
A special thanks and shout-out to those special commenters who gladly played along with us for the joke, despite having a good sense of calendar awareness. We really appreciate the laughs! You guys helped us get them good. Among these contributors are:
-banker2001
-CommunistFool_1032
-... and probably a few more that I forgot to mention! (You know who you are ;) )
---
Support The Freeman Chronicles!
Anyway, as we begin to pick up our, ahem, "losses", and lick our "wounds"... we strongly urge you to support the Freeman Chronicles team and their efforts in making an awesome Half-Life webseries. Seriously, their stuff is awesome! You should really go check them out!
For those of you that don't know, The Freeman Chronicles is a live-action Half-Life webseries in development by the makers of the popular (and spectacular) Beyond Black Mesa and Enter The Freeman short films. They're currently raising money on their IndieGoGo page, so if you can, we cannot urge you guys strongly enough to go help them out! We think it's an awesome project, and we really want to see it come to life. It's for a great cause!
They need $75,000 in donations to do this and do it well, but due to a lack of traffic to their site, they have only a quarter of what they need, with only a couple of days left to obtain it all.
If you like what you see on their site, then please donate what you can, and spread the news to everyone else who would also be willing to donate! As Half-Life fans, we are very eager to see what they have in store, and would very much like to see them succeed.
---
Infinity
In other news, we are also sad to announce the cancellation of Hazard Course: Infinity. Sorry if we got your hopes up! It was simply becoming too difficult to manage the workload. An infinite number of Hazard Courses is a lot of work, you know. For nostalgia's sake, and for good laughs, we'll leave the "media" up there for a few days before we take it down. Priceless!
It's not all bad news though! Our writer, Craig "Spaghetti" Spivack will definitely be staying on the team, so don't worry! (And yes, as hard as it is to believe, we DID in fact go to the same high school. Fooled you guys there, didn't I? :P )
We know you're all sad about the cancellation of Infinity. To make it up to you though, here's a sneak peek at what we've ACTUALLY been doing over the past few weeks: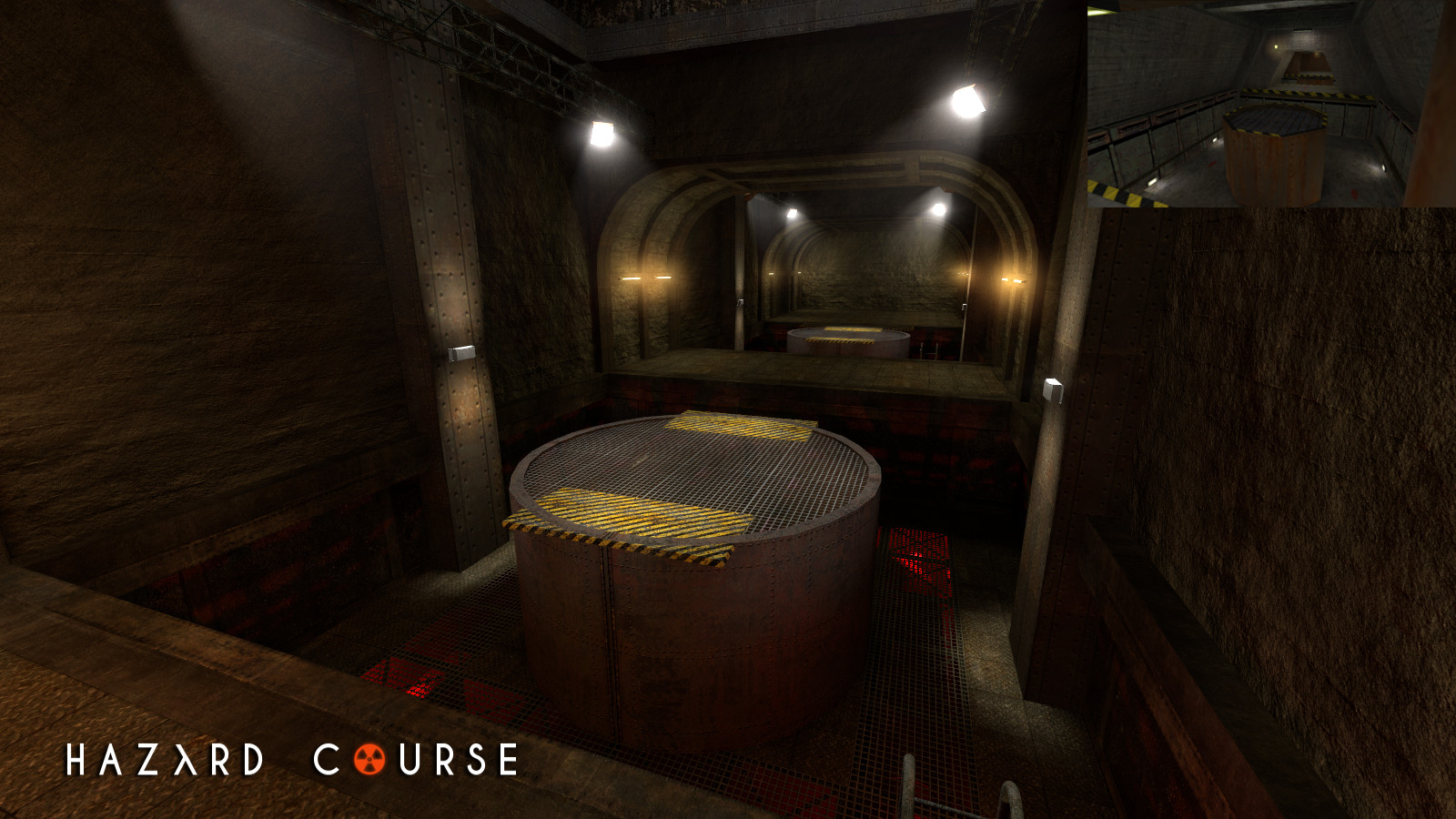 We're actually making progress! We hope to have a big update ready for you guys soon, so stay tuned!
Have a very safe and productive day! Hope you guys had a good laugh! ;)