Greetings Fellow Avatars!
Here's what we have for you in this week's edition of Update of the Avatar:
Chess, Anyone?

R11 Steam Access Keys Now Available for All Backers

The Release 11 Grand Tour Quest Reward

Solace Bridge

Navigator Pledge Reward: Phonograph

Get Your 15% Bonus

Tabletop Gaming with Wil Wheaton

Help Kickstart Bedlam

Double Robotics + Portalarium

Last Chance Exclusives

Alienware Sponsors $20 Pledge Upgrade Coupon

Upcoming Events
---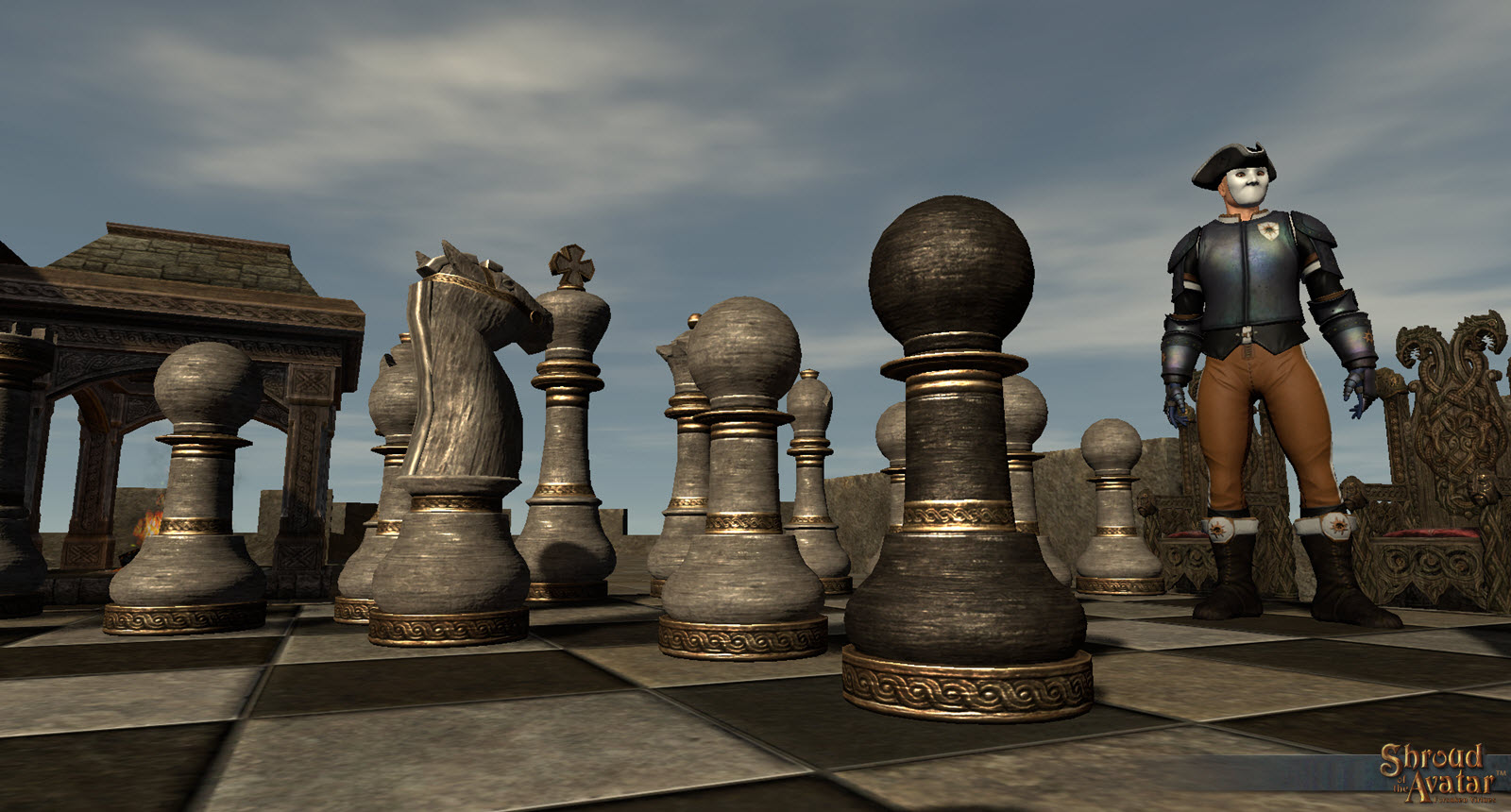 Chess, Anyone?
Invite your friends over for a friendly (or not so friendly) game of chess on this life size chess set, gloriously crafted by Scottie Jones. Available now in the Add-On Store, this decoration comes complete with board and individual chess pieces and fits nicely in a yard, game room, or deck.
---
Release 11 Steam Access Keys Now Available for All SotA Backers
SotA will not be available for purchase on Steam Early Access until November 24, but all our backers can use Steam to play Release 11 by redeeming their Steam Access key, which we made available yesterday. You won't be able to play until Release 11 is launched next week (Oct 23), but you can install it now to help us make sure the Steam access/installation process is bug-free. Here are the instructions for redeeming your Steam access key and installing the SotA client:
If you are not currently a backer of SotA you will need to purchase a pledge. Click here for more information about our pledges.
Log into SotA and go to your Account page
Scroll to the bottom of the page and you'll see a box on the right side labeled "Play SotA through Steam". Click on the link that reads "…click here to redeem an access key by signing in through Steam!"
You'll be instructed to Sign in through Steam
Click the "Allow" button to redeem and activate the SotA key on your Steam account
You'll see a SotA "Congratulations" message confirming successful Steam activation. Click the "account page" link to return you to your SotA Acccount page.
Scroll to the bottom of your account page and you'll see "Play SotA through Steam" box now states that your Steam access key has been redeemed, and displays the Steam Account it is associated with.
You will need to launch your Steam desktop client to see Shroud of the Avatar in your Steam Library (because SotA is not yet available in the Steam Store to the general public, it will not show up in your library if you view your Steam account through a web browser)
Select Shroud of the Avatar in your Steam Library and click on "INSTALL"
Follow the Steam installation instructions and once the download is complete you will be able to launch SotA from Steam (but remember, you won't be able to play SotA until Release 11 launches next week, Oct 23).
Let us know if you have any problems and thanks for helping us test the Steam Access key redemption and download/installation process!
---
The Release 11 Grand Tour Quest Reward
Release 11 is only 6 short days away and we're pretty excited about all the new content! Just as in our last release, we've included a Grand Tour Quest designed to guide you through all the new content. And just in time for Halloween, you will be able to get the Tricorn Hat with Carnival Mask by completing the Release 11 Grand Tour Quest. This reward can only be unlocked during Release 11 (did someone say rares?), so be sure to log in to R11 (Oct 23-26) and talk to all the Tour Guides!
---
Solace Bridge
One of the new areas to explore in Release 11 (and included in the R11 Grand Tour Quest) is Solace Bridge. It is one of the very first examples that shows how we plan to dynamically change the state of scenes in the game either through random events, player actions, or updates to the world. There are two versions of this scene that can be visited in R11. The first version, the Battle of Solace Bridge, depicts the aftermath of a village defending itself against an undead army. This post-battle state of the scene will be players first view of Solace Bridge when they start the game. When/if players return to this scene later during gameplay, there may be another pitched battle between villagers and undead already underway (which is another game state). Solace Bridge is the version of this area that players will usually see if/when they return later, and represents the Solace Bridge scene sometime after the battle when things have been rebuilt and the land has recovered a bit. Both versions (Solace Bridge and The Battle of Solace Bridge) can be accessed via the Lunar Rift in Owlshead. Note that in R11 the war torn version is flagged as an Open PVP area.
Solace Bridge is where one of the three working Lunar Rifts can be found on the mainland, and is thus a key strategic location for the Perennial Coast of Novia, and one of the three common entry points for "outlanders" from Earth. Normally the Perennial Coast is considered a region that celebrates the Principle of Love, however the Perennial Coast leaders in nearby Ardoris are rumored to be discordant. This discord could not have come at a worse time because undead hordes have been pouring South from the Drachvald region. The armies of Ardoris do their best to repel these armies, but perhaps only Outlanders can turn the tide…
---
Navigator Pledge Reward: Phonograph
Community member Bubonic is back with another great contribution to SotA! You may recall his outstanding Aether Vibration Amplifier (aka SOTA Streaming Radio) that we showcased in Update #87. Well, he's done it again with this beautifully crafted Phonograph, a unique, in-game item that plays wax cylinders of recorded music (included in the Navigator pledge rewards).
---

Only 45 Days left to get your 15% Black Friday Bonus!
If you were thinking of pledging your support to the development of Shroud of the Avatar, upgrading your existing pledge, or purchasing an add-on item, player owned town, or stretch goal item, now's a great time to do it! From now thru Black Friday Weekend we'll add an additional 15% bonus to your Store Credit! Here are the details:
For all new purchases (including pledges, pledge upgrades, add-on items, player owned towns, and stretch goal items) between 12:00 am CST October 10, 2014 and 12:00 am CST December 2, 2014, we will add an additional 15% bonus to your Store Credit! You can use your Store Credit toward any additional purchase (including pledges, pledge upgrades, add-on items, and player owned towns).
[NOTE: The 15% bonus is calculated every day at 1:00 pm CST and added to your Store Credit account; Store Credit cannot be applied toward stretch goal items]
For example, if you have the $45 Adventurer pledge and really want to upgrade to the $90 Royal Artisan pledge which includes Episodes 2 and 3 as pledge rewards, you would normally pay the extra $45 for the upgrade. But using the 15% bonus you can immediately save $5. To do so, you would first purchase $40 worth of Store Credit Gift Coupons (via PayPal, Amazon, Bitcoin, or credit card; excluding existing Store Credit) then use the "Convert to Credits" option on your account page to transform the Store Credit Gift Coupons back into Store Credit. Within 24 hours an additional $6 bonus ($40 x 15%) would be applied to your Store Credit account, bringing it up to $46. You would then use $45 of your Store Credit to upgrade to the $90 Royal Artisan pledge.
---
Tabletop Gaming with Wil Wheaton
Richard "Lord British" Garriott recently visited with Wil Wheaton and guests to play Five Tribes board game on Wil's Tabletop show. Fun times!
In the afternoon, I played my favorite worker placement (or displacement, if you prefer) game of the year, Five Tribes, with my friends Jenna Busch and Satine Phoenix, and Richard Garriott. Yes, that Richard Garriott, as in: the guy who basically invented the MMO, and who has been to freaking space.
---
Help Kickstart BEDLAM

We want to give a shoutout for BEDLAM, a really cool game being Kickstarted by our friends and fellow Austinites at Skyshine Games. BEDLAM is a strategic single-player roguelike turn-based RPG set in a post-apocalyptic era, created for the PC and Mac – Inspired by great games like The Banner Saga, FTL and XCOM.
"I loved Heavy Metal growing up. I read the magazine and watched the movie about a zillion times (more than Star Wars actually)", said Starr Long (SotA Executive Producer). "…[BEDLAM] totally resurrects that Moebius 80s sci-fi look. It is also another great example of the resurrection of turn based RPGs (hallelujah!). So go check out the BEDLAM Kickstarter page and pledge your support (only 7 days left)!
---
Double Robotics + Portalarium
Richard "Lord British" Garriott primarily operates out of his New York "Britannia Manor", and commutes to the Austin Portalarium Studio about a week out of each month. However, through the amazing technology of the Double telepresence robot, Richard actually spends all day, every day, at the Austin studio even when he is in New York (or anywhere else, for that matter). Double Robotics posted the following interview with Richard and Starr on the front page of their website.
---
Last Chance Exclusives
Every week going forward we are removing select items from the Add-On Store, so if you want them you better get them before they are gone! Last week we phased out the Shingle-Roof Village Homes. This week, the following items are available for an additional 20% off, and then will no longer be available in the Add-On Store.
The Cubit Measure of Prosperity
This unique, indestructible cubit measure increases the quality and quantity of items produced when milling. While cubit measures with similar effects can be crafted and purchased in the game this cubit measure never needs repair.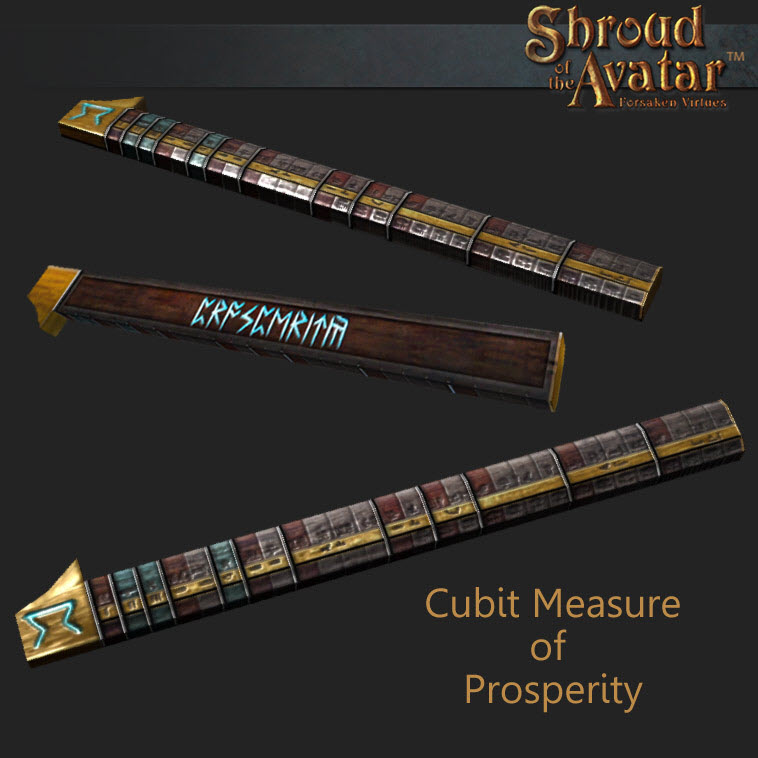 If you loved the Crafting Sigil, then you're especially going to love it adorning this beautifully crafted cloak!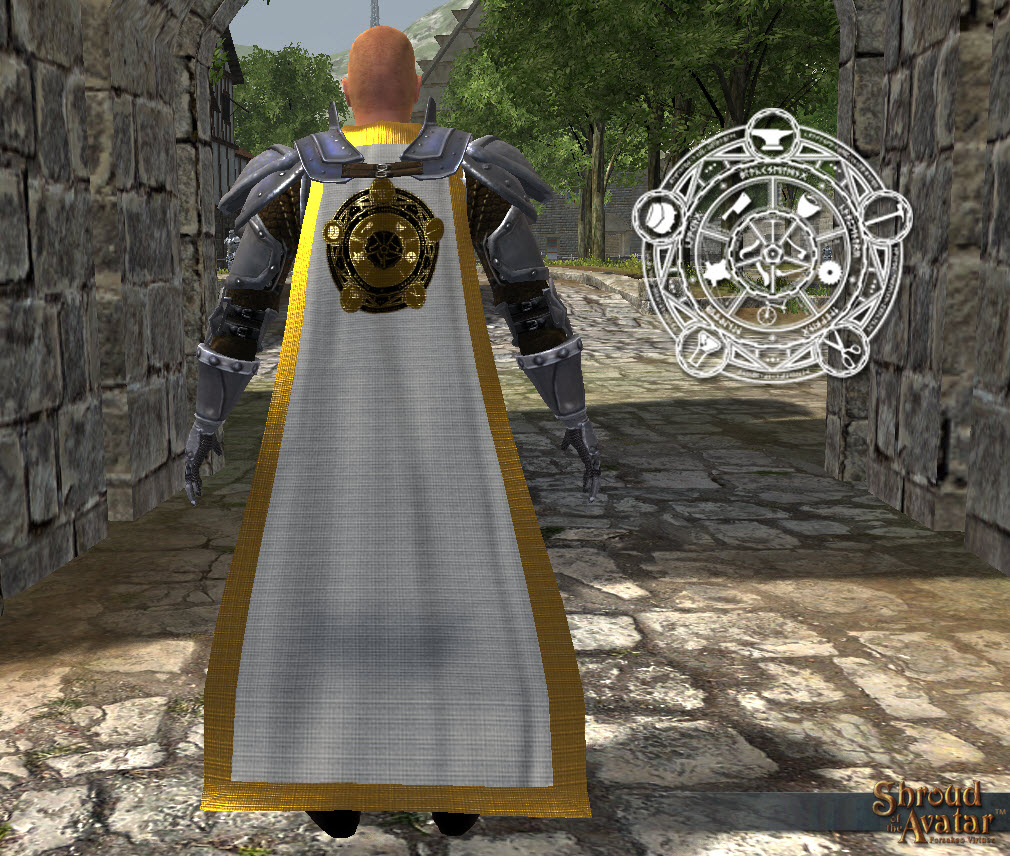 ---

Alienware Sponsors $20 Pledge Upgrade Coupon
Alienware's powerful gaming rigs are a perfect match for Shroud of the Avatar! To show their support, Alienware is sponsoring $20 SotA Pledge Upgrade Coupons to members of their Alienware Arena community!
These coupons can be used to start a SotA pledge account (for new backers), or to add $20 to an existing pledge account. If, for example, you have a $90 Royal Artisan Pledge, you can use the Alienware coupon to bump you up to a $110 Virtual Collector Pledge.
Pretty sweet deal, right? So, hurry over to the Alienware Arena website and get your $20 Pledge Upgrade Coupon now!
[NOTE: Only one Alienware Pledge Upgrade Coupon can be used per account. Coupon does not apply to Add-On Store items]
---
Upcoming Events
2014.10.23 – Release 11 Access
2014.10.24 – SotA at Captivate
2014.10.29 – Monthly Video Hangout: R11 & R12 Discussion
2014.10.29 – SotA at Paris Games Week
2014.10.31 – SotA at PAX Australia
2014.11.03 – SotA at GDC Next
2014.11.14 – Duke & Lord of the Manor VIP Design Roundtable with Lord British and Portalarium Studio Tour
2014.11.15 – HoBLotH II: Legends of the Hearth
2014.11.20 – Release 12 Access
2014.11.24 – SotA launches on Steam Early Access
2014.11.26 – Monthly Video Hangout: R12 & R13 Discussion
2014.11.27 – SotA at Dreamhack (Sweden)
2014.12.18 – Release 13 Access
---