In the v12 update we had already reworked the world tutorial and the manual, but we feel Homebrew could be more user friendly then its current state.
Right now we're working on video tutorials that will make Homebrew easier to understand.
These videos will prove helpful in explaining some of the basic ways and principles to build a vehicle in Homebrew.
They'll be released on YouTube before our Steam launch, so be sure to keep an eye out and let us know what you think!
We're also thinking about making a better, more detailed and accurate player map as it hasn't been updated for a while.
This is something we'll be talking about with future updates, but we wanted to let you know we're working on it.
---
Implementing water was something we really wanted to do in the v12 update as it makes the transition to boats and submersibles in the future much easier.
So far we haven't really talked about it yet, so here's what's it all about.Water, along with some islands and other changes has a huge impact on gameplay and the possibilities that Homebrew has to offer.
You're now able to build hovercrafts and some 'DIY' boats with the help of hovercraft cushions.
As mentioned earlier, the v13 update will include pontoon parts that you can use on your aircraft (or any other vehicle) to make it float.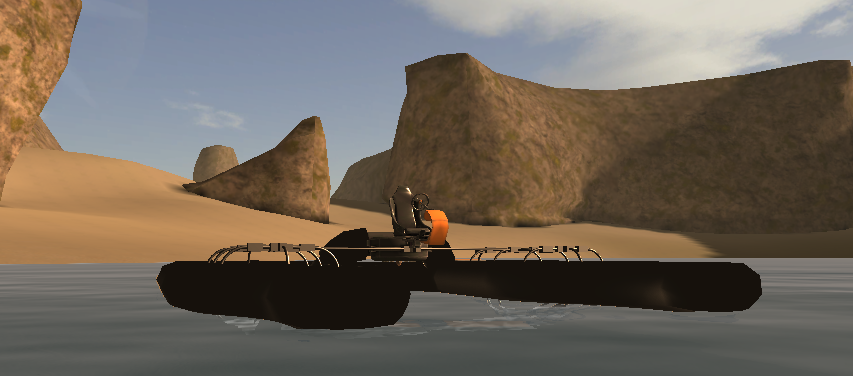 Another fun aspect of the water is the ability to skip across it; you can easily do this by building up enough speed and come in at the right angle (20° = best results).
Flying low above the water will also push the water away and leave a trail, try this out for yourself as this can quickly result in some pretty fun results, especially if you accidentally dip your wing into the water.
In the future we'll be changing the way that water behaves in accordance to existing and new parts as well, but it still requires a lot of code and debugging to make sure that it works exactly as you expect it to work.
Other big changes to the map include the sky, mountains inside the valley, relocation of the canyon and the disappearance of the dam.
For us the maps will never be done, so you can expect it to change during the development of Homebrew.
On other news,
we've been contacting reviewers, engaging in discussion with our supporters and our player base has been growing for the last few months, something that we are very thankful for.
We'll continue to devote more time and resources towards the community aspect of the game in the future as we think that it is crucial to give the players the ability to help shape Homebrew.
We're at a point in the project where we want to share our experience with our players and allow them to follow the development of Homebrew first hand.
As you've probably noticed, the design of the site and its pages has changed over the course of the last few weeks.
This site overhaul is a part of a process where we work towards easier and better communication between the devs and the players.
Like Homebrew itself, it's still a work in progress, so things are still about to change.
Be sure to keep an eye out for our dev-blog, we're currently working on implementing it on our site.
On this blog you'll be able to see how we experience this adventure and information about certain parts and mechanics of Homebrew.
If you want to help and make Homebrew happen, feel free to like our videos, subscribe to our social media but most important of all, make crazy vehicles and post bugs so that we can fix them as soon as possible.

Thanks for the love and support that we've received so far. You guys and gals rock!
---
The Copybugpaste team♥