Update 9 for Dreamcast Conversion is now available!
Hey there!
Today's update brings a lot of very important structural changes to the Dreamcast Conversion modpack. It's very important to get this update. Here's how you can do it:
1) Use the installer, which will set everything up for you automatically.
OR
2) Download the package for manual install and set it up on your own.
3) April 2018 update: seeing how a lot of people coming from older versions of BetterSADX still haven't updated, I've restored the old folder structure on the server and you can update through the Mod Manager. The update will erase individual level mods and replace DC_General and one of the DLC mods with single-mod versions of Dreamcast Conversion and Dreamcast DLCs. Note that you'll have to remove all "REMOVED" mods and update the "PLEASE UPDATE" mods again. If you still have "SET layout fixes" and "Revert DC Emerald Coast draw distance" mods, please remove those manually.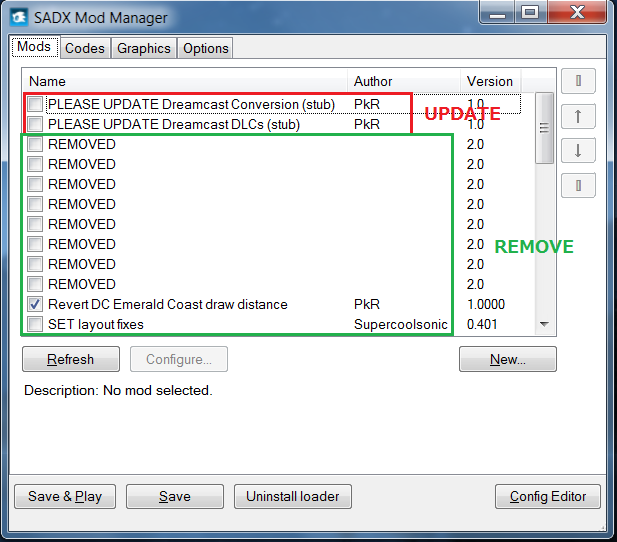 Information for manual install users: this update of DC Conversion uses a different folder structure (yes, again, sorry about that) and removes individual level mods. To keep up to date, please delete the following mods:
DC_General and DC_Branding
All Dreamcast level mods (DC_Bosses, DC_Casinopolis, DC_ChaoGardens, DC_EggCarrier, DC_EmeraldCoast, DC_FinalEgg, DC_HotShelter, DC_IceCap, DC_LostWorld, DC_MysticRuins, DC_Past, DC_RedMountain, DC_SkyDeck, DC_SpeedHighway, DC_StationSquare, DC_SubGames, DC_TwinklePark, DC_WindyValley)
Optional mods (RevertECDrawDistance and SADXStyleWater) - but keep Time of Day if you have it there
SETFixes
All individual DLC mods (DLC_ATT, DLC_Christmas98, DLC_Christmas99, DLC_Famitsu, DLC_QUO, DLC_Halloween, DLC_LaunchParty, DLC_Reebok, DLC_SambaGP, DLC_Y2K)

Do not delete the following mods: Sound Overhaul 2, HD GUI 2 and mods made by other people (Lantern Engine, Dreamcast Characters, SADXFE, Onion Blur etc.) will remain separate mods so you need to keep them.
Here's a detailed list of changes since Update 8:
The majority of mods contained in this modpack have been integrated into a single "Dreamcast Conversion" mod. This makes it much easier to navigate the Mod Manager as there are about 20 less mods now! You can still customize Dreamcast Conversion through the Mod Manager's new config editor, with even more flexibility than before: for example, you can turn individual bosses on/off, or toggle SADX Style Water for each stage. Click "Configure..." in the Mod Manager to access the new settings dialog: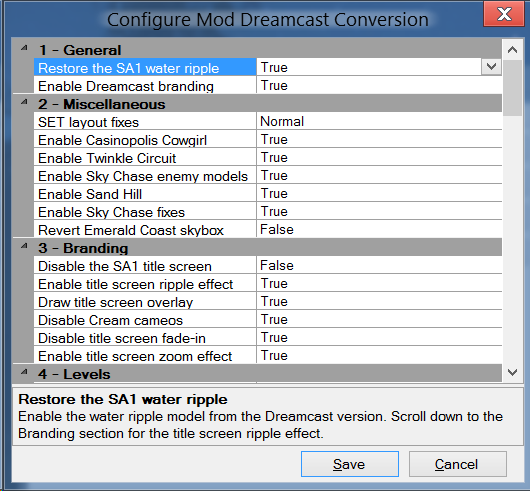 Supercoolsonic's SET Fixes mod is no longer required because it has been integrated into the main mod. You can also toggle between the "Normal" SET Fixes and "Extra" SET layouts that add unused (but functional) objects and scenery to the game.
Dreamcast Conversion and HD GUI 2 now make use of the Mod Loader's new functionality to take priority over other mods when loading textures. This means no more mod order issues, and you can put the mods in any order! Note that even with the order no longer being a problem there are still incompatible mods - for example, the old Beta Windy Valley mod will still break if it's enabled together with DC Conversion's Windy Valley. To use such mods, you need to disable the Dreamcast counterpart of the level in the config window shown above.
Anyone who has played the PC version of SADX at higher resolutions knows that Sky Chase is completely broken in the PC port. Well, not anymore because I fixed all of the control and gameplay issues in Sky Chase, and it should be playable at any resolution now. Even the sky tilts in the opposite direction to the Tornado like on the Dreamcast!
Lots of transparency fixes, including the original fountain in Speed Highway Act 3 and E101R special effects.
Various fixes for menu layout errors that have been plaguing the game for years. The menus now display shadows as they should.
There have been various cool contributions to HD GUI 2 by several people, for example check out Sonikko's recreated options screen that I animated in code to add a zoom effect for the arrows.
The DLC mods now show a warning when two or more are loaded at the same time. There's also a toggle to enable a "vanilla SADX mode", which will make the DLC content work with non-Dreamcast levels. You can access the options for the DLCs through the Mod Manager's config editor.
The installer has been updated to reflect the new mod structure. There's also a new "ADX Audio" mod, which contains the best quality ADX music and voices from different versions of the game. It's not a new mod per se, but it combines ADX Music and ADX Voices into one mod to reduce clutter in the Mod Manager. To save space and bandwidth, the web-based installer will not download it if you already have some kind of an ADX audio mod. But you can still get it manually from this link.
February 10 update: the DLC mods have also been integrated into a single "Dreamcast DLCs" mod, which also has lots of options!
What will happen with individual level/DLC mods? Those will be deprecated soon, and the Mod Loader will show you a warning saying those mods are no longer updated. Please remove all old mods for the updated single mod version to work properly.
I hope you enjoy the more streamlined mod structure, and if you have any problems let me know on Twitter or the GitHub issue tracker.
Have fun!
PkR