Hey again everyone.
Things have been a pain what with my work placement interfering with stuff, the goverment scheme screwing me over left and right, and job search taking up all my time, I have not had much time to myself, so its only really at weekends and late afternoons whne I can get stuff done, unfortunately most of the time its filled up by job searching, but on the weekend I like to try and get some stuff done.
What you see in the video gallery is yet again another cutout animation to try and hide spoilers but still show progress, I would love to show proper footage but unfortunately spoilers are quite bad, I will say one thing though AC-5 looked awsome and is being a huge inspiration for certain parts of the OVA atm, I managed to catch the live feed of the demo when it was on air with some guys from 4Chan/m and ACO/ACU, and it was ammusing I only really caught the Q&A but thanks to Cleric from ACO we are all able to watch the AC-5 Live gameplay footage on youtube, the Q&A was boring because of course it was not subbed, and the female member of the crew kept shouting "Sugoi" which I think means awsome, I could be wrong because of course Im no expert on Japanese language, but when a crew member shouts it ever 5 seconds it gets abit annoying...
Though it did lead us to believe that AC-5 will be released as a trilogy like the original game, AC5 , AC5: Project Sugoi and lastly AC5:Master of Weeaboo. (joke of course made by yours truely, made chat lulzy for a while).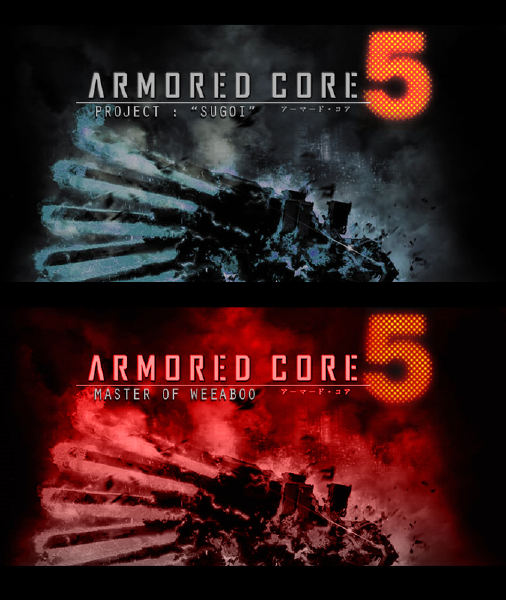 So funny stuffs aside, Im working on these animations in my spare time, and stuffs going well atm, I`ll update when I can, as when I dont it kinda hurts me to see that I am leaving the fan base and supporters in wait for the next update, so I`ll try and get more stuff done, In the mean time hold on and keep an eye out :)
-Dave