Hello everyone, Ken here. Sorry for the lack of updates this past few months, things have been a little rough. This isn't going to be the most exciting news, but there has been a change to the item mechanics for Dora.
As previously mentioned in the archaic Update #4, Items could only be played by certain elements and classes. This meant that the a fire priest item could only be played by fire priests. Now, just like creature cards, items are not restricted to champions by element. So now priests regardless of their element can play priest items of a different element as long as they have the right resources to play the cards. This change opens up the game, creating a healthier metagame for players, especially for players who play draft modes.
Before this change, it would be very difficult to create a mono-fire deck with a non-fire champion due to not having access to both fire skills and fire items such as weapons, armors, equip cards, normal items. This would mean that a player could only have fire creatures with neutral items and neutral skills for support. Now players who want to make mono-fire decks with non-fire champions still have to use on neutral skills, but now have access to all items within their champion's class.
Due to the change, items without a class will say "Item" to instead of "Item - Element". The latter was used to show that items could only be played by certain elements. Nature's Essence if one of the few items that can only be played by an element. This is indicated by the element before the word "Item". You can click the image if you want a bigger view.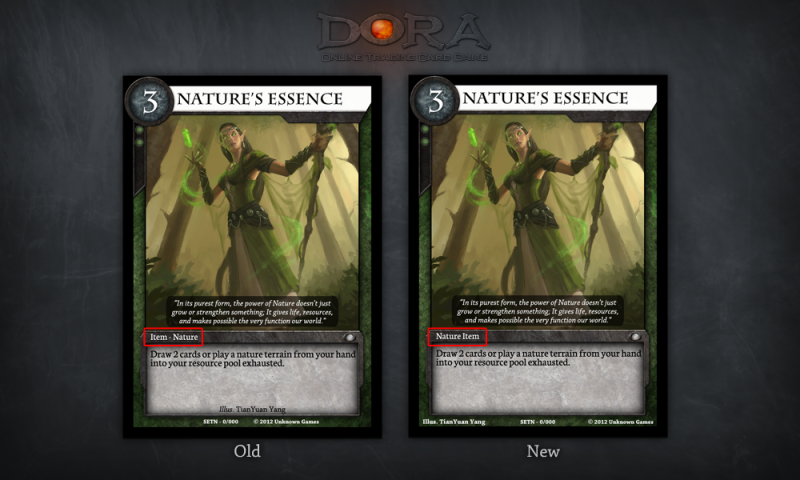 Class specific items will now say the class before the word "Item" instead of The class of the item, then the element. Despite a few rare cases, most class items will be available to use with champions of all elements as seen below.
Despite the change to items, skill cards are still element specific so we felt that we needed to change the card text to ensure that beginner players understand what skills, they can use with their champions. To do this, we've changed the text on skill cards to say "[Element + Class] Skill" instead of the "[Class] Skill - [Elemental]" like before. We've also added the element before the class on the infobar of champion cards so players can know for certain that their champions can use a skill, since the wording matches up on both cards. Below is an example of what we mean.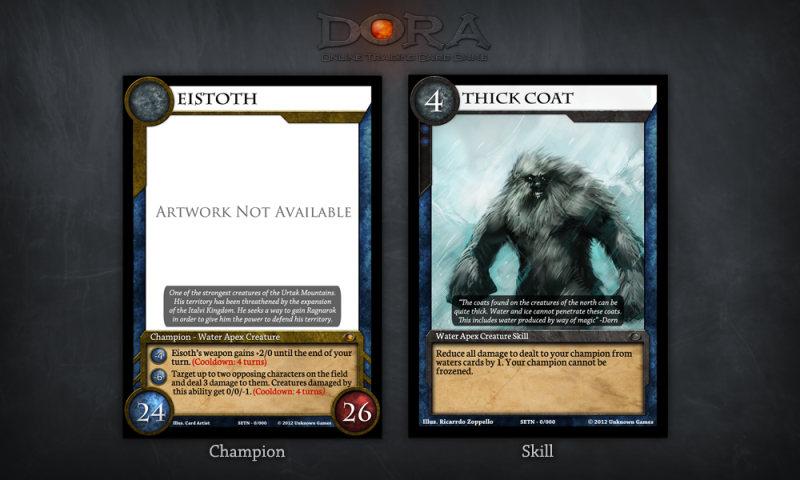 Please look forward to move updates on the game! If you're interested in DoRA make sure you track the game via our indiesdb page or like us on facebook. Thanks for reading!
- Ken