Introducing Tuukka, the new Environment Artist!
Hey!
My name is Tuukka and I am the latest addition to the Ancestory team. I will be working mostly on the environments and effects for the game. I'm pretty excited about the project; since this is the first proper Unreal Engine 4 game I've worked on.
Last summer I worked on a futuristic environment project on UE4, so the engine is fortunately already quite familiar to me. This project was done in cooperation with Miro Vesterinen Below you can see a video of the environment that we created:
The style is quite different from Ancestory, as you can see, but it is always great to take on new challenges. I've also previously worked as a 3D modeler for military simulator software. In addition, I have a bit of experience with smaller Unity 3D and other 2D game projects.
Creating Environments in Unreal Engine 4
Creating believable environments with Unreal Engine 4 is a real treat. Physically based rendering works really great and I had a blast with the futuristic environment project. While physically based rendering might sound frightening, especially if you are not familiar with the workflow, fear not: Epic provides great documentation explaining how the system works. And honestly, I don't think PBR workflow is any harder than the previous standard. Just different.
What I found out when starting out with UE4 was that it is important to view your textures as early as possible within the engine. Also it can help to view the asset in different lighting conditions to ensure there's nothing funny going on with the textures. My first asset ended up looking like someone had poured a gallon of oil on it, since I had pretty much inverted my roughness map.
Environment Art in Ancestory
So what precisely will I do in Ancestory? I cannot share any concrete plans with you yet, because we have still a lot to decide considering the game's environment. However, there are already clear challenges with the current environment. Currently the characters are very hard to read from the environment, so that needs to be improved upon. Environmental variation is also a bit lacking. So it will get a lot of attention also. This means more variety for the assets and textures that the world comprises of. Particles are going to get revamped as well, since they could feel a lot better. Luckily we have plenty of time to ensure our environments will look stunning in the end.
Stay tuned if you are interested in game environments or particle effects. I will be posting more about them as we progress on. If you have some ideas or opinions about these things, please let me know! I'm always looking for better ways to make things happen faster with greater quality!
Until next time!
-Tuukka
The Deck Builder
Hey everyone, it's Tatu here once again. I won't bother you with walls of text again, but I'm here to show you what our Deck Builder looks like at the moment: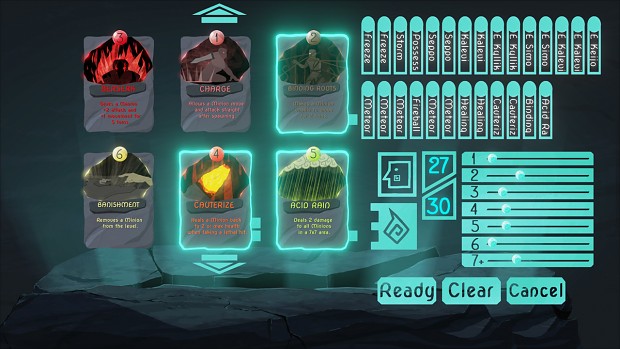 It's our first version so there are couple of things that we will improve upon, but the whole team would like to hear your thoughts on the looks of it!
Steam Greenlight Update
So, we have finally set a date for the Greenlight release and that is Thursday 13th November! You should be able to find us on Greenlight at the same time as the Steam sales update, but off course we will have a special post over here to celebrate the launch and to remind you.
Until then follow us on Twitter and like us on Facebook to hear more about our recent developments!